What is your Favorite National Park Unit?
Okay, let's put it to bed right now! The toughest question you can be asked is "What is your favorite National Park Unit"? How can anyone possibly answer that? You might be able to answer what is your favorite National Park or what is your favorite National Battlefield or what is your favorite National Scenic River – but how can you distill 417 into one favorite?
Sleeping Bear Dunes National Lakeshore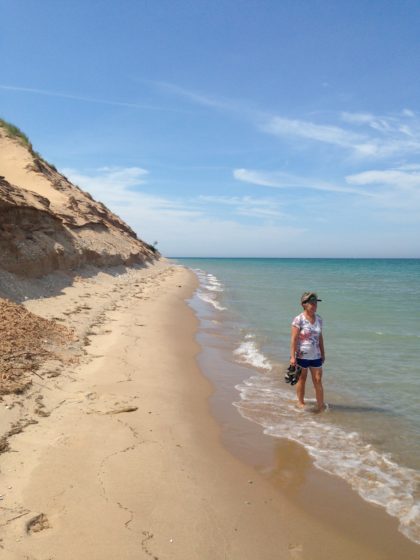 Okay, so this is from me – Kathleen. I am sure Darryl has his own view and we'll hear that (eventually) but out of the 313 visited, I have one favorite. It is Sleeping Bear Dunes National Lakeshore. This park has absolutely every thing that I love, and really something for everyone, in the park and the surrounding area. There are beaches; lovely hikes on the dunes and in the forest (over 100 miles of trails to explore); paved bicycle trails; historic lighthouses and life-saving stations; bucolic lakes and rivers; canoeing and kayaking opportunities; fishing and boating; scenic drives; cute little towns with great restaurants, wineries, distilleries and breweries; nice hotels; golf courses and other attractions; and camping, forests and wildlife. We saw deer, wild turkeys, sand cranes and bald eagles.
A few facts about Sleeping Bear National Lakeshore:
Sleeping Bear Dunes National Lakeshore is located on the northwestern shore of Michigan's Lower Peninsula. It is in a gorgeous region of the country with a diverse landscape. Inland is hilly and sparsely populated, with dense forests of beech and maple trees, dotted with pristine lakes.
The shoreline is fringed with massive sand dunes, some towering 460 feet above Lake Michigan. I had pictured one big hill, but it is not like that at all. The dunes are wide, with rolling sandy hills and areas with cottonwood trees and scrub pines. There are also "ghost forests" with sun-bleached skeletons of dead trees; forests that had been engulfed by the dunes – a stark reminder of the past.
Offshore are two islands – North and South Manitou Islands. It's actually a sad story how Sleeping Bear Dunes got it's name. American Indian lore says that long ago a mother bear and her cubs were driven into Lake Michigan to escape a fire. The mother reached shore and waited, but the cubs couldn't make it and they drowned offshore – that's the two islands and mother bear is the dune overlooking the lake, still watching for her cubs.
Lots to see at Sleeping Bear National Lakeshore
Anishinabek natives lived in this area over 3,000 years ago, followed by lumbermen, merchant sailors and farmers. Hardwood forests supported Great Lakes shipping, much of which went through Manitou passage. It was a great shortcut, but treacherous, with shoals and rocks that proved deadly for ships. In fact, one of the best places in the Great Lakes for shipwreck diving is in the Manitou Passage Underwater Preserve.
Onshore, the South Manitou Lighthouse still stands watch over the passage. It was active from 1871 to 1958, and is open today to visitors. This was just one in a string of lighthouses. Take a drive northeast, along Traverse Bay, and you will find more. One of the oldest is Grand Traverse Lighthouse, guiding ships through the northern entrance to the Manitou Passage for over 150 years.
When you are in Sleeping Bear, take a walk on the beach or along the dunes, or drive to the top of Pierce Stocking Scenic Drive, and you will see the open expanse of lake. When weather comes up, you can picture the ships battling the waves and foundering in the fog. Be sure to visit the Coast Guard Station Maritime Museum at Sleeping Bear Point. It is fascinating to see the old life saving boats and equipment.
Next door is Glen Haven Historic Village – also rich in history of the area. We loved the old photos of the "Dunesmobiles". Before the area was protected, tourists drove on the dunes. Thank goodness that someone recognized the value of the dunes and the National Park System has been able to protect them and maintain their beauty.
There is so much to this wonderful park and in the area, I could write a book (not just a blog!) My advice – get out and explore!!!
Post a comment and share your favorite!