Santa Monica Mountains: An Oasis in the City
Many people visit the Los Angeles area to go to Disneyland, Knott's Berry Farm, Hollywood, Beverly Hills, Universal Studios, Venice Beach and the Santa Monica Pier, but just north of all this is the Santa Monica Mountains National Recreation Area.
Established in 1978, the Santa Monica Mountains National Recreation Area is located just north of Los Angeles. 46 miles long and 8 miles wide; it includes the tallest mountain peak at 3100 feet and drops all the way to the ocean. It is a beautiful and diverse park, with dense chaparral, oaks on grassy hillsides and sandy beaches.
Unlike most National Parks administered solely by the National Park Service, this one is a patchwork of lands – national parkland, state parks and privately owned inholdings. You can find hiking, mountain biking, road cycling, horseback riding trails, swimming, surfing, fishing, camping, scenic drives, museums and cultural sites.
The Santa Monica Mountains National Recreation Area is one of the five National Recreation Areas located near major population centers. These are urban parks that preserve scarce open spaces and natural areas, along with significant historic resources, providing outdoor recreation for large numbers of people – in this case serving over 18 million people living in the greater Los Angeles area.
Things to See and Do
Visitor Center
We always recommend that you begin at the visitor center. This one is situated in the former stable of the old King Gillette Ranch – the inventor of the best-selling version of the safety razor. Here you can get lots of information about the park, hiking maps and a great overview of the history of the area.
Mulholland Scenic Corridor
The visitor center is just off Mulholland Highway, a 50 mile road build in the 20's to take people from Hollywood to the coast. This winding road is a must do while you are there, perfect for a convertible or a motorcycle. You can picture movie stars driving along this road back in the day. Now you will see cyclists… keep an eye out for them as you go around blind curves! You won't want want to be driving fast on this road. The speed limit is 25 in most places, but that's okay. There are too many beautiful sights to see to go fast.
Hint: If you want to bicycle the Mulholland Highway, get out there early before there is too much traffic. There are lots of cyclists but the road is very narrow and steep. Take lots of water.
Paramount Ranch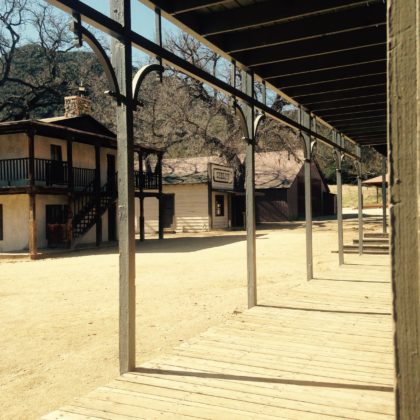 One stop along the road that we recommend is Paramount Ranch. You can explore the western town that has been a movie set since the 1920's and is still active today.
Walk in the footsteps of Bob Hope, Sandra Bullock and Alan Alda to name just a few …
M.A.S.H.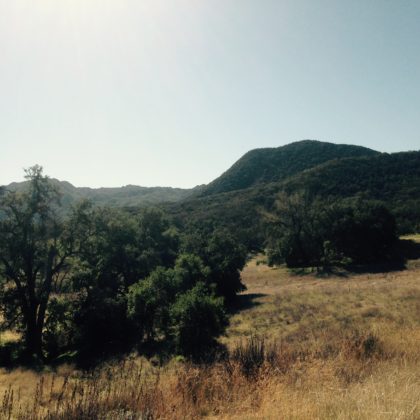 Remember the opening credits in MASH where the helicopter lands, coming in over the hills?
That was filmed right here at Paramount Ranch!
If you were a MASH fan, you will recognize the mountains that you see each time the helicopter lands.
Other Films
Other movies and shows filmed in this area include:
Butch Cassidy and the Sundance Kid
Planet of the Apes
Creatures of the Black Lagoon
The Lake House
Doctor Quinn Medicine Woman
The Mentalist
X-Files
There is still active film production there to this day. You may find yourself "on set" when you visit!
Hiking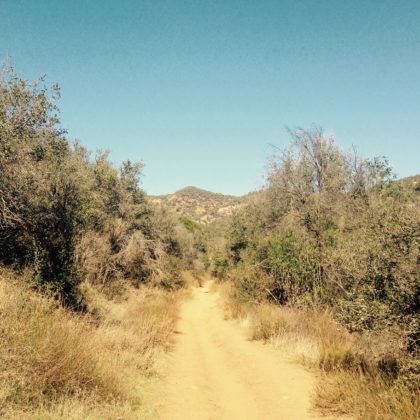 There are over 450 miles of hiking trails in the Santa Monica Mountains National Recreation Area. These include the famous "Backbone Trail" – running 67 miles from east to west. This multi-day hike takes you across the mountain range. It was designated as a National Recreation Trail in 2016.
If you have a bit less time (and energy) there are many other trails to choose from.
The ranger we spoke to recommended trails from Circle X Ranch, ranging from 1 mile to 8 miles, or Solstice Canyon, ranging from 1 mile to 4 mile. These are just a couple of the many hiking areas in the park.
Hint: Get to the trailhead early so that you get a parking spot before the lots fill up! Also be sure to bring lots of water and sunscreen. The trails are hot and dry.
Beaches
There are beaches all along Santa Monica Bay and north to Point Mugu and beyond, but our favorite is Leo Carrillo State Park. It has 1.5 miles of beach, plus tide pools, coastal caves and reefs. There is a nice shaded campground and lots of back-country hiking.
Hint: this is a popular campground but you can make a reservation up to 6 months in advance.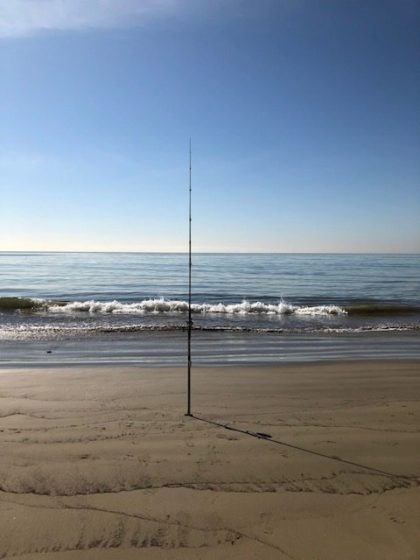 Next time you plan a trip to the Los Angeles area, take the time to get out and explore the Santa Monica Mountains National Recreation Area. It is truly a metropolitan oasis. Don't forget your surf rod!
Skip back to main navigation