Mele Kalikimaka from Kalaupapa
Mele Kalikimaka. Merry Christmas from Hawaii.
As we get closer to our goal of all 417 National Park Units, they are getting a bit farther away and more logistically difficult to reach. It takes some planning to get to places like Kalaupapa National Historical Park on Molokai but it sure is a nice place to unwind.
Getting There
First you have to get to Molokai. It's the 5th largest of the Hawaiian islands and one of the least visited. Don't expect to see any national hotel chains or restaurants – it's local Hawaiian. There are private condos for rent and a hotel. But if you like a nice slow pace and authenticity, it is a lovely place to visit. You should plan to rent a car. You will need it to get around and see the island.
Hint: look up all the information before you come. There is no visitor kiosk at the airport and the visitor center in town is only open Monday to Friday from 9 to 3.
Getting to Kalaupapa National Historical Park is another challenge. There really are only three options for getting there…
fly
hike
take a mule
It is a closed community dedicated to serving the remaining patients. You must be a registered "guest" of someone living there – either by joining a tour hosted by one of the residents or as a volunteer with the National Park Service.
We chose to do the hike and join a Damien tour.
Hint: you have to call and pre-register. Space is limited. They told us to hike down and meet them at the bottom. There wasn't any paperwork, so don't get put off the the sign at the top of the trail that warns you there is a $500 fine if you proceed without a written permit. Hike down, meet the mini bus at 10 and they'll have you on the list. The first stop on the tour is to pay Auntie Gloria.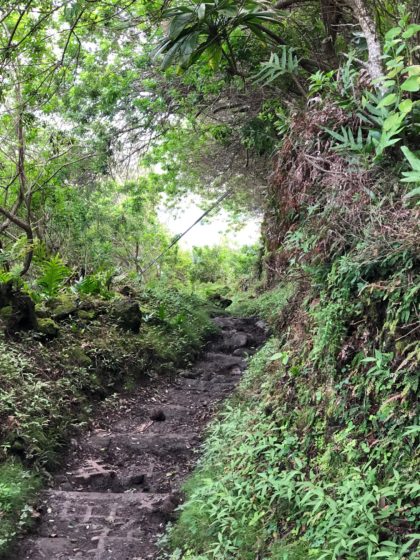 The trail going to the bottom was built by the Civilian Conservation Corps (CCC). It's in pretty good shape although the daily mule trains do mess it up a bit. Best to hike down before the mules. The tours meet at the bottom at 10 am and the mules leave "topside" at 8:30 am. Get on the trail by 7:30 so you can beat the mules.
The hike is strenuous – you drop 1700 feet in 2 1/2 miles, traversing the side of the cliff with 26 switchbacks. As you can well imagine, the views are spectacular! You need to be in good shape.
Going down is as hard as going up… if it has been raining the trail is slippery adding another element to the experience.
Hint: Take walking sticks - you will be glad you did. Also be sure to take lots of water, energy snacks and something for lunch during the tour. They stop at noon for a lunch break, but there isn't a restaurant or anything for sale. You can refill your water at the bottom before your trip back up to the top.
About Kalaupapa
Especially at Christmas, a visit to Kalaupapa reminds you that it is not all about the gifts under the Christmas tree, it is about the "Aloha" spirit – the importance the things you say and do in life.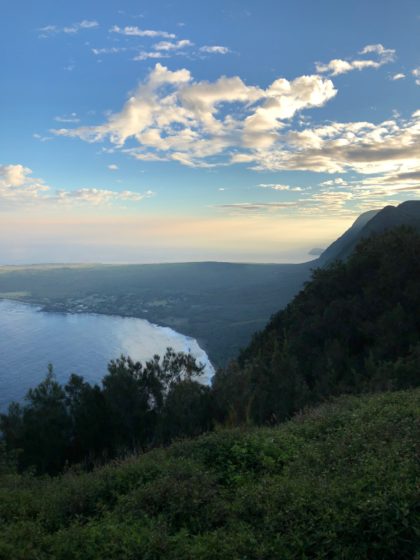 Beginning in 1866, the state of Hawaii began to ship people with leprosy or those suspected of having leprosy off to this remote peninsula. They felt they needed to do this to control the outbreak.
The first 12 to be sent there had nothing; most were in an advanced stages of the disease. Thank God for the love of the local Hawaiians who helped them, welcoming them as their family and caring for them.
Over the 103 years of the ban, 8000+ people were taken from their homes and families to live and die in Kalaupapa with no chance of ever leaving. Surrounded by ocean and steep cliffs reaching down to the sea, this is one of the most remote locations in Hawaii.
Saints
The story here is not so much about leprosy (Hansen's disease), it is about how love and faith helped carry these people through. Much of the story surrounds a Catholic priest – Father Damien – who arrived in his 30's and dedicated the rest of his life to help patients and improve living conditions; and nuns of the Order of St. Francis who risked their lives to tend to patients, especially those in the final stages.
I thought one of the most heartwarming stories was how Mother Marianne Cope helped the girls find their self-respect and confidence by teaching them to sew pretty dresses and put ribbons in their hair. None of the nuns contracted leprosy – considered to be a miracle.
The Catholic church has canonized both Father Damien and Mother Marianne Cope – now known as Saint Damien and Saint Marianne of Molokai. Their stories are ones of compassion and service.
Place of Reflection
Kalaupapa is sacred ground – history protected by the National Park Service. When you visit take time to reflect on the selfless acts of so many people – not just the men and women of God, but also the family members and "helpers" who went into self-imposed exile to help the "patients". For them love overcame fear. How do you exercise your love every day, not just at Christmas?
Skip back to main navigation