Grand Portage National Monument: small in area, but large in history
Last week we talked about national park units in Minnesota. One of them, Grand Portage National Monument, is such an interesting place we really think it deserves more. Although it is small in area (1.1 sq. mile), it is large in history.
Is it worth the drive?
Grand Portage National Monument is almost as remote as you can get in the continental United States, just a few miles from the border with Canada. In fact, it is closer to Thunder Bay, Canada (72 kilometers) than it is to the nearest major American city, Duluth Minnesota (145 miles). But it is well worth the drive.
To begin with, the surrounding area is just gorgeous. If you are coming north from Duluth, it is a beautiful drive along the shore of Lake Superior, with beaches, quaint towns, harbors, stony cliffs, forests, state parks and Minnesota's only operating lighthouse. You can get a mile-by-mile guide: https://www.northshorevisitor.com/attractions/mile-by-mile/
Activities
There are activities for any age and ability – not only Grand Portage National Monument (visitor center and village site), but also museums, parks, camping, walking trails, cycling paths and hikes, many along rivers with amazing waterfalls.
High Falls near Grand Portage National Park offers a .5 mile accessible path and boardwalk to a very photogenic 120 foot waterfall. Keep an eye out for thimble berries along the trail. Yum!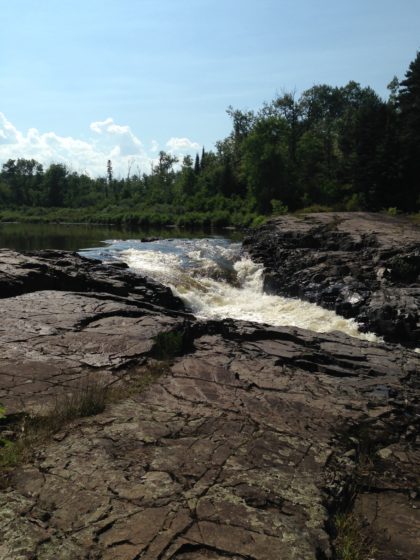 Another short hike along the Pigeon River showed us why the "Grand Portage" was needed… Fur traders had to circumnavigate the many rapids and waterfalls, portaging almost 9 miles from Fort Charlotte to Lake Superior. At points on the river, you could almost reach out and touch Canada!
In this photo the US is on the left side and Canada is on the right side – just a few yards away!
Grand Portage National Monument
The fur trader's destination was the trading post of the Northern Company, where they would bring their pelts, in exchange for more supplies and trade goods, brought to the post by the "voyageurs" – much like a distribution center today.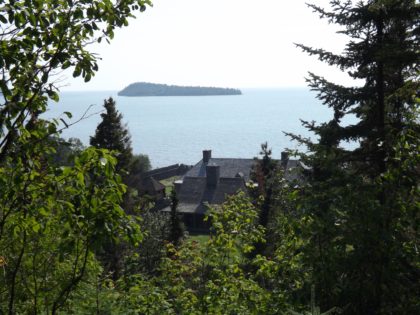 Begin at the visitor center. Of course there is a movie, plus they have very interesting exhibits with a time-line that showed the history of the fur trade. The volunteers and staff there were awesome – the most friendly, helpful and knowledgeable of any national park unit we have been to so far.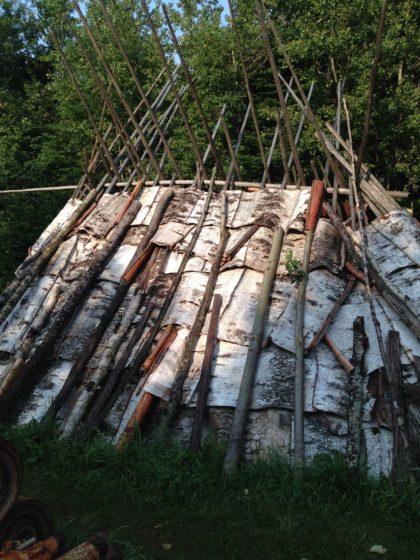 We usually don't seek out "re-enactors", but the ones at Grand Portage were amazing. Dressed in period clothes, they were engaged in day-to-day activities around the village – building birch bark canoes and shelters, working in the "great hall" and the bakery and gardening.
They had scheduled demonstrations – be sure to take them in – but other times they were really interesting to talk to. They didn't push themselves on you, but they were a wealth of information if you got them talking. Each of the re-enactors had played every role, so they were very knowledgeable.
What did we learn?
What was the workhorse of the fur trade?
Birch bark canoes – an art learned from the Ojibwe. These canoes were 30 to 40 feet long and manned by 8 to 16 voyageurs. Be sure to see the the demonstration of how they built these canoes. It is hard to believe that they could withstand the wrath of Lake Superior.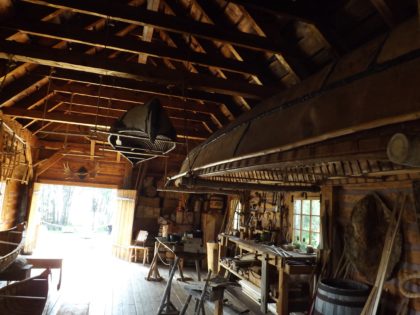 What is a Mad Hatter?
Folks who made hats from beaver pelts used mercury and so they ended up with mercury poisoning. That made them act crazy – hence the term, mad hatters!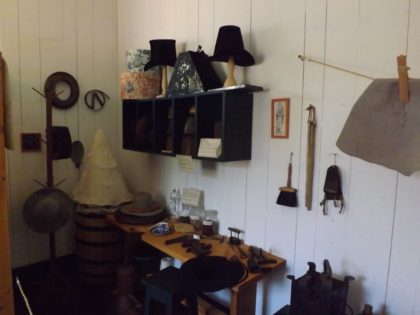 Where did the term Sweet Tooth come from?
On the dinner table there was a cone shaped hunk of sugar that men would cut a piece off of and put between their teeth and gum to suck on after dinner. Of course, this caused cavities – a "sweet tooth".
Who were the Ojibwe indians?
We were amazed at the size of the territory of the Ojibwe indians, but the thing that left the most lasting impression on us was the relationship between these early traers and the local Ojibwe population. After visiting so many national park units talking about the history of native americans in this country, it was refreshing to hear good things about the relation between the traders and the locals.
In fact, many of the voyageurs married local Ojibwe women and the fur traders lived among the locals villagers. The cultures were linked by trade.
Gateway to Isle Royale NP
If you are a National Park junkie, Grand Portage is also on the gateway to Isle Royale National Park. From here you can take a short boat ride to the Windigo Visitor Center on the west end of Isle Royale.
These remote parks are well worth the detour!
Skip back to main navigation