Golden Gate National Recreation Area
We have already talked about The Presidio and Fort Point National Historic Site in San Francisco. Although these may be some of the better known parts of Golden Gate National Recreation Area, there is much more than this. In fact, Golden Gate National Recreation Area is the largest national park unit in an urban setting, spanning from southern San Mateo County to northern Marin County.
Golden Gate National Recreation Area is not one contiguous unit. Instead it comprises several locations mainly along the coast and includes 140 miles of trails, 12 sand beaches and 3 lighthouses, plus shipwrecks and countless historic structures. Because it is so close to so many cities, this park is one of the most visited in the United States.
San Francisco Area
Our visit to Golden Gate National Recreation Area began at the Presidio. We walked (and walked and walked), from officer's row down through the Main Post to Crissy Field and along the Bay Trail. It was really lovely strolling along the waterfront from there to the Golden Gate Bridge and Fort Point.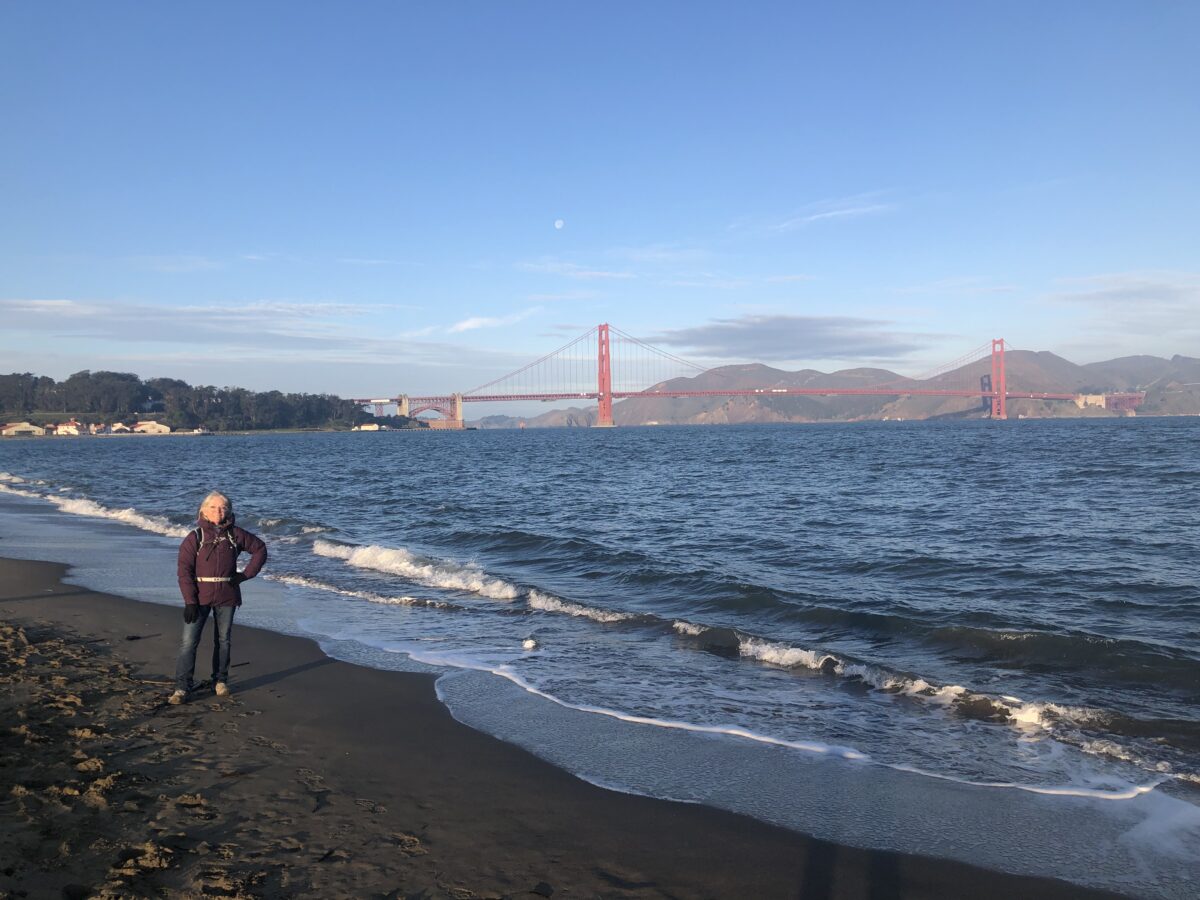 From there, we continued under the bridge to see the west side of the park, walking the bluffs overlooking the Pacific Ocean. Here the trail is part of the California Coastal Trail, a 1,200 mile trail that stretches from Mexico to Oregon. There are lots of lovely deserted beaches, perfect for a picnic.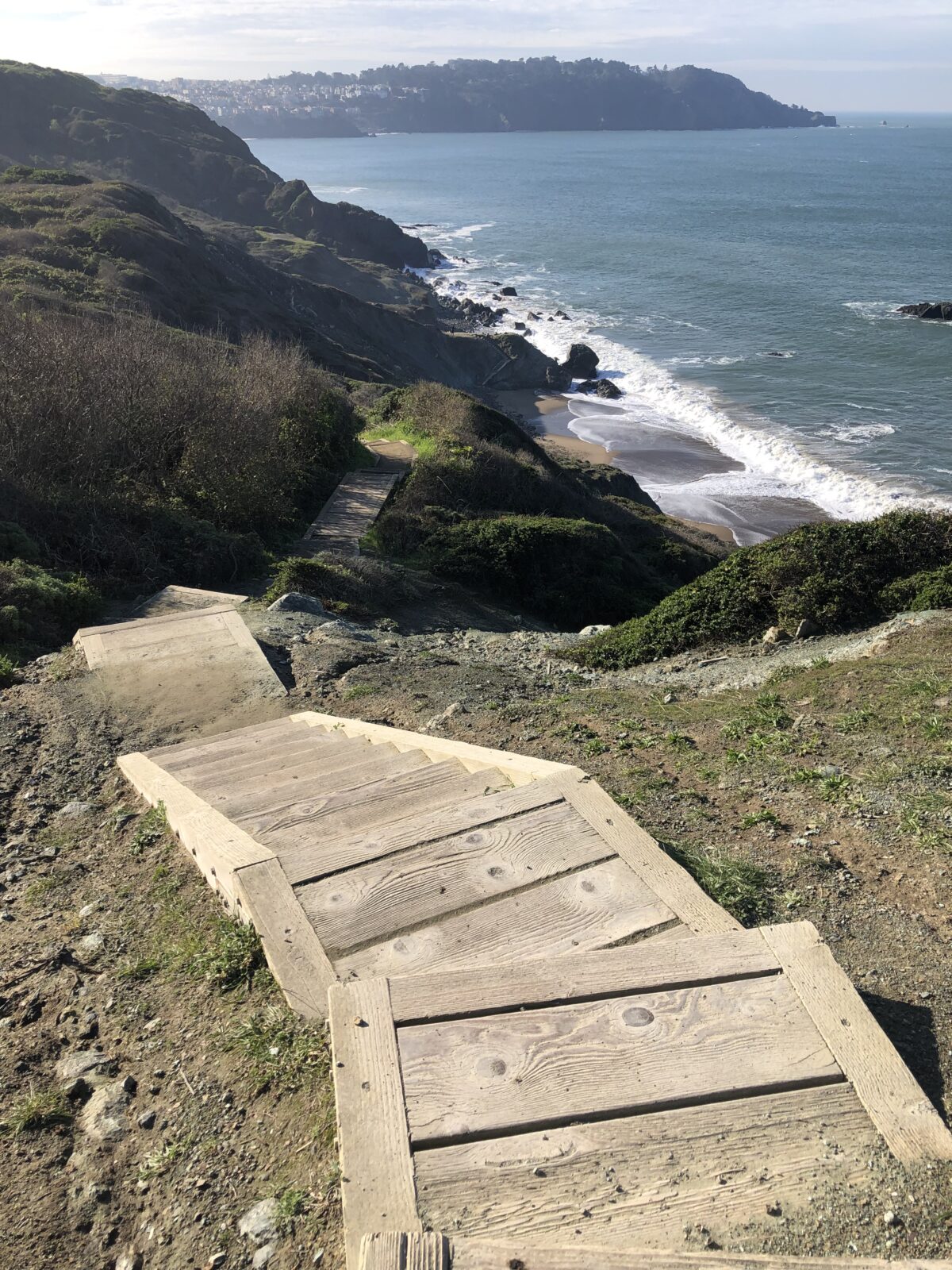 The trail takes you past and through several of the old Battery structures – many now covered in graffiti and overgrown – but once an active part of the defense of the city.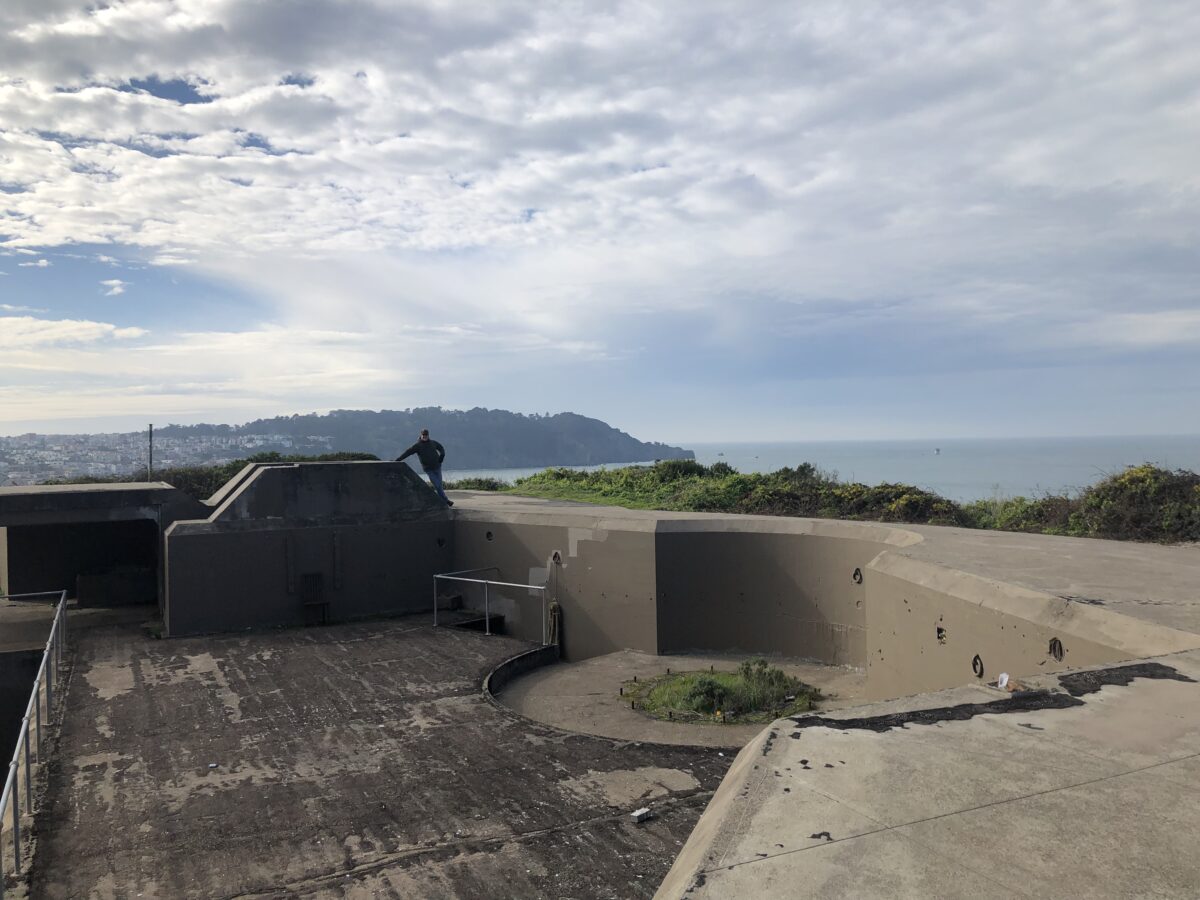 As we made our way back to the car, we ventured inland to sample what this section of the Bay Area Ridge Trail had to offer. It was a lovely walk through tall trees – Monterrey cypress, pines and blue gum eucalyptus. At one point there were photos showing what this area once looked like – totally barren of trees. The army planted this forest starting in the 1880's to beautify the area and limit visibility. Today this mature forest is a wonderful haven for wildlife, birds and people – well used by walkers, runners, hikers, dog walkers, cyclists, equestrians and campers.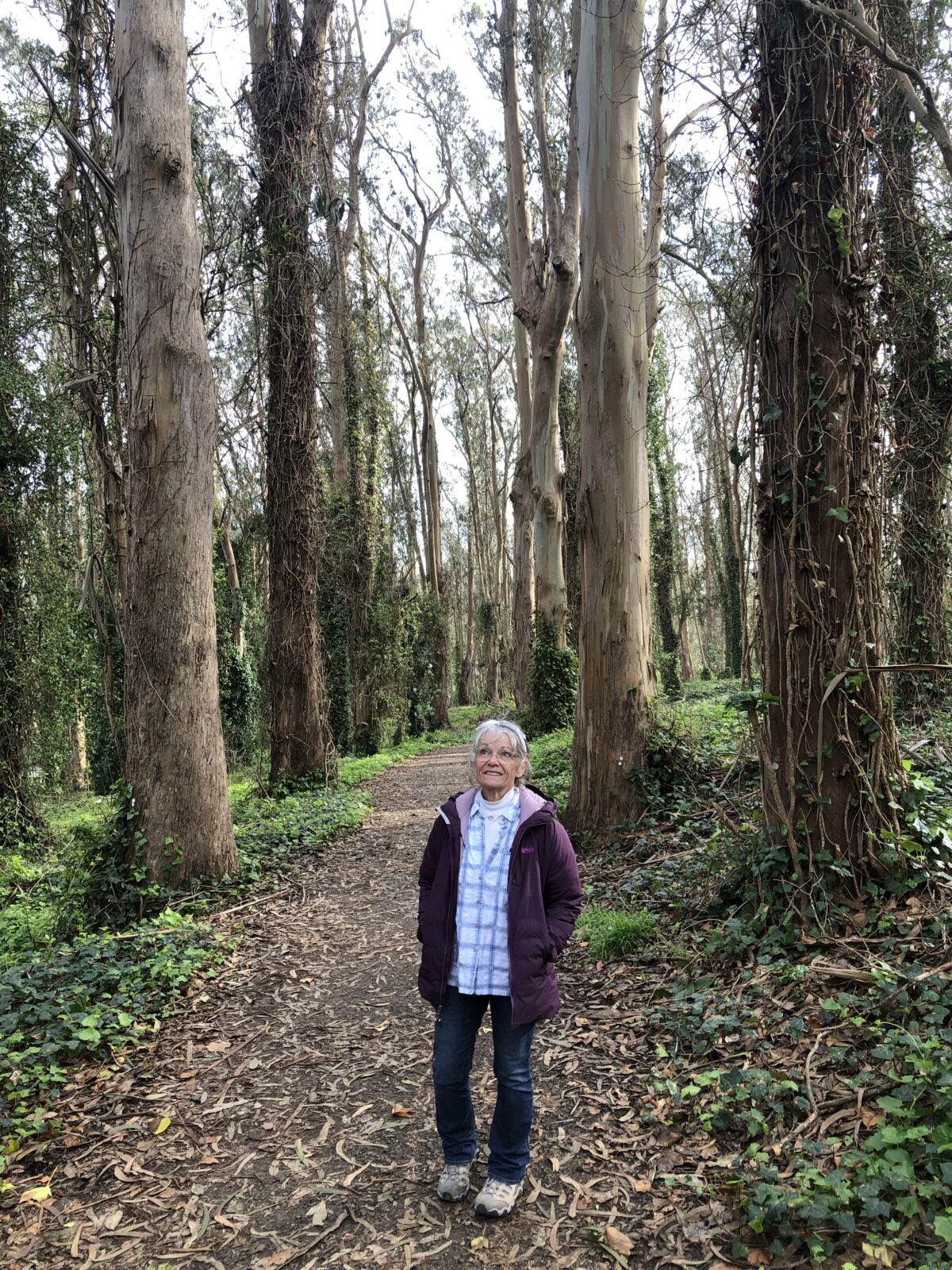 Marin Headlands
Over the Golden Gate Bridge, the park unit picks up again in Marin County. We stopped at the Marin Headlands Visitor Center. They had some really interesting exhibits, including one that talked about how locals had saved this area from development. Developers had planned a community of 30,000. These plans were derailed in 1974 when these lands were added to Golden Gate National Recreation Area.
In fact, it was the work of many Bay area residents that led to the original establishment of Golden Gate National Recreation Area in 1972, by then President Nixon. Their continued work contributed to extending this to include other open spaces. It is hard to believe that this gorgeous barren coastland could have been covered with mansions.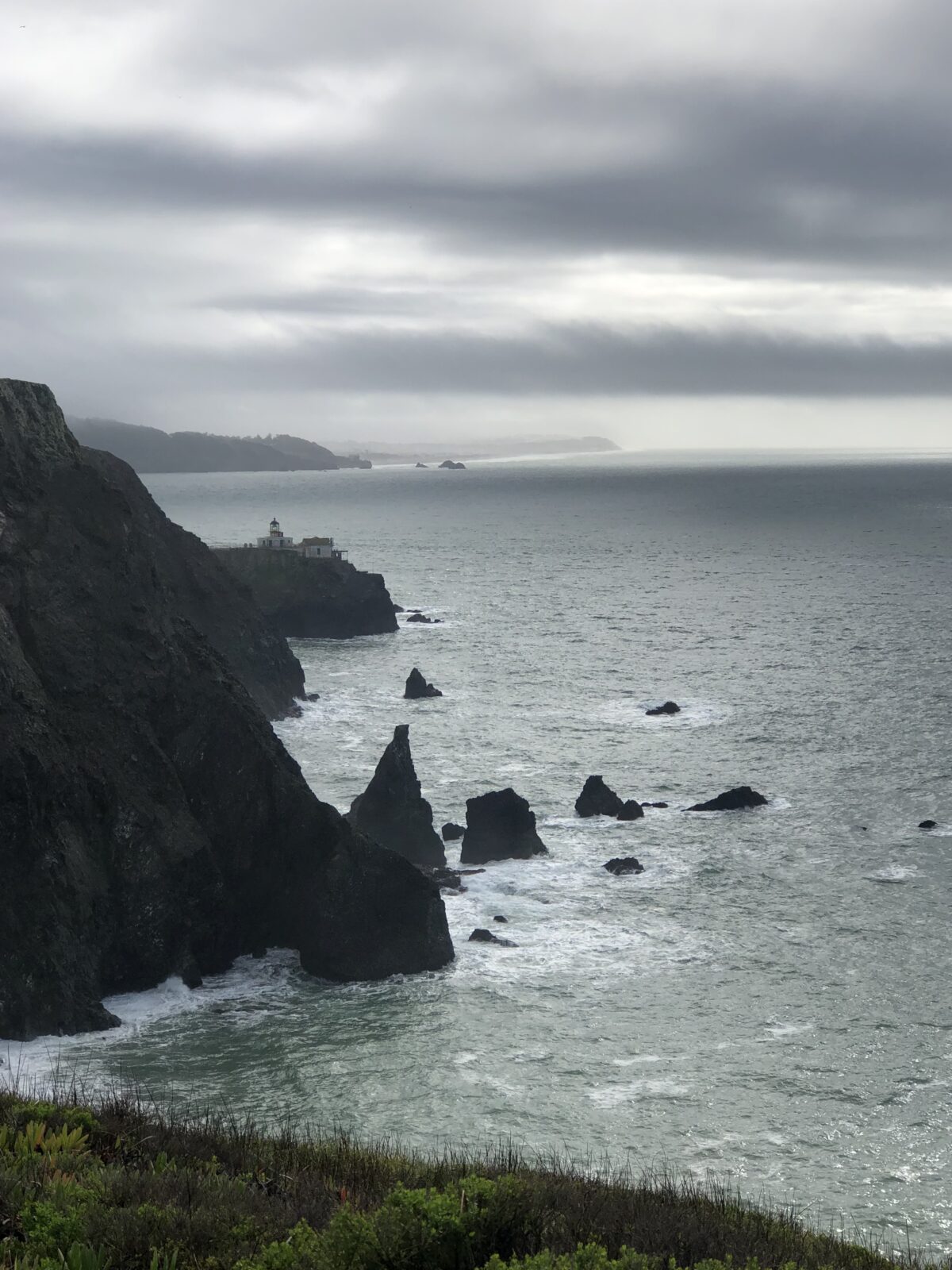 From the visitor center, we drove out past the Nike Missile Site to Battery Mendell, then walked out to Point Bonita. It is a lovely walk – look for seals in the coves below. There are amazing views of the Golden Gate Bridge and the city.If you are looking for a short walk, this is a nice one.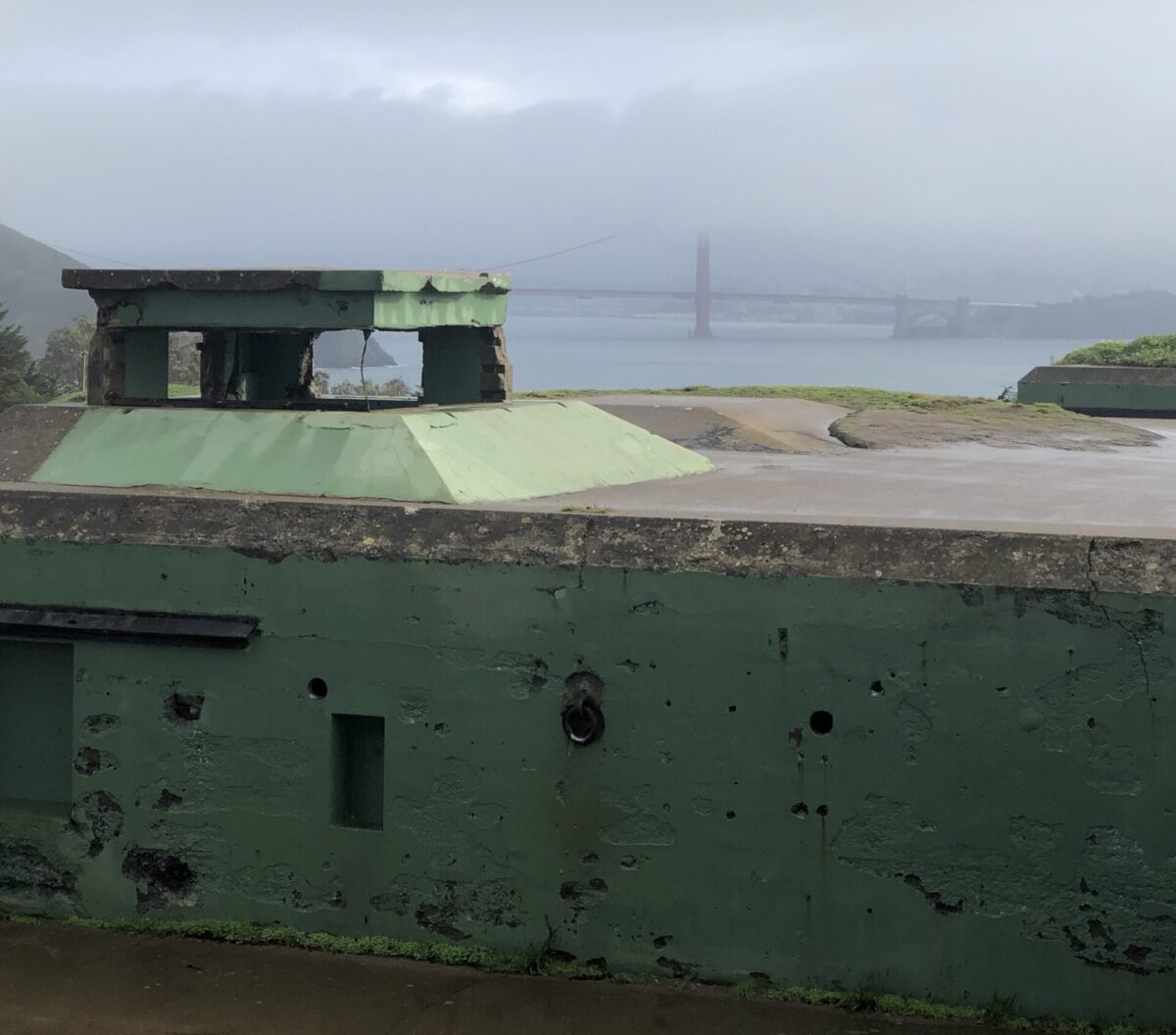 There are tons of hiking trails in this area, many starting at the Visitor Center. We walked along the Rodeo Lagoon where we saw river otters fishing and playing.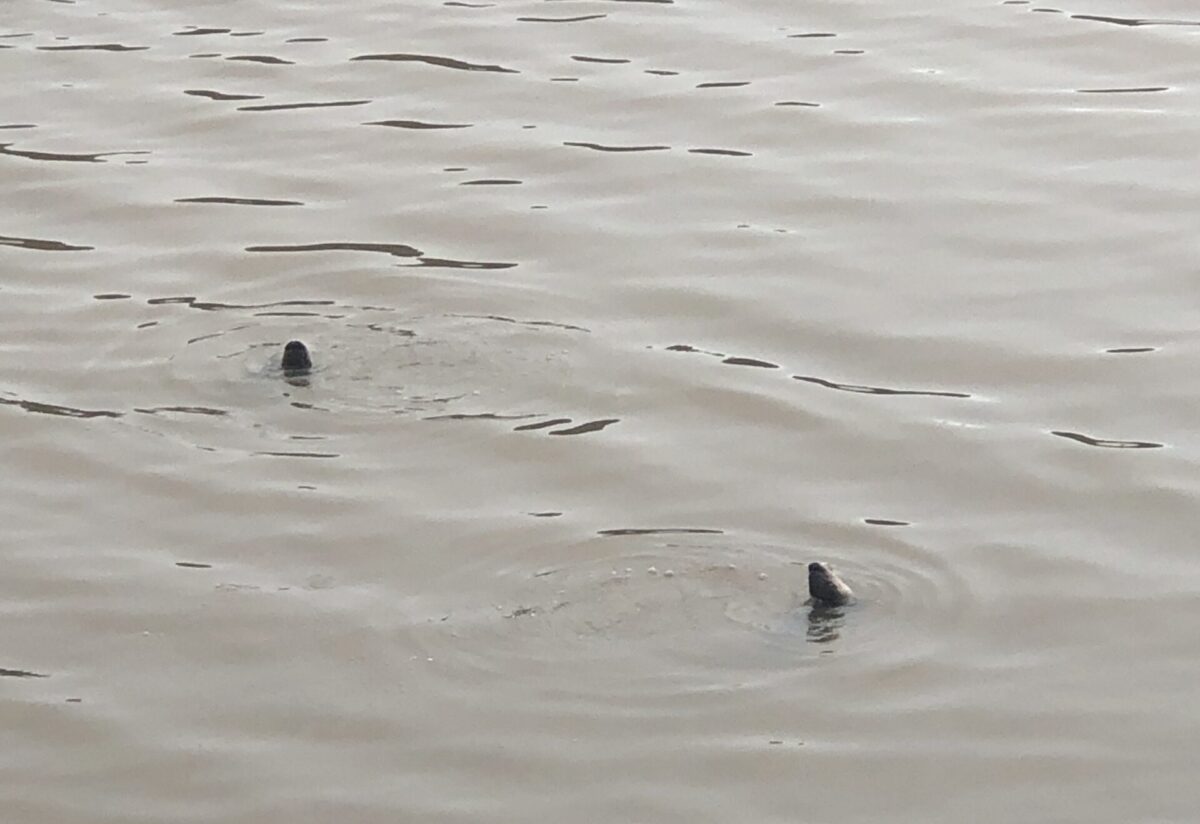 From there we made our way up hill to Battery Townsley. The battery is only a 1/2 mile from a parking lot, but it is a pretty strenuous climb with incredible views. Then you see the battery from below and it looks like a huge spaceship that rammed into the side of the cliff!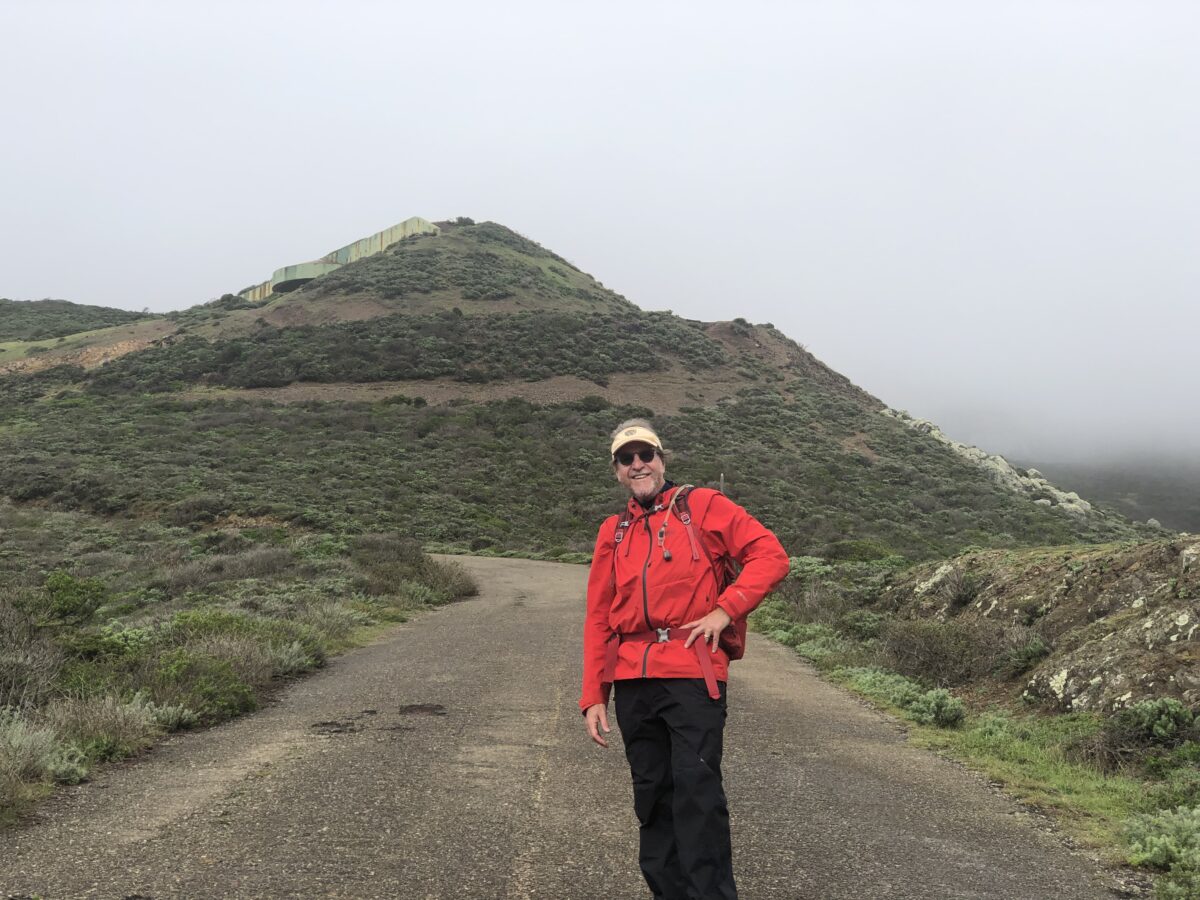 On display outside was one of the longest guns we have ever seen, capable of shooting a 2,100 pound shell as far as 25 miles out to sea. These guns were fired 100 times, but only in practice, never at an enemy. Changes in technology made these guns irrelevant and they were scrapped in 1948.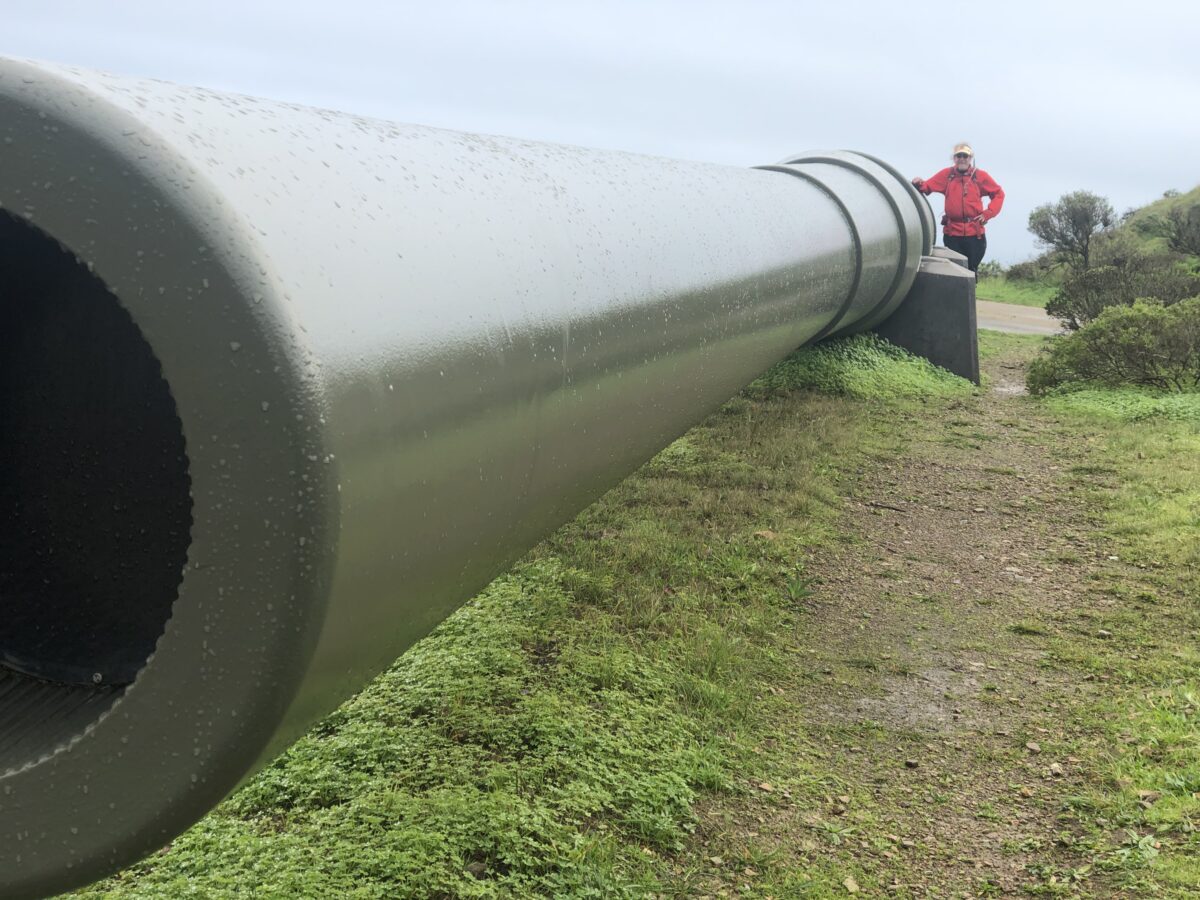 We continued from there inland on the Coastal Trail and back to the parking lot via the Milwok Trail – making our hike a big loop. It was really lovely with beautiful views of rolling hills, even though we were hiking in and out of the fog.
Muir Beach
There are miles and miles of trails in the Marin Headlands section of Golden Gate National Recreation Area, of all distances. We hiked another section of the Coastal Trail from Muir Beach up to Pirates Cove. Here you walk along deserted cliffs above the Pacific Ocean. On a clear day, you can see for miles.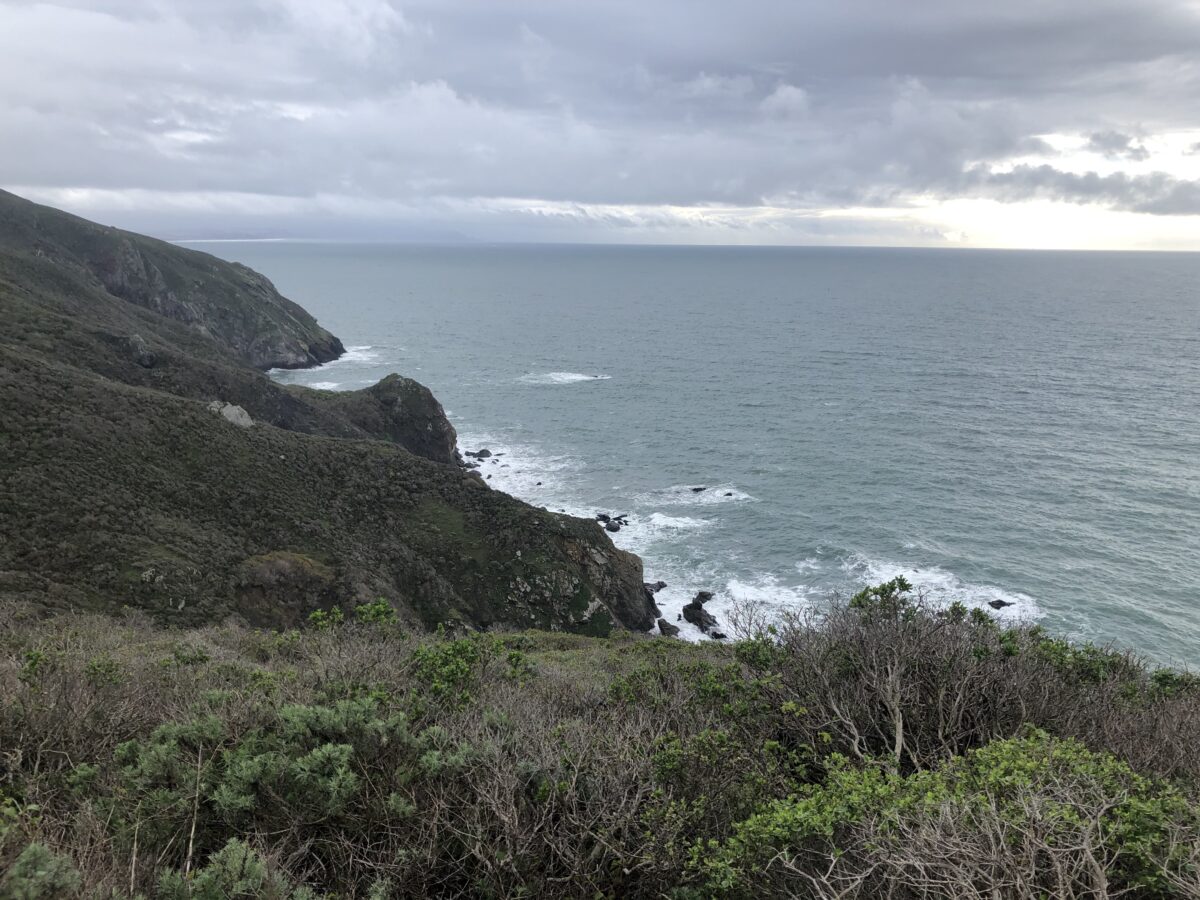 North to Point Reyes
From Muir Beach, we continued our visit by driving north on highway 1. This road winds in and out of Golden Gate National Recreation Area. We didn't stop there to hike. Instead, we hiked at Muir Woods National Monument and into Mount Tamalpais State Park, then went up to Point Reyes National Seashore. There is just so much to do in this area, we could have stayed for weeks!
Golden Gate National Recreation Area certainly has a lot to offer. Any visit to the San Francisco area should certainly include a visit to at least one of its many park locations, and the national park units nearby.
Need Help Planning Your Visits?
If you would like to explore this or other National Park Units, but need a bit help in the planning, please give us a call at (480) 609-3978. We are happy to offer customized trip planning.
#FindYourPark
#SeeAmericaFirst