While we were driving across Illinois on highway 50 – making our way towards the covered bridges near Indianapolis – we needed to take a pit stop. We took the exit for Vincennes and what a surprise that was. Not only are there a ton of amazing ice cream shops in this town, there is a National Park Unit – a memorial to George Rogers Clark.
Who is George Rogers Clark?
Who is George Rogers Clark you may say? The first thing that pops into your mind when you hear the name Clark is "Lewis & Clark". In fact, this was his brother. But George Rogers Clark was a man who really should be famous on his own account. Without his bravery and actions during the winter of 1779, we might all be calling the Queen of England our monarch.
What did George Rogers Clark do?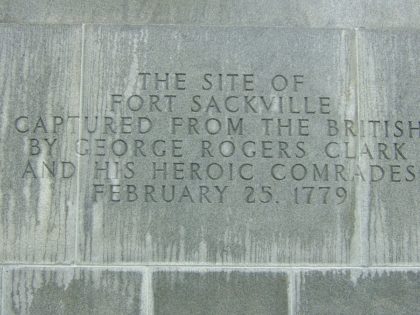 We were astounded to hear what he did. In the freezing February cold, with no supplies, American Colonel George Rogers Clark took 170 men across the Wabash River to attack Fort Sackville in Vincennes. This was the westernmost fort held by the British and key to their expansion. The capture of this fort would assure the US of control over the west.
He and his troops trudged 10 days in icy floodwater, often up to their necks. They had to hold their guns above water to keep the precious powder dry. When they finally arrived in Vincennes, they were fortunate that the local French inhabitants treated them kindly, and fed and resupplied them.
When they attacked the fort, they were seriously undermanned. By firing often and making lots of noise, they gave off the illusion of superiority, convincing the British that they could not win. After just 2 days, the British surrendered, giving the US a key victory in the Revolutionary War.
What is George Rogers Clark National Historical Park?
The George Rogers Clark National Historical Park features a monument made of marble, surrounded by pillars with an interior rotunda that depicts his story in a series of 28 foot tall murals painted on the walls.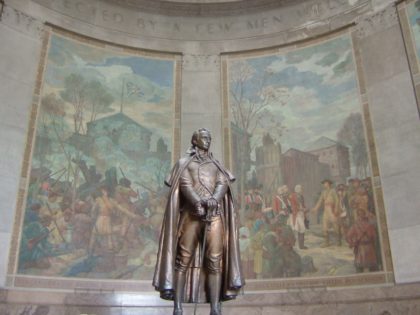 There is also a picnic area and grounds for strolling, just short walk from the cute town of Vincennes where you will find restaurants, ice cream shops and antiques.
What does this have to do with Louisville, Kentucky?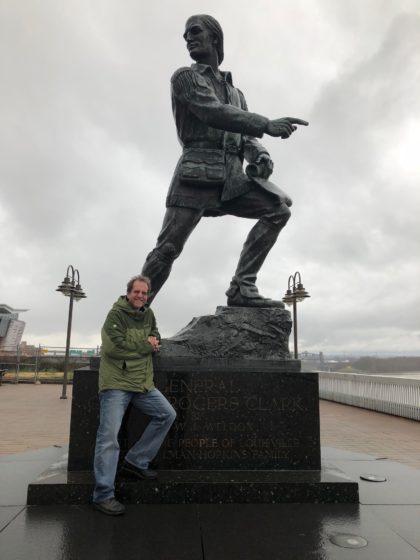 We were reminded of this and his story when we visited Louisville, Kentucky this weekend. On the waterfront is a statue of George Rogers Clark. Although born in Virginia, he made his home and ultimately died in poverty in Louisville.
If you are looking for an unsung American hero, look no further than George Rogers Clark – yet another example of why we love the National Park Service and the history they preserve.