Chiricahua National Monument: Arizona's Wonderland of Rocks
We just visited the Chiricahua National Monument for our 4th time, and like most National Park Units, every visit offers something new. There is so much to do at Chiricahua National Monument, it is almost impossible to do everything in one visit.
This time we camped within the monument at Bonita Canyon Campground and hiked three trails we hadn't been on before. It certainly didn't disappoint! And, a hike of just 5 miles earned us a "Get Fit" pin at the Visitor Center.
Bonita Canyon Campground
Bonita Canyon Campground is just a few minutes from the visitor center, nestled into the canyon along an intermittently flowing stream. Unfortunately, with the drought, there was no water in the stream but piled up sandbags reminded us that when it does rain things overflow!
The campground is fairly rustic. They don't allow anything over 24 feet and there is no electricity or hookups. The sites have really nice pads for tents and bear boxes for food. We didn't see any bear, but there were wild turkeys nosing around in the leaves and lots of Mexican Jays hanging around to see what they might scrounge.
Sites are reservable at recreation.gov and they do fill up quickly. It is really nice to stay in the park. You can walk from the campground to the visitor center (< 1/2 mile) and you can also take a stroll along Bonita Creek to the Faraway Ranch.
If you can't get a site, or if you don't camp, there are lots of places to stay in Willcox. Check out the little places downtown, off the freeway. We once stayed at the Arizona Sunset Inn and it was totally redecorated, and walking distance to some cute restaurants. One is in a caboose.
History at Chiricahua
There is actually quite a lot of history at Chiricahua and in the nearby area. These mountains were the home of the Chiricahua Apaches. One of the most famous of these was Cochise. They say his likeness is in the rock face of a far off mountain peak – Cochise Head. It really does look like the profile of a strong Indian face. And unlike Crazy Horse in South Dakota, no one had to carve it!
Nearby Fort Bowie was established to protect emigrants and settlers from the Apaches, a fight that started with Cochise and lasted until Geronimo surrendered in 1886. Only after that did settlers move into the area in earnest. At Chiricahua National Monument you will read about the Swedish family who settled there in 1888.
"Faraway Ranch" eventually became a guest ranch, operating from 1917 through 1973, hosting birdwatchers and outdoor enthusiasts. One of the favorite pastimes were horseback trips into the Wonderland of Rocks. Fun fact… the "Sarah Deming" trail is supposedly named after one of these riders, who lost her skirt on a trail ride.
We took a walk out to Faraway Ranch. It's a nice walk from the campground and you go by the Stafford Cabin (a log home built in the 1880's) and two rock fireplaces, all that remains of the Silver Spur Guest Ranch that was in business from 1948 to 1968.
Visiting Chiricahua National Monument
There is an 8 mile scenic drive to Massai Point. (Named after an Apache warrior.) At the top there is a nature walk and museum, plus an amazing view of the mountain range and surrounding valleys.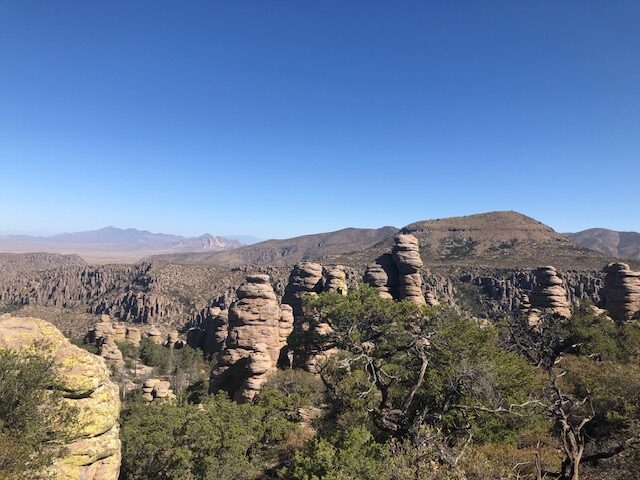 It really makes you understand why they call this a "sky island" – surrounded on all sides by brushy desert, this isolated mountain range is totally different than the lowland environment. You can clearly see how the desert gives way to oak, juniper and pine.
Picture the surrounding desert as the ocean and the mountain peak as an island that rises 7000 feet out of the sea!
Hiking at Chiricahua National Monument
You simply can't experience the monument without taking a walk. From Massai Point, there is an ADA accessible trail and there are several short trails that you may choose.
If you able, we highly recommend Echo Canyon Grotto. This 1 mile long trail gets you up close and personal to the crazy rhyolite rock formations.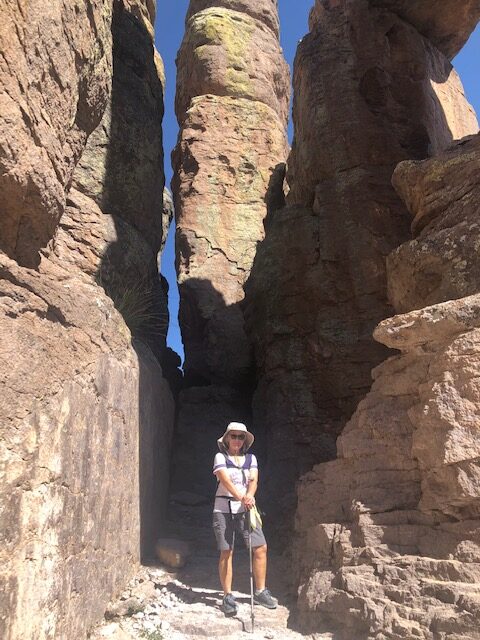 There are all sorts of other trails, depending on the amount of time you have and your energy level. Most years, the National Park Service runs a daily shuttle to the top and lets you off at Echo Canyon trailhead. From there, you can walk back to the visitor center. That's almost all downhill and takes you through the wonderland of rocks.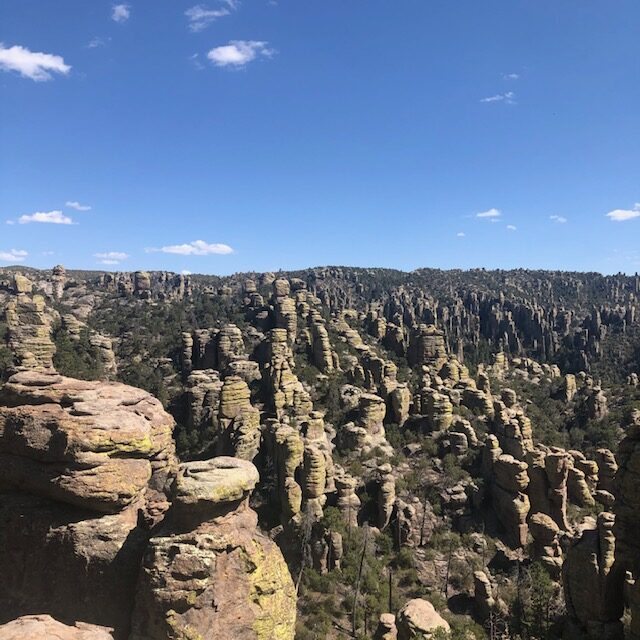 Right now, there are no shuttles. We chose to drive to the Echo Canyon trailhead and do the 3.3 mile loop. (Be sure to do this one counter-clockwise.) Then on the next day we hiked from the campground up Rhyolite Canyon to the Heart of Rocks.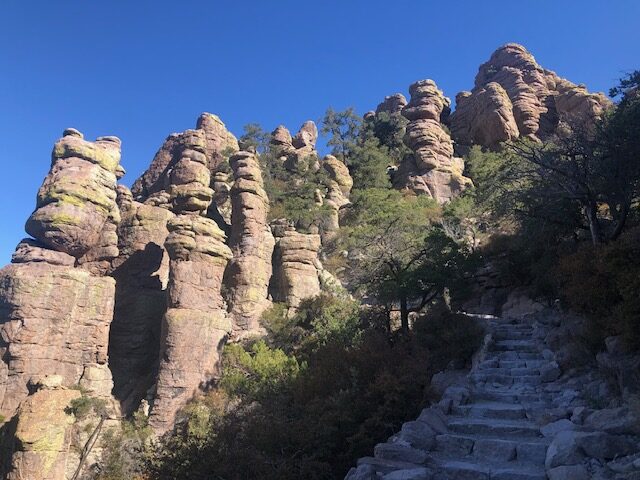 This was simply amazing!!! They say the Heart of Rocks area includes some of the most spectacular formations and we would agree. Some are named… Duck on a Rock, Kissing Rocks, Punch and Judy, Pinnacle Rock, Big Balanced Rock… with signposts built by the CCC in the 30's.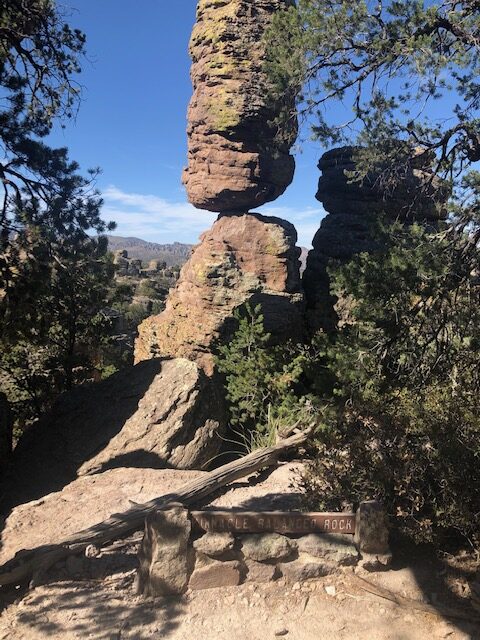 But its a great place to let your imagination go wild. We saw lots more fun things… a Seal balanced on a rock, Mickey Mouse, Big Bird, and a mounted dragoon, to name just a few.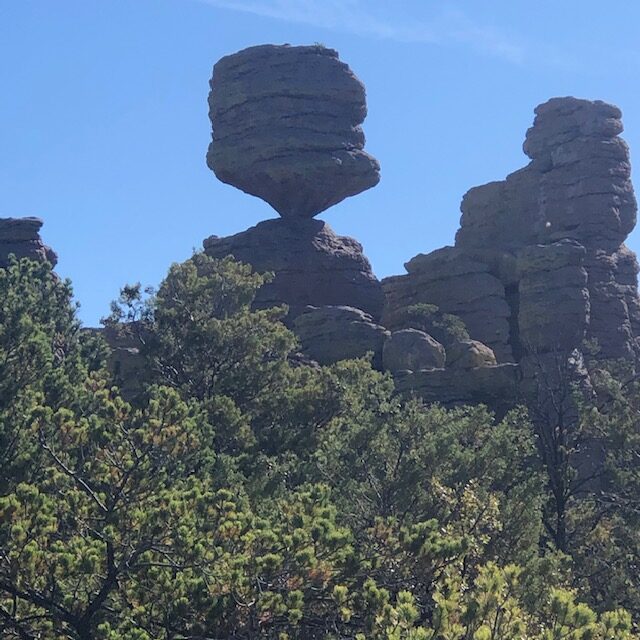 The most amazing thing to us was how few people there were. In our 20+ miles hiking in the monument, we saw fewer than 10 people on the trails!. The trails are perfectly groomed and well marked, but other than that it is a true wilderness experience. In fact, of the 12,025 acres set aside for the National Monument in 1924, over 84% was designated as Wilderness in 1976 – keeping it untouched.
Geology of Chiricahua National Monument
We aren't geologists, but it is pretty interesting to think that this mountain range was formed 27 million years ago by a volcano. The superheated ash particles melted together to form the Rhyolite rock. Subsequent cooling and uplifts created cracks, and over the years erosion left the weirdly shaped formations you see today.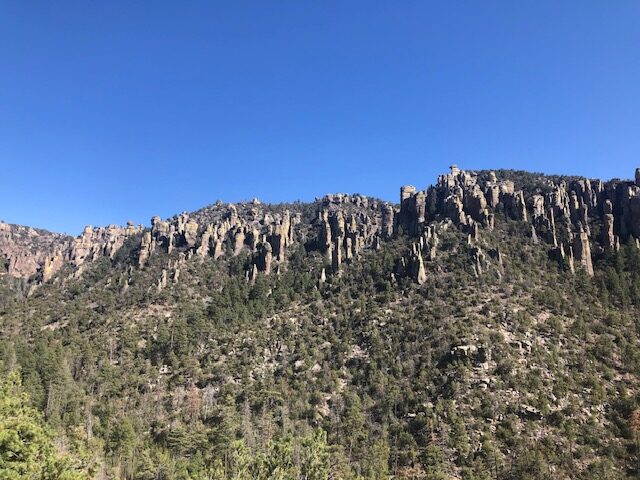 It is really different than anything you will see anywhere else in Arizona. 40 miles south of Willcox off the Interstate 10, Chiricahua National Monument is well worth the trip.
Need Help Planning Your Visits?
If you would like to explore this or other National Park Units, but need a bit help in the planning, please give us a call at (480) 609-3978. We are happy to offer customized trip planning.
#FindYourPark
#SeeAmericaFirst