Cedar Breaks National Monument: Utah's High Point
Cedar Breaks National Monument is Utah's highest national park unit at over 10,000 feet in elevation. So high in elevation, you have to check the road conditions, no matter what time of year you go!
Often overlooked by visitors to the "Big 5" National Parks in Utah, this National Monument really is worth the detour. No matter which way you access the monument, the drive is spectacular. We came in from the north via highway 62 through Fish Lake National Forest, then highway 89 to 143. This was one of the loveliest drives we had been on. Sprawling ranches, quaint little towns and towering mountains – truly a place where the deer and the antelope play!
About Cedar Breaks National Monument
Cedar Breaks is a "natural amphitheatre" – a rocky bowl that stretches across 3 miles; with its highest point at 10,000 feet going down to about 8,000 feet. The National Monument is 6,155 acres in size and is accessible by only one road.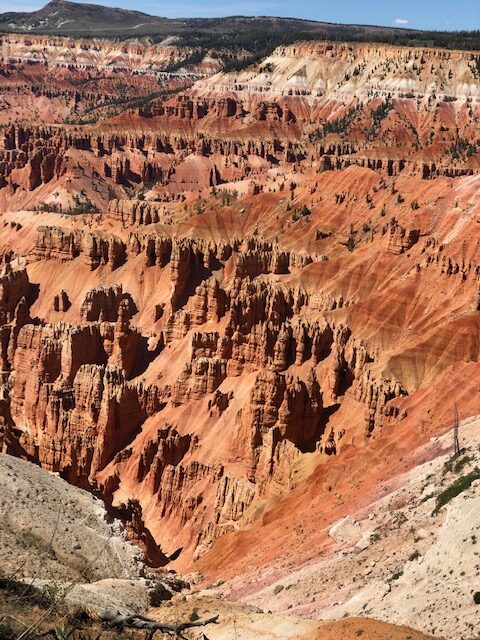 Named Cedar Breaks for the trees (actually juniper but originally thought to be cedar), this area was preserved as a National Monument in 1933 and developed by the CCC during the Roosevelt era. You can still see the results of their labor at the visitor center, campground, picnic areas and overlooks.
There was actually a National Park Lodge there at one time, but it was decommissioned in 1972. The lodge was dismantled and the cabins hauled away. This caused a public outcry that actually saved the lodges at Bryce and Zion National Parks – both ones that we have really enjoyed.
Things to do at Cedar Breaks National Monument
Most people just drive through; dropping by the visitor center and stopping by the overlooks, walking to the edge, taking photos and marveling at the crazy rock walls and amazing colors. In fact, that's all we did the first time we visited this special place.
But if you can take the time, it is worth a longer visit. We spent three days there and this really enabled us to take in the views in all their colors – at dawn, day light and dusk.
There is a nice little campground (no electricity but nice bathrooms with a shower). Most spots can be reserved, but there are a few first-come first-served. You just have to get there early. The campground overlooks a huge meadow on both sides – perfect for watching for elk and deer, and enjoying the wildflowers.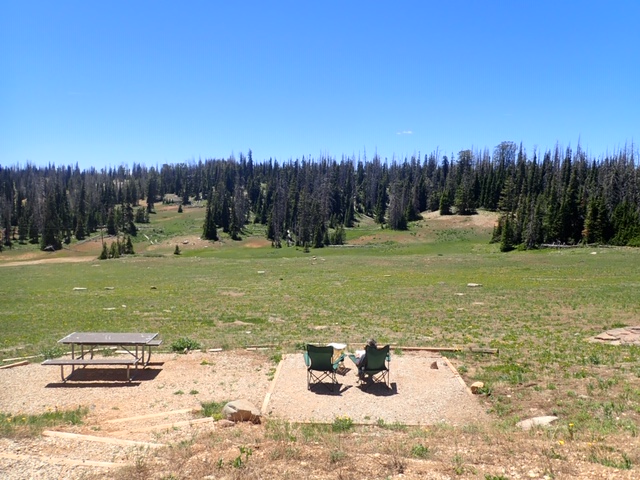 Trails at Cedar Breaks National Monument
There really are only a few walking trails in the National Monument, each with their own special attractions.
Campground Trail to Visitor Center – ½ mile one way
If you are staying in the campground, no need to move your car. It is just a short walk to the visitor center and the largest overlook.
Sunset Trail – 1 mile one way
From the visitor center, this fairly flat, paved walk goes through the forest and along the alpine meadow to another overlook. As its name implies, this is a lovely place to watch the sun set.
Ramparts Trail – 4 miles round trip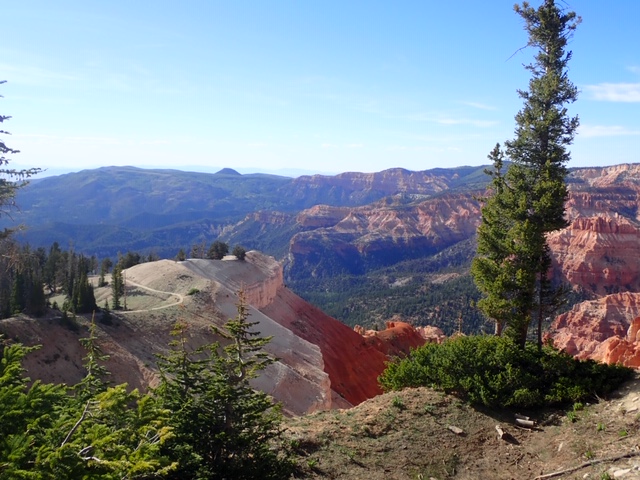 Another trail starting at the visitor center is the Ramparts trail. This out and back trail is not paved and is not flat. The first mile you walk along a narrow gravel path, much of it right on the edge of the amphitheatre. From Spectra Point you have a different perspective of the breaks, looking back towards the visitor center. You will also see some Bristlecone Pine trees – some 1600+ years old. These trees grows so slow that they only add 1 inch to their girth each hundred years.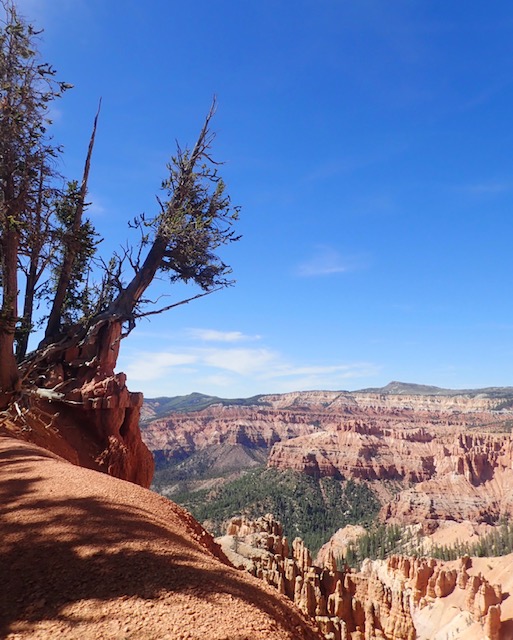 Continue another mile downhill, walking in the forest alongside a mountain stream. At the end you will look down at the red colored ramparts with a vista across the breaks and out over Dixie National Forest and Wilderness.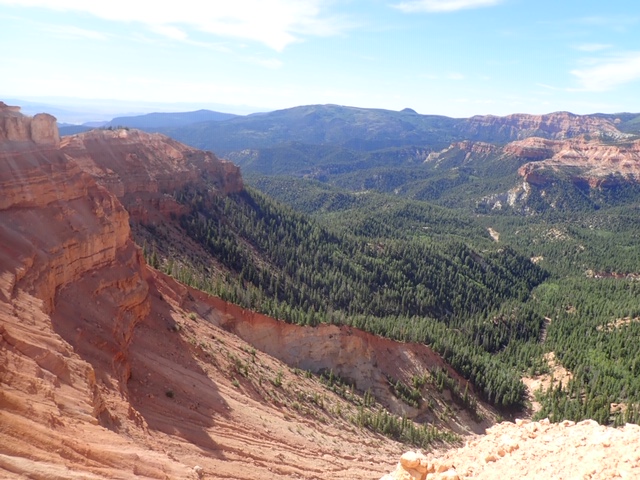 The colors – red, orange and purple – were spectacular and particularly vibrant at sunset. The view was well worth the 2 mile walk back uphill to the trailhead.
Alpine Pond Trail – 2 mile loop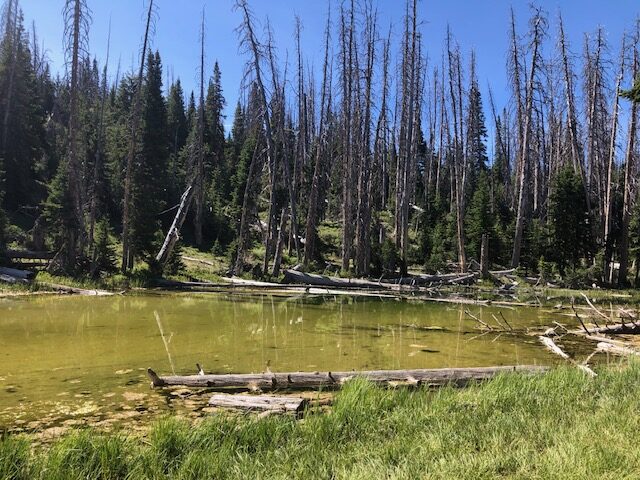 A very different trail is the Alpine Pond loop trail; surprisingly harder than we expected. Take a trail guide… it provides all sorts of information, things to look for during the walk like salamanders in the pond, and how to identify trees, like what is the difference between a spruce and a fir tree, or a bristlecone and a limber pine.
You do have nice views of the amphitheatre, but the main focus of this trail is to experience another view of the park – the plants and animals that live, and in season, to see the wildflowers of Cedar Breaks.
We visited in mid-June, a bit early for wildflowers but even then there were huge clusters of Aspen Bluebells and phlox. A bit later in the season would be incredible. They say there are over 260 types of wildflowers at Cedar Breaks.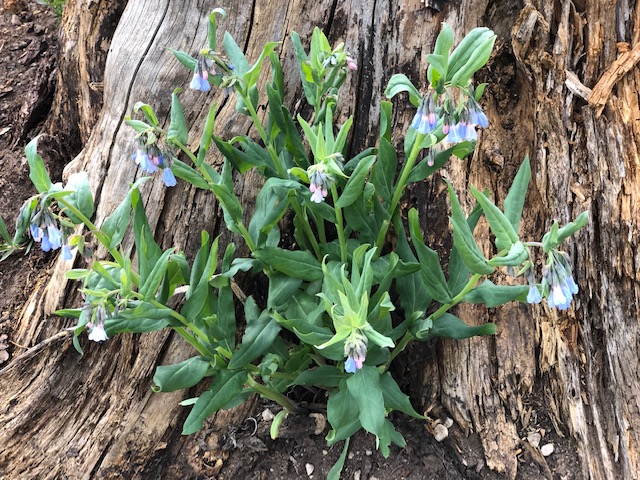 Rattlesnake Creek Trail – 9.7 mile one way
The only really long trail is Rattlesnake Creek Trail, but only a couple miles of this are actually within Cedar Breaks National Monument. It is a very hard hike – descending over 3000 feet. We did not try this hike, at least this visit.
Maybe that's one more reason to re-visit Cedar Breaks National Monument.
No matter how long you can stay – an hour or several days – it is truly worth the detour.
#FindYourPark
#SeeAmericaFirst
Need Help Planning Your Visits?
If you would like to explore this or other National Park Units, but need a bit help in the planning, please give us a call at (480) 609-3978. We are happy to offer customized trip planning.
Skip back to main navigation