Badlands National Park: Worth Revisiting
We've been to Badlands National Park in South Dakota three times, so far, and each visit has been amazing. Not only are the rocky formations and grasslands wild and beautiful, we have some very silly memories from there that we'd love to share. It is always fun to reminisce, even if we can't visit the park today.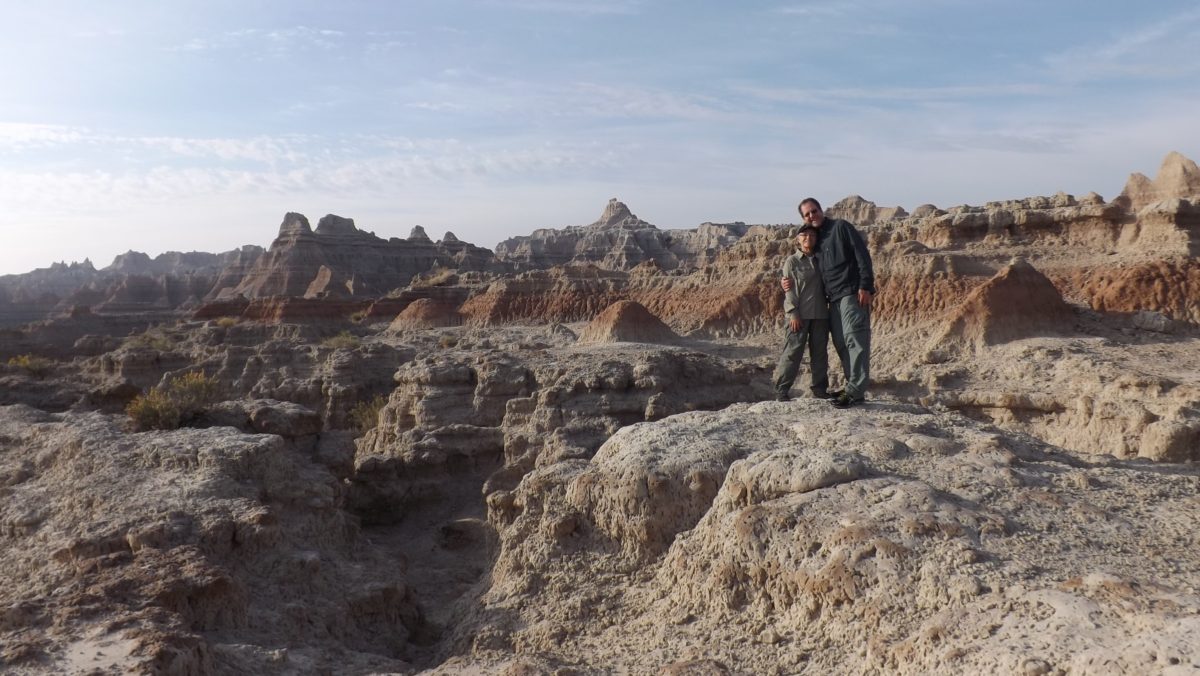 About Badlands National Park
Badlands National Monument was established in 1939 and it was re-designated to be a National Park in 1978. It has three units (two units are in the Pine Ridge Indian Reservation); comprising 244,000 acres that protect extensive geologic and human history, plants and wildlife, and rich fossil beds.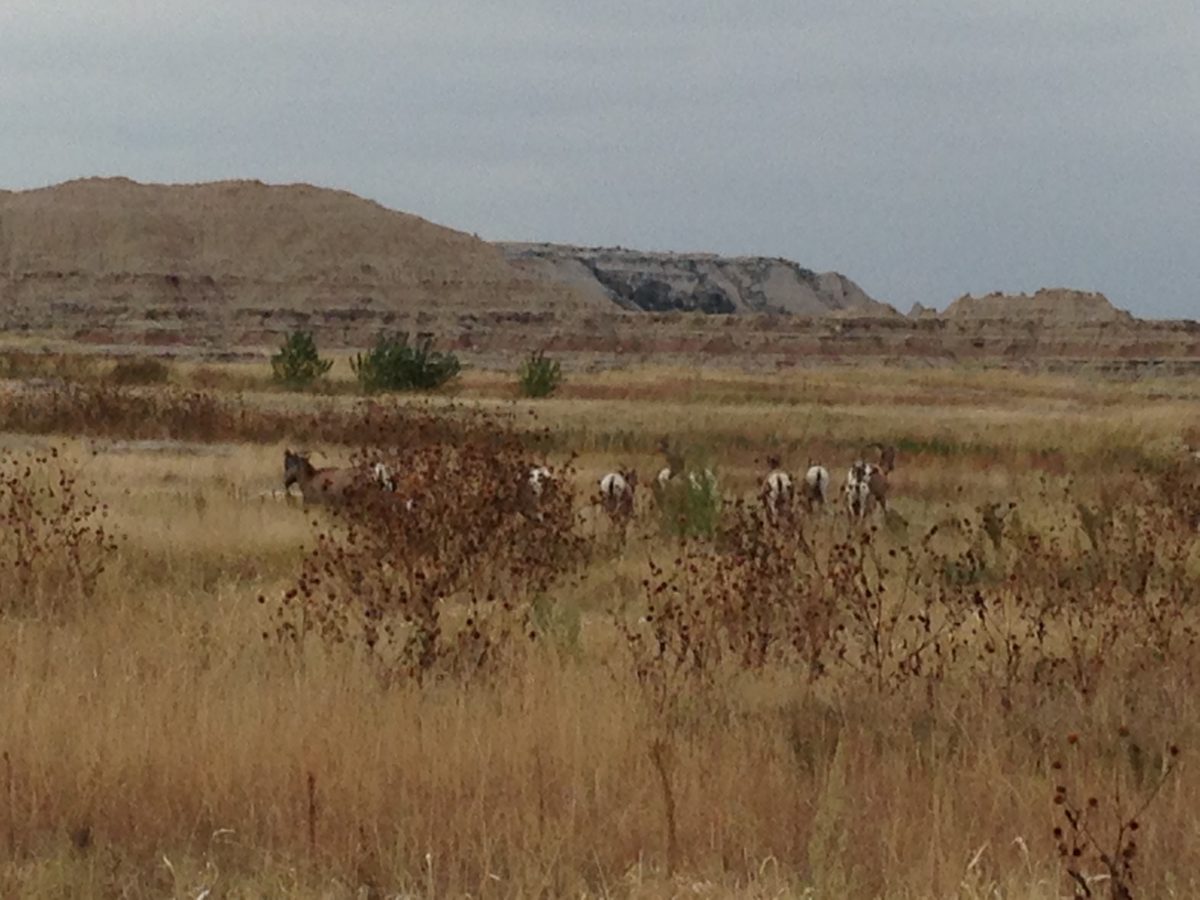 Even if you aren't into fossils, it is a gorgeous landscape. Every turn you take you see something different… magnificent spires and buttes, eroded hillsides, panoramic views, wind swept prairies and barren expanses. We visited in the spring and found wildflowers everywhere, even on the most parched land.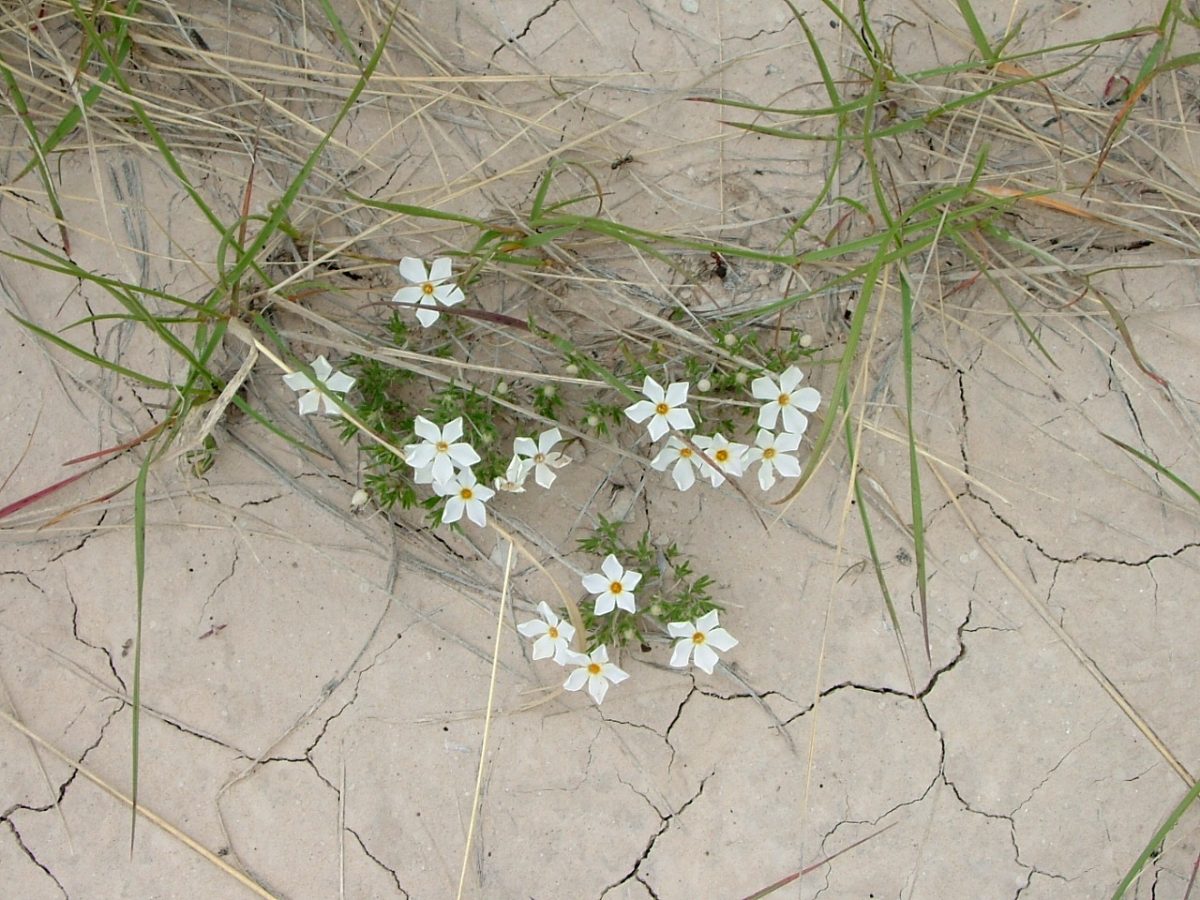 Things to do at Badlands National Park
If you are able to, you should get out on one of the trails. There are many, of all distances, but unlike most other parks, you are not required to stay on a trail. You really can make your visit your own!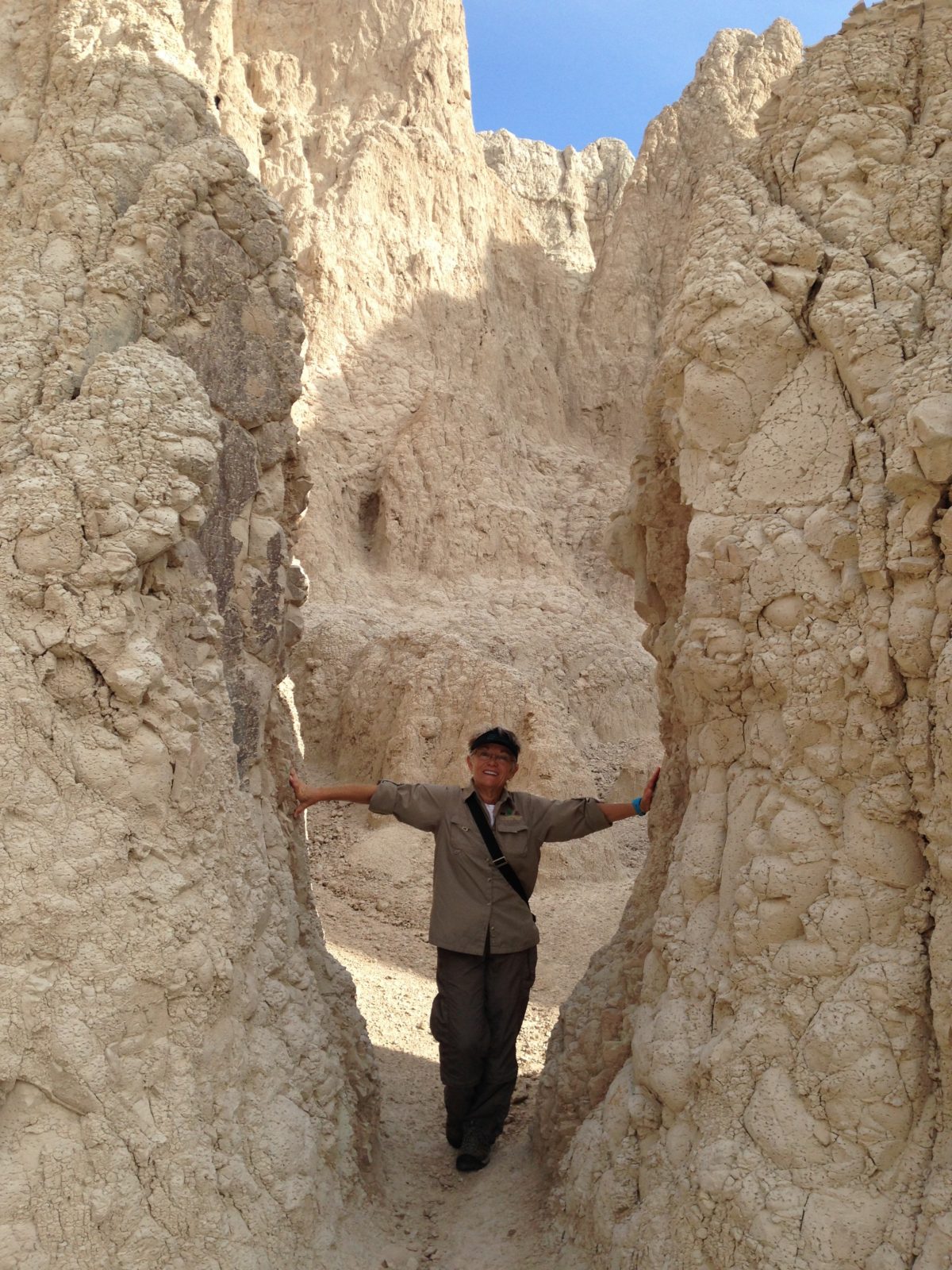 There are a few short but rewarding trails with great views just north of the visitor center: Door Trail (3/4 mile), Window Trail (1/4 mile), and Notch Trail (1 1/2 mile). Go early or late in the day to see amazing colors and vistas. You will get some great photos.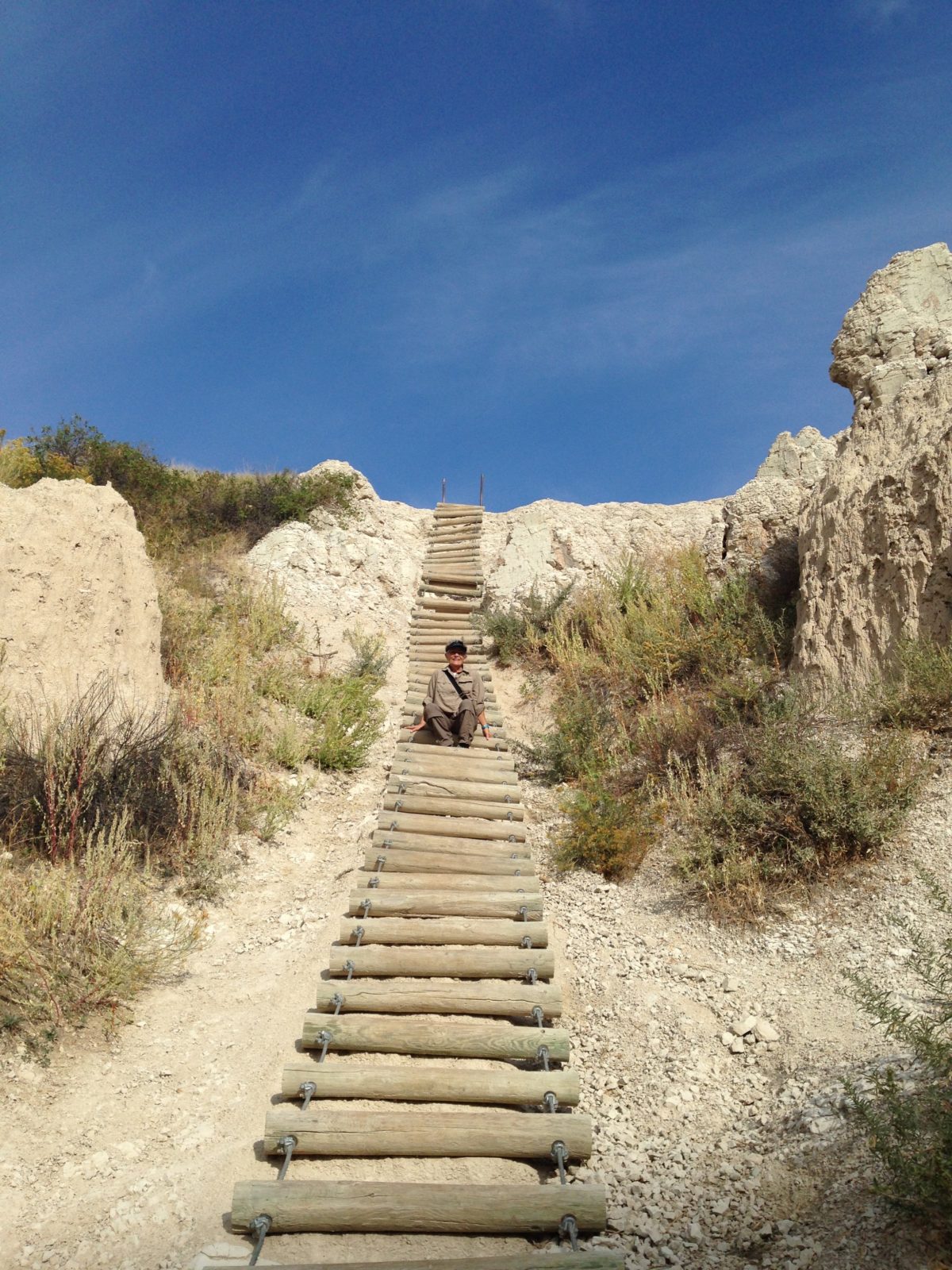 There is also a short nature trail from the visitor center; where there is also a movie about the park.
The longest trail in the park (10 miles round trip from near the visitor center) is Castle Trail taking you right out into the Badlands. It is awe inspiring, unspoiled landscape and so incredibly quiet. Each turn yields different views, with rocky buttes and grasses giving way to eroded sandy areas and pockets of yucca plants.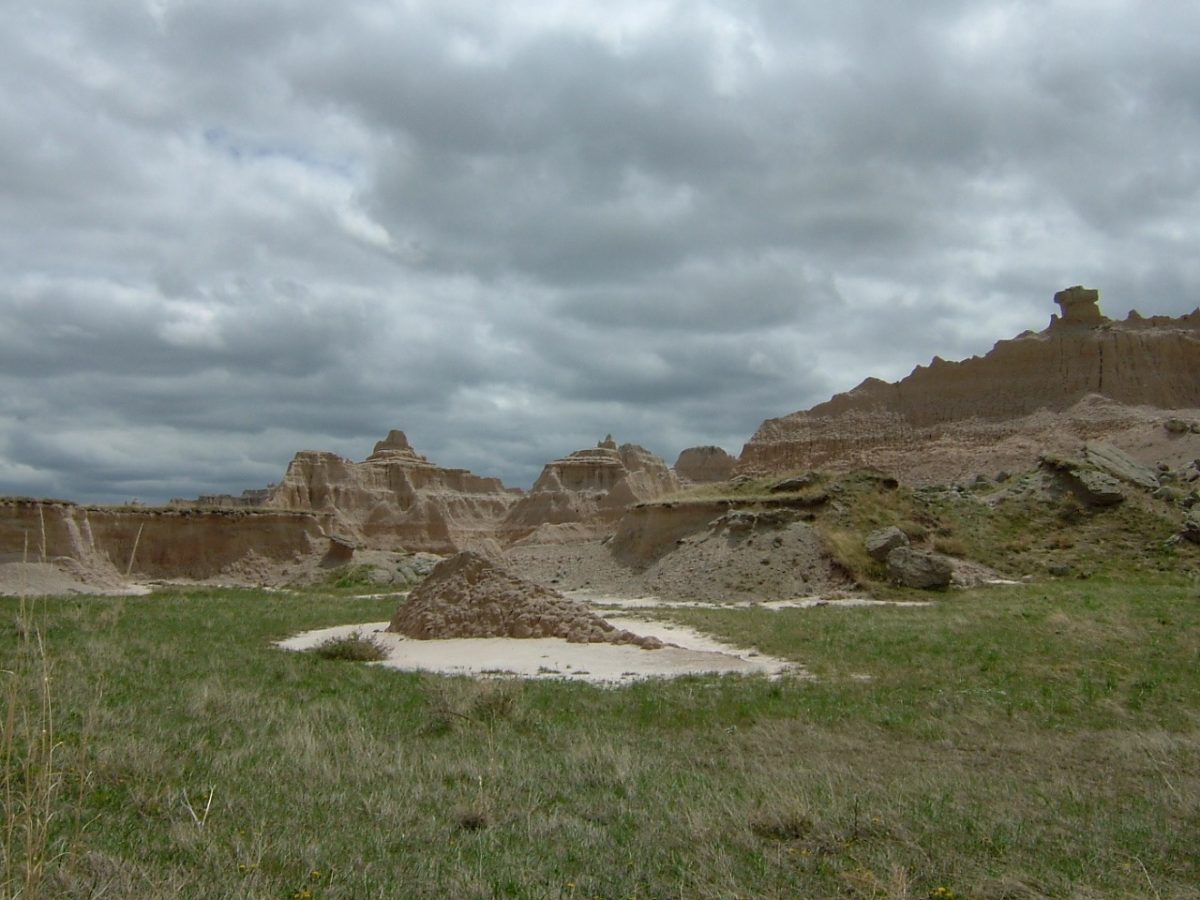 Take plenty of water wherever you go and lots of sunscreen. You won't find any potable water or shade in the "bad lands" of Badlands National Park.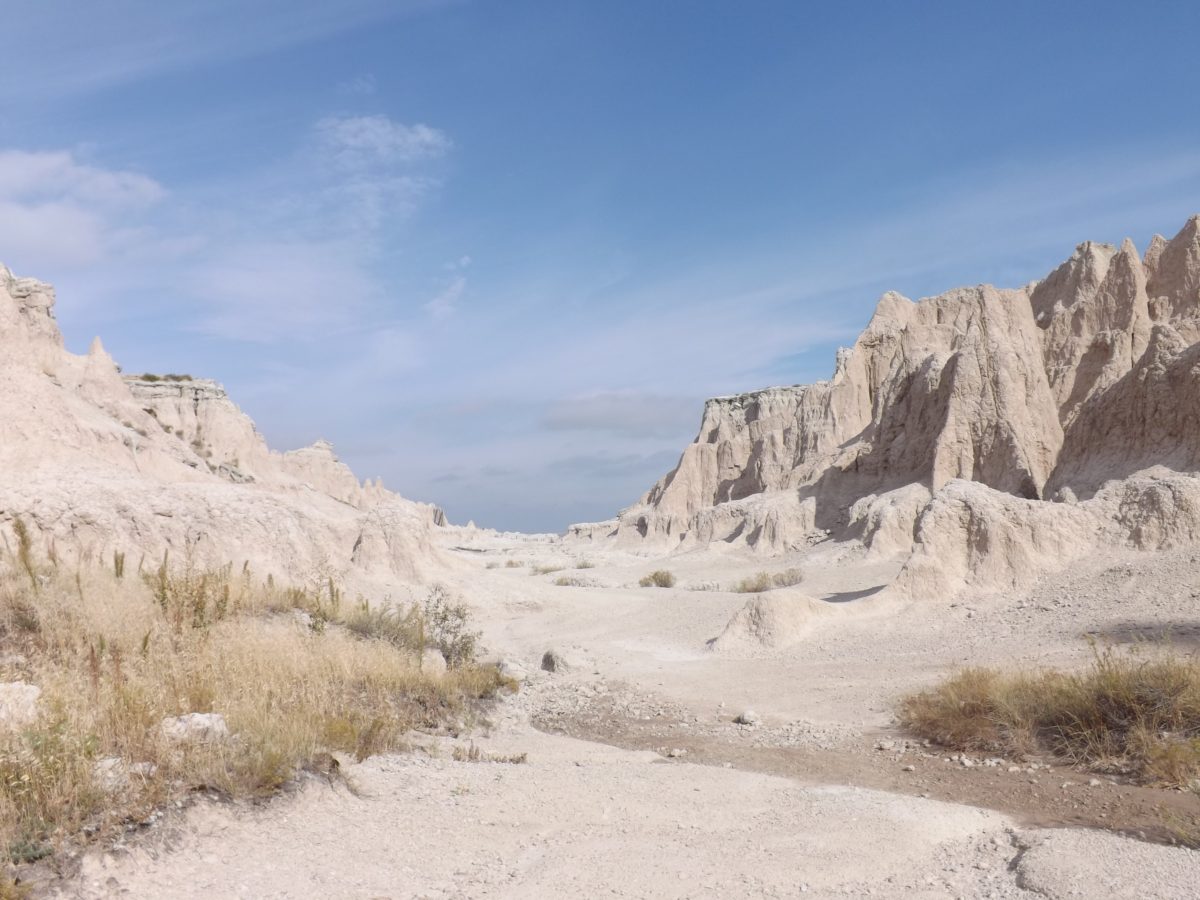 If you don't have time to hike, be sure to drive the Badlands loop road. It is a really nice scenic drive, with gorgeous views and photo stops, overlooks and informational signs.
Don't let the name fool you – there is a lot of life there… on your drive, or as you hike, you are sure to see wildlife especially bison and prairie dogs. It is fun to stop at the prairie dog town and watch their antics! Don't forget to take your binoculars.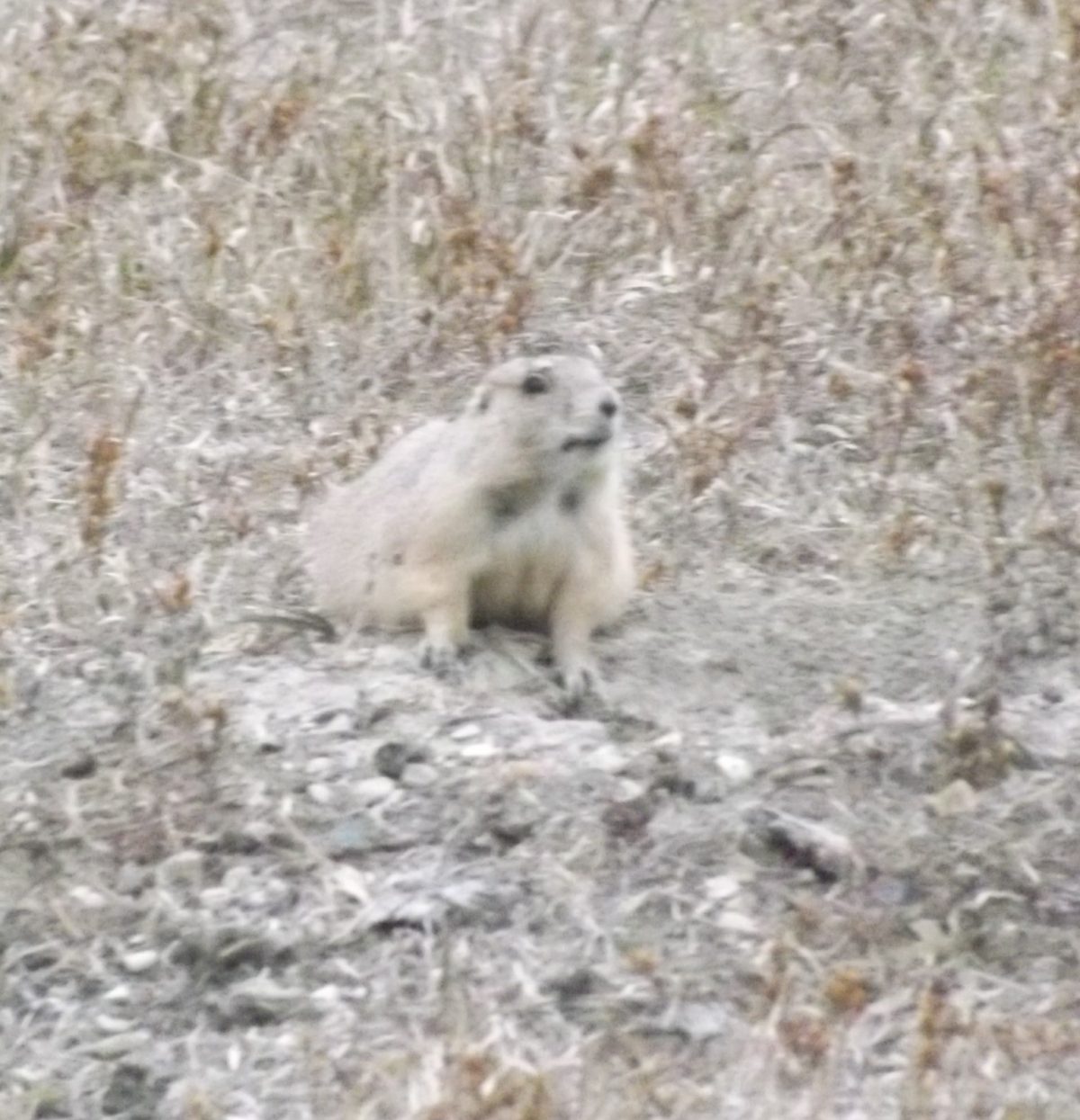 Our Memories of Badlands National Park
On our first visit, in May, we entered the park from the west by way of Wind Cave National Park and Custer State Park. There was snow on the ground and it was freezing there, but the weather in the Badlands was gorgeous! Typical high temperature in May is 68 F. Perfect for exploring.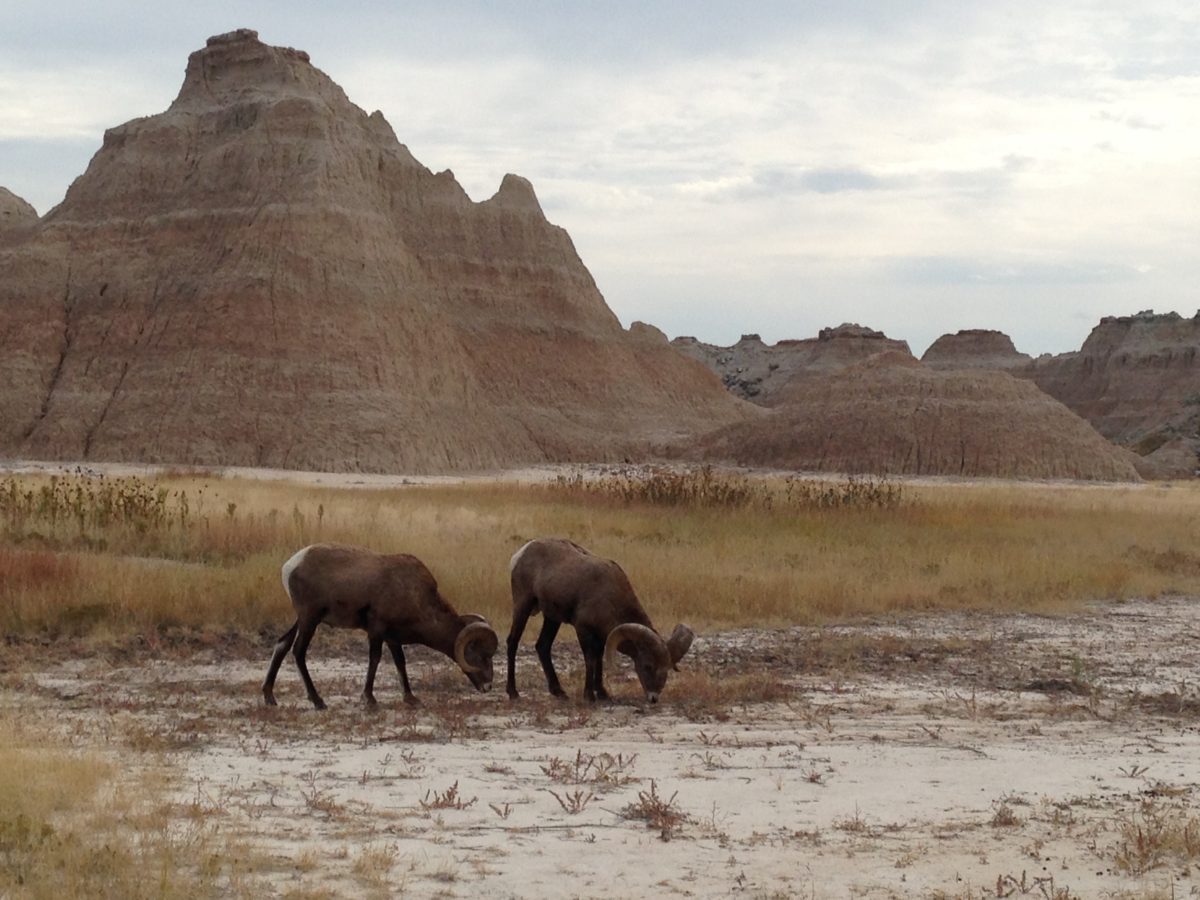 On another trip, we took a long hike – Castle Trail out to Medicine Root trail. We had planned something a bit shorter, but it was so lovely we just kept going. So glad! As we rounded a corner we came across an entire herd of bighorn sheep with their young. They didn't run away; they just kept browsing as we watched them. Continuing on, just around the next corner there was another herd. One even walked on the trail right in front of us.
We were so excited to see these elusive creatures up close that we wanted to share it with every hiker we saw. The first guy we met, we told about the bighorns. His response: "did you see any Bison?" OMG… Bison are a dime a dozen there, but Bighorns…
Another fun experience we had was at Sage Creek Campground. This is a small primitive campground, down an unpaved road. The only amenities are picnic tables and pit toilets. The only problem, there was a small herd of Bison who also made that campground their home and liked to hang out in front of the toilets. What do you do when the only restrooms are blocked by a Bison? Wait!!!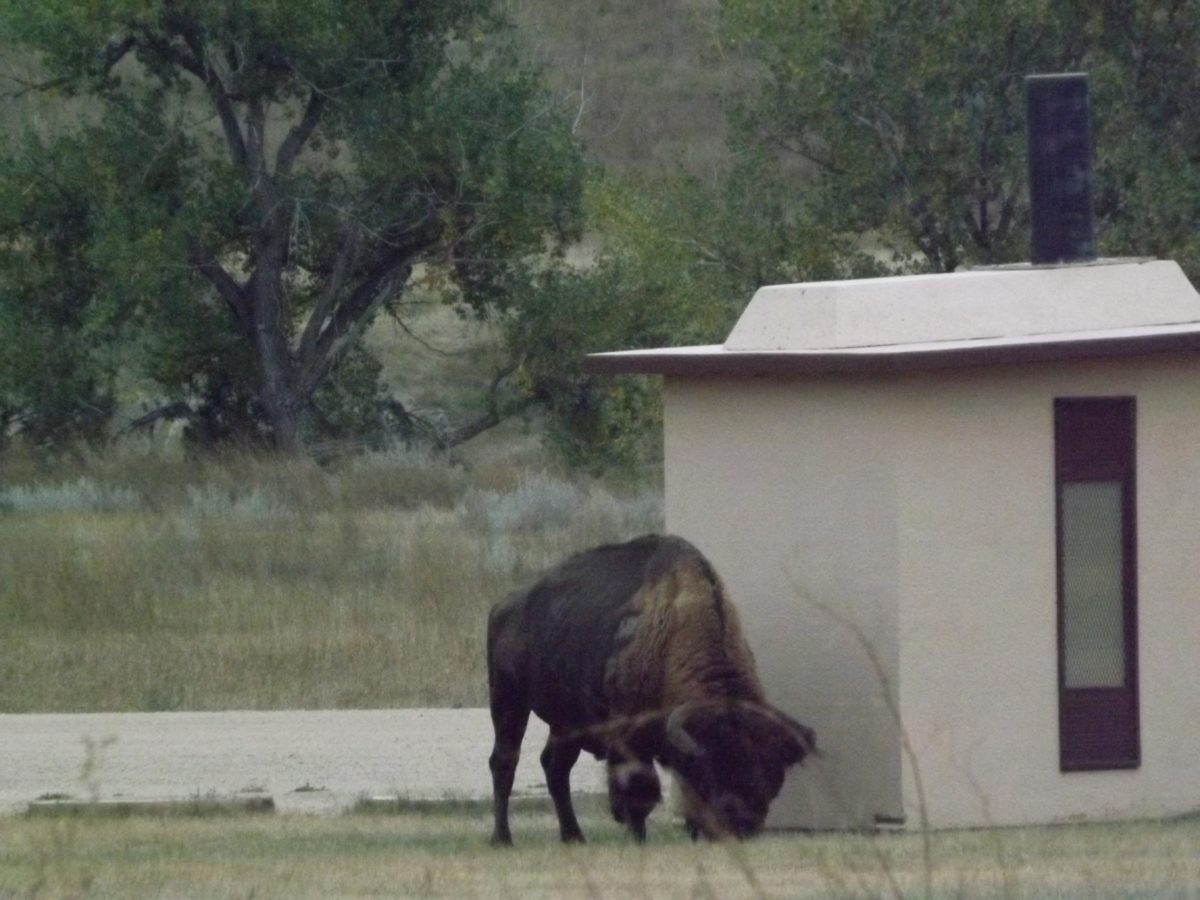 You never know quite what you will see on a visit to Badlands National Park. We know there is still more to discover and can't wait to return someday.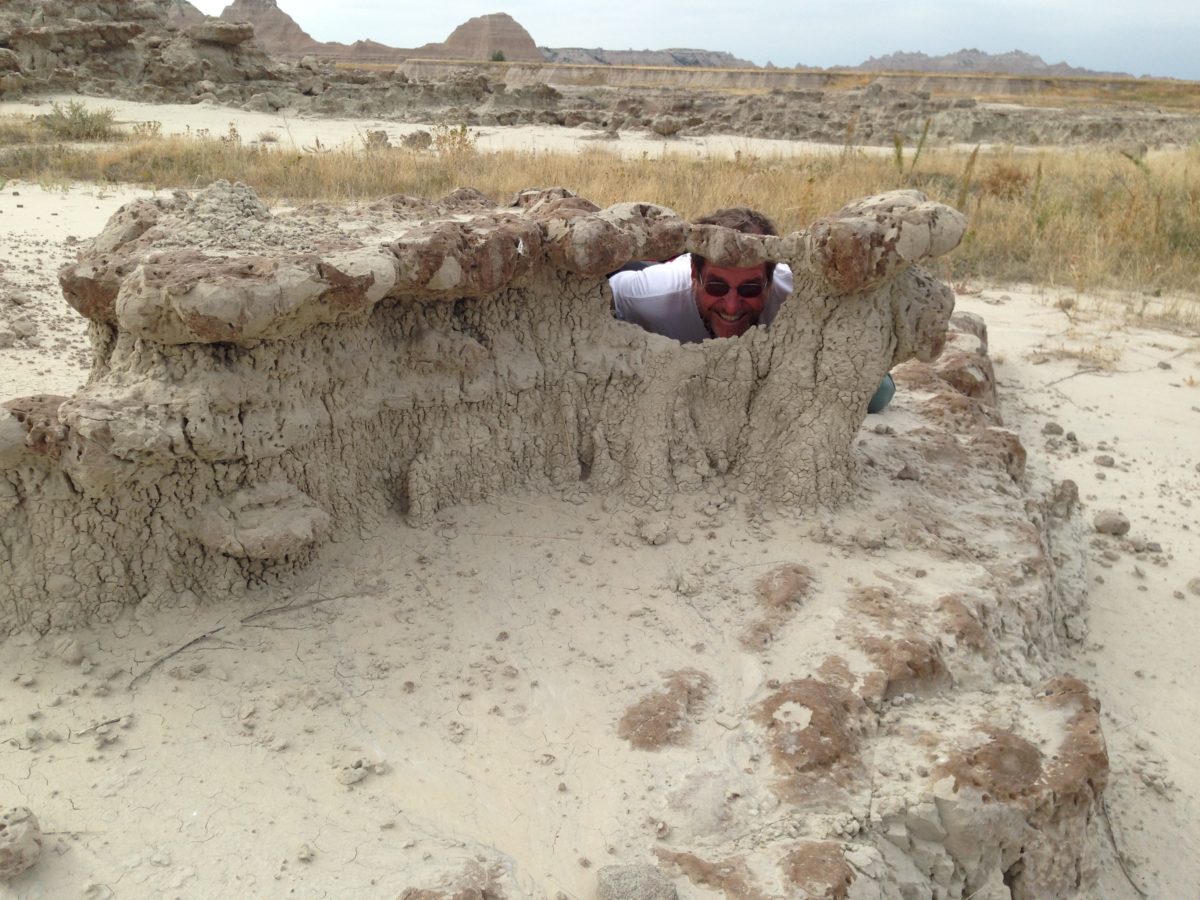 Need Help Planning Your Visits?
If you would like to explore this or other National Park Units, but need a bit help in the planning, please give us a call at (480) 609-3978. We are happy to offer customized trip planning.
Skip back to main navigation