Whiskeytown National Recreation Area
Recently we had the chance to visit Whiskeytown National Recreation Area near Redding, California. Established in 1965 by President John F. Kennedy, the centerpiece of this park unit is the 3,200 acre Whiskeytown Lake, a reservoir created to provide water and power. An earthen dam was completed in 1963 and there are two hydroelectric power stations. The national recreation area protects the lake as well as 42,000 acres of surrounding land. It was established not only to preserve the environment and provide recreational opportunities. It also preserves and celebrates the cultural history of the Wintu Tribe and the California Gold Rush.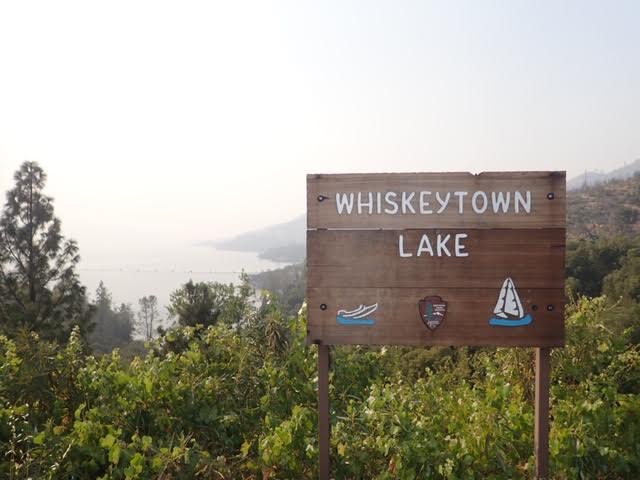 The Carr Fire
We had tried to visit Whiskeytown the summer of 2018, but it was on fire. The Carr Fire of 2018 burned at least 97% of the park and some 100 park structures. It will take years to recover, but you can already see how nature is beginning to repair itself. Managed as a natural area, the National Park Service will not interfere with this process, other than to help minimize hazards to visitors.
Many trails and back country roads remain closed due to washouts and damaged bridges. But the National Park Service has done an amazing job of rebuilding and restoring "front country" areas to make them safe enough for travel.
They have also opened the popular recreation areas – Brandy Creek Beach and Marina; Oak Bottom Beach, Campground and Marina; and the Whiskey Creek day use area. Although not as shady or inviting as it may have been prior to the fire, the lake is still a haven for boating, fishing, swimming and camping.
James K. Carr Trail to Whiskeytown Falls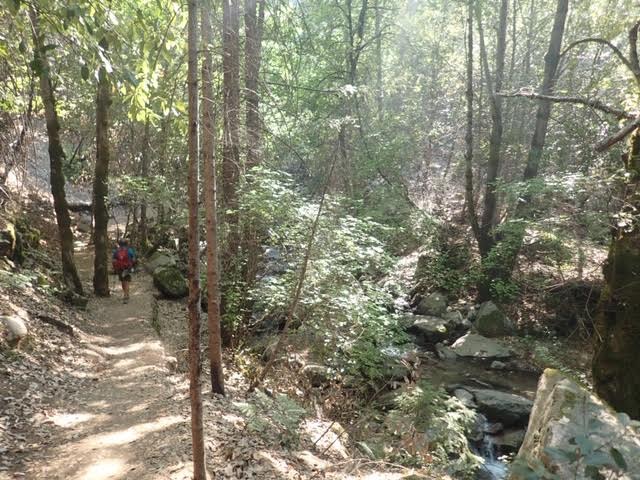 One of the trails that has been reopened is the James K. Carr Trail, a 3.4 mile round trip along an old logging road and then a trail to the very scenic Whiskeytown Falls. Unlike most of the park, much of this area did not burn in the fire, so you can really see and experience what Whiskeytown was like pre-fire.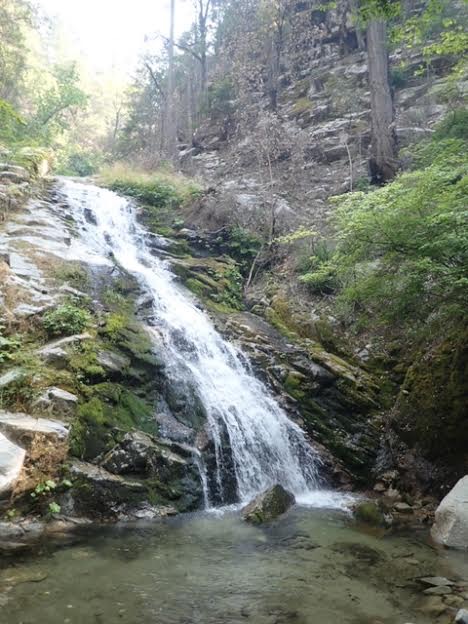 Interesting story… in 1967 park rangers found out about this beautiful waterfall, but kept it to themselves to preserve it. Unfortunately, they didn't tell anyone about it before they left, so it wasn't until 2004 that a new ranger found it and they created a trail open to the public.
Tower House Historic District
Along with recreation, Whiskeytown showcases "gold rush" history. One of the earliest settlers was Charles Camden. He built a one room cabin and mining operation, but over time found that there was more money to be made by "mining" the miners – building a toll bridge, charging them for water, and providing other services. His partner, Levi Tower, built a the "Tower House Hotel". When Tower went bankrupt, Camden took on the hotel. One of the most interesting things we learned was that Camden charged tolls on his toll bridge for 50+ years. That's a long time.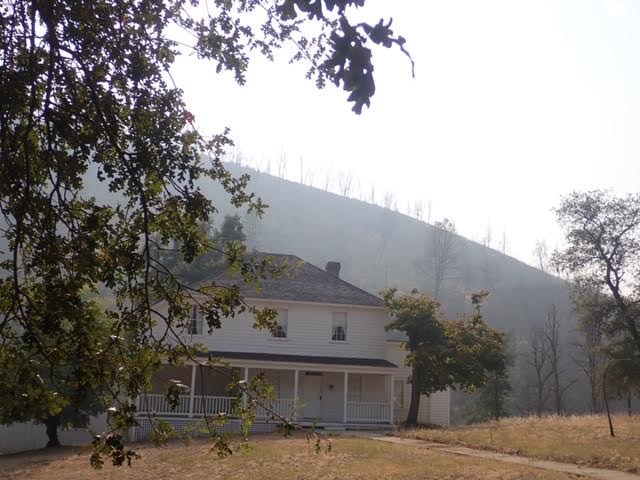 You can walk around the area, see the old fruit trees, remains of mining operations and the renovated Camden House. It is a short stroll from the parking lot and quite pretty down by the creek.
Fish at Whiskeytown
The lake hosts Largemouth Bass and Rainbow Trout, but one of the most interesting things we learned was how it protects the salmon downstream. The water in the lake, especially the top layer, gets quite warm. Much too warm for salmon. They need cold water for hatching and rearing their young – 56 degrees or cooler.
To protect them, the Bureau of Reclamation installed "temperature curtains" – 2,400 foot curtains that hang down 100 feet; chained to the bottom of the lake. These force colder water into the Spring Creek tunnel at the end of lake and protect the salmon. It is an exceptional feat of engineering.
Next time you are in Northern California, you may want to put Whiskeytown on your itinerary. It is a pretty interesting place.
#FindYourPark
#SeeAmericaFirst
Need Help Planning Your Visits?
If you would like to explore this or other National Park Units, but need a bit help in the planning, please give us a call at (480) 609-3978. We are happy to offer customized trip planning.
Skip back to main navigation