Last week we talked about Kings Canyon National Park and how it is not only about the giant trees. This week, we are talking about neighboring Sequoia National Park. It really is all about the trees! They are the main attraction at this, the 2nd oldest National Park in the US (established in 1890).
Managed jointly since 1943, Sequoia and Kings Canyon National Parks were initially established to preserve the giant sequoia trees and later expanded to protect the Sierra wilderness and watershed.
General Sherman Tree
The main attraction at Sequoia National Park is the General Sherman tree in the Giant Forest. This is the earth's largest tree by trunk volume. Measured at 274.9 feet tall and 102.6 feet around at it's base, this tree is estimated to have a trunk volume of 52,508 cubic feet. That's a lot of wood!!!
It is really hard to picture the physical size of this tree until you stand beside it and get the perspective of how tiny you are. The base of this tree is as wide as a city street and looking up, it is as tall as a 26 story building. Makes you want to be a tree-hugger.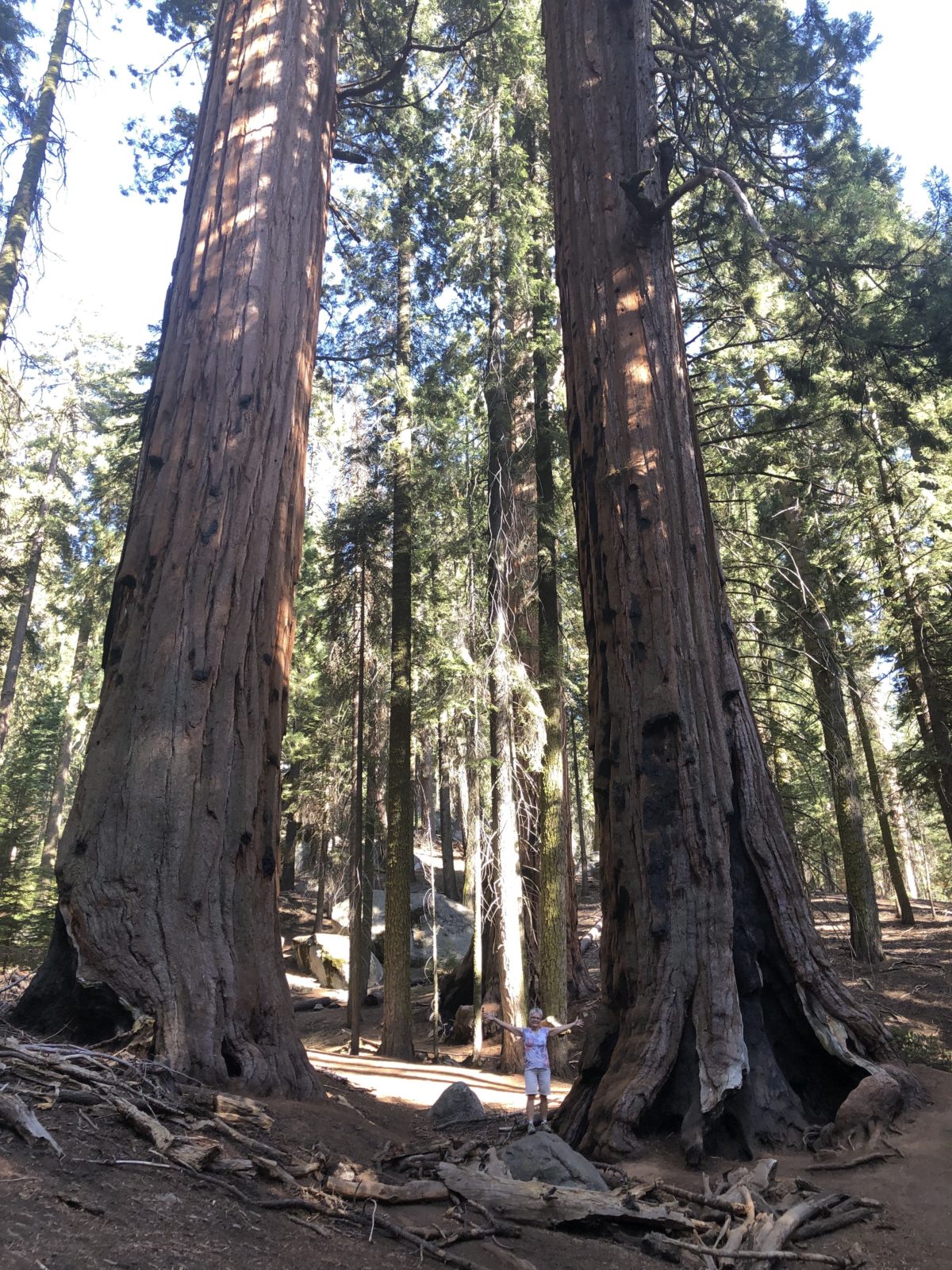 And that's not the only giant tree that you see when you visit the grove. Sequoia National Park includes the world's 1st, 3rd and 4th largest trees by volume. (Number 2 is the General Grant tree in Kings Canyon National Park.)
You can walk to the General Sherman tree and then take the path out through the Giant Forest. It is very accessible. There is a huge parking lot and you can walk the short trail to the tree; or you can take a shuttle bus from inside the park or from Visalia. As you can well imagine, the park gets lots of visitors especially in the summer months, and they all want to see the big tree, so it is best to get out early or park and take the shuttle.
General's Highway #198
To get into the park, you will drive on the General's Highway (#198). This connects the two national parks – Kings Canyon and Sequoia. You can enter from the north or the south.
We drove into Sequoia National Park from the south and that drive was truly spectacular. If you are at all timid of curvy, winding mountain roads with switchbacks, you might not want to do this. It is also not recommended for large RVs or trailers. But if you have a car, or better yet – a motorcycle, this road is awesome!
Getting out into Sequoia National Park
Once you are there, you really have to get out into the forest to experience it's majesty. Along with the shorter walks to the giant trees, you will find a ton of hiking trails of all distances, accessible from the west side and from the east side of the park. In fact, the famous Pacific Crest Trail and the John Muir Trail both go through the eastern edge of Sequoia National Park. (Permits required.)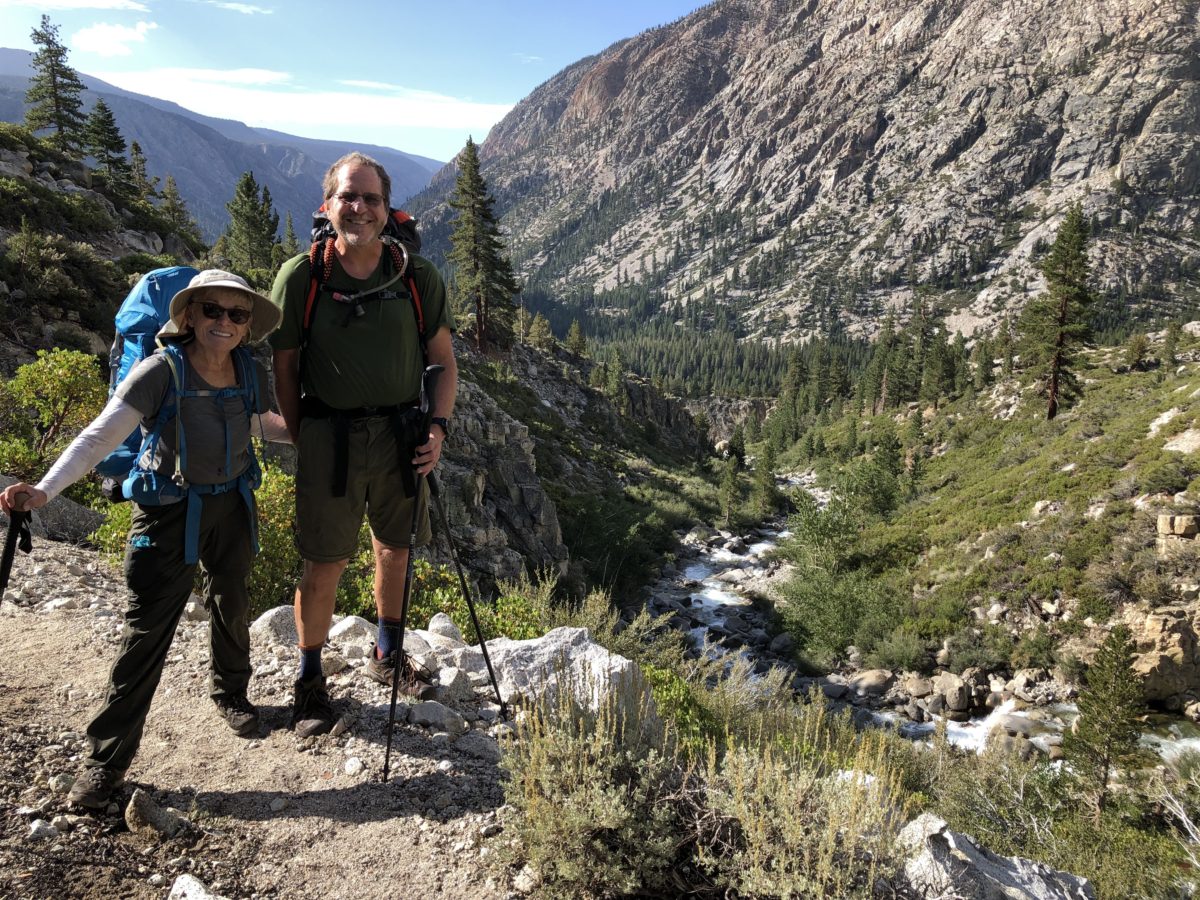 Our trans-Sierra hike took us there. We visited the western side of Sequoia National Park in our car and saw the big trees, and then we set out with our backpacks; starting first in the wilderness area and hiking across part of Kings Canyon National Park to Colby Lake and up Colby Pass.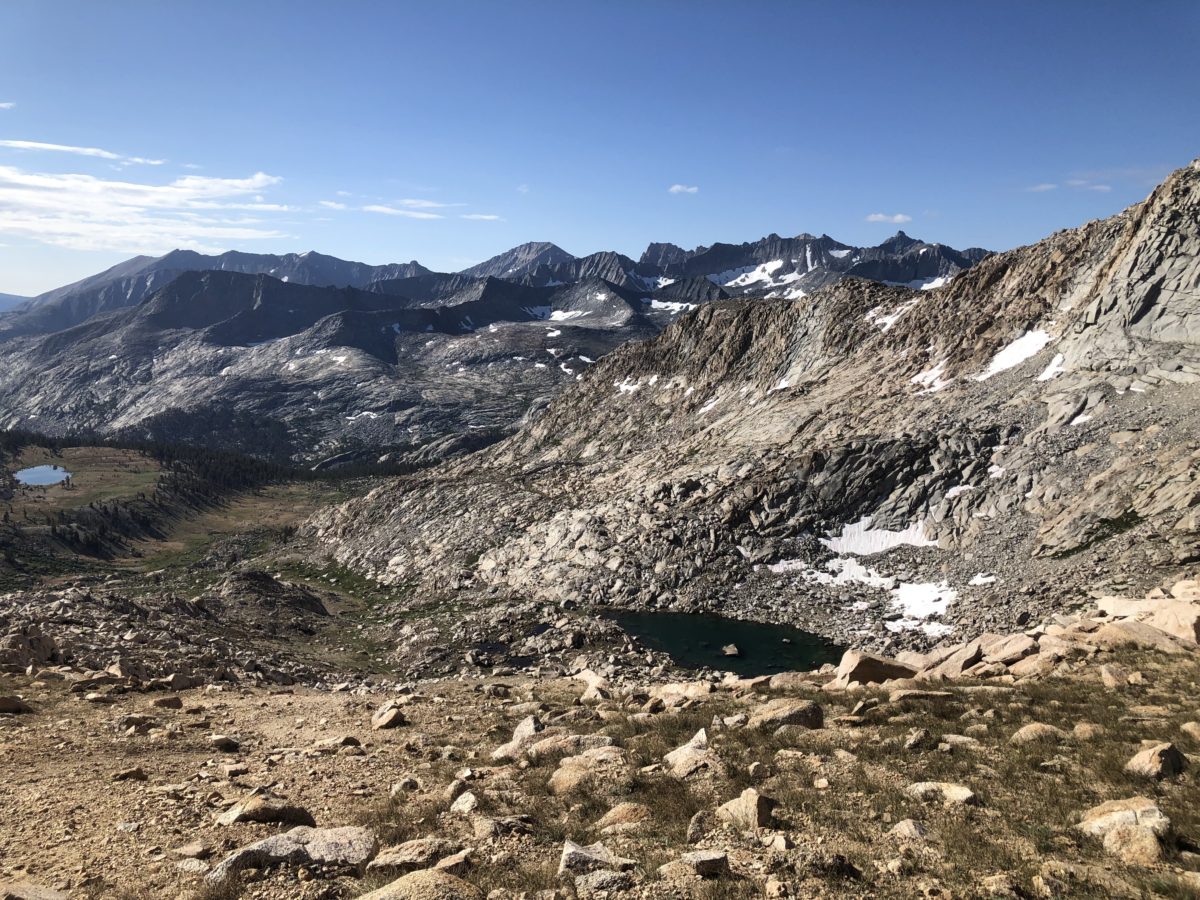 At the top of this steep pass, we were at the border of Kings Canyon and Sequoia National Parks and also at the Great Western Divide. Descending from there into Sequoia National Park we entered a different world, starting in a beautiful valley with waterfalls everywhere and then climbing to hike along the tree line.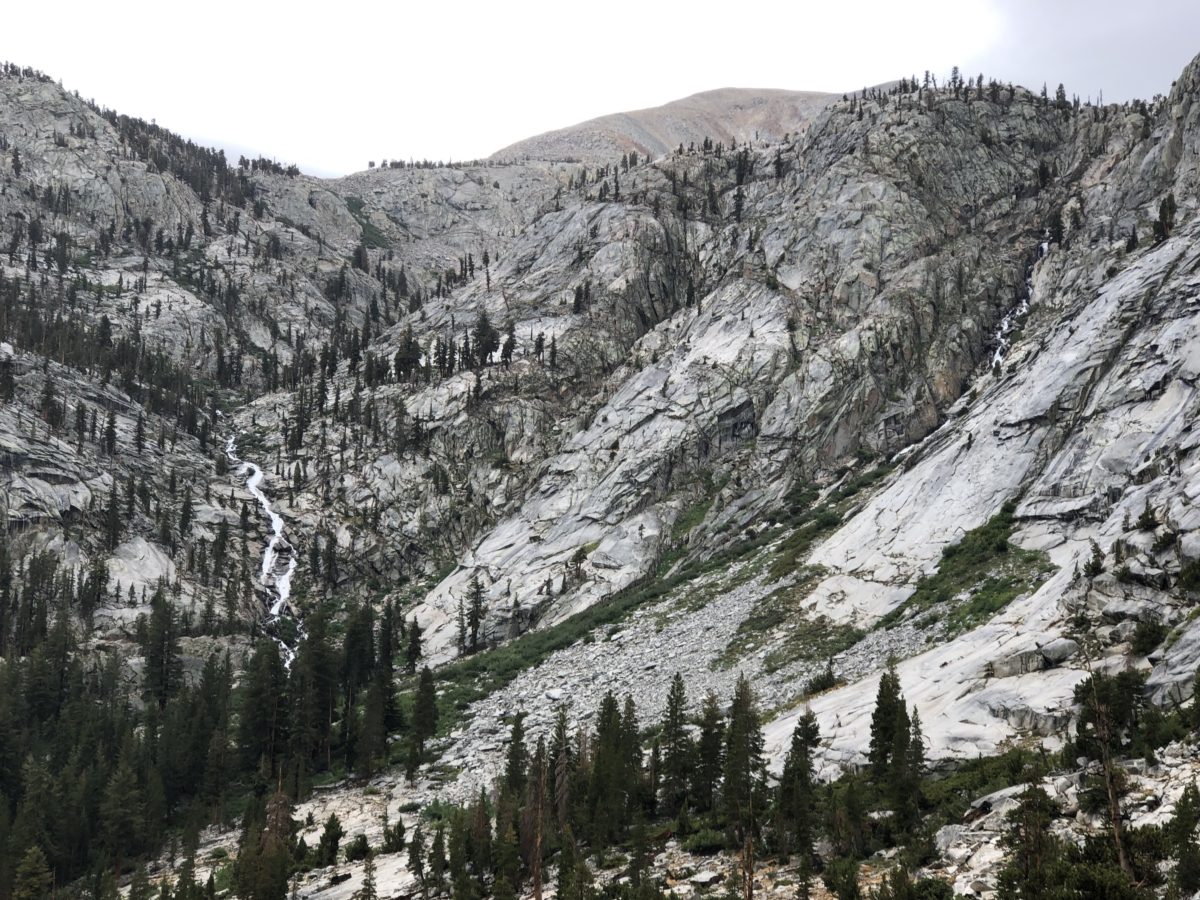 There we didn't see any giant sequoias (they are mainly on the west side of the park) but the trees were still incredible. To us, they looked a lot like ancient Bristlecone Pine trees that die off in parts and continue to grow in other parts. But a ranger said they weren't Bristlecone's; they were ancient Foxtail and Limber pines. Gorgeous! These parks preserve the Sierras as they have been for centuries, without any evidence of humans. You can't imagine how many stars there are at night.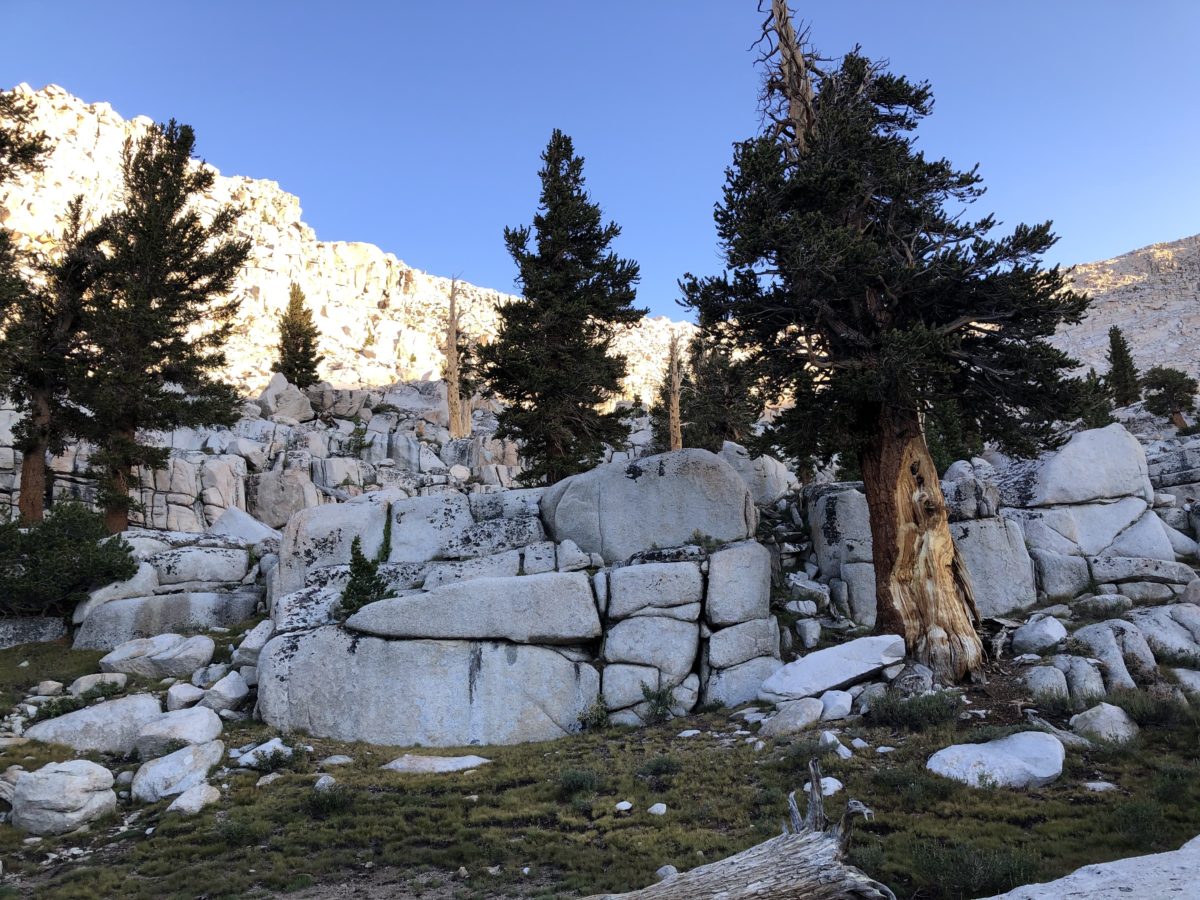 The scenery was truly awe-inspiring. Our trip culminated at the base of Mt. Whitney – the tallest peak in the lower 48 states – also preserved as part of Sequoia National Park. Then we followed the Pacific Crest Trail south east past Chicken Springs Lake (an oasis above the tree line) and exited the park into the INYO National Forest and the Golden Trout Wilderness. Gorgeous.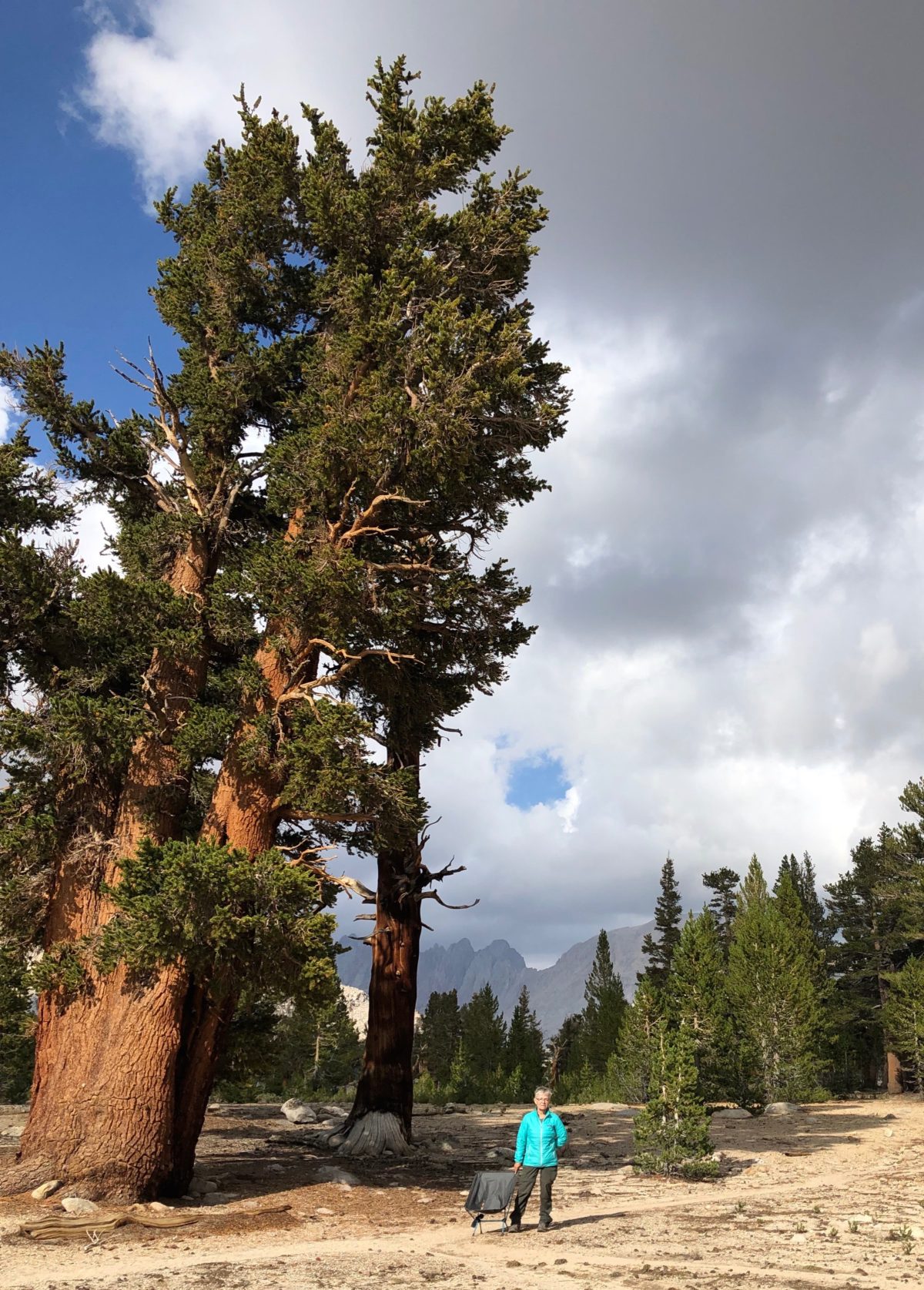 However you choose to visit Sequoia National Park, you will be rewarded. Giant Trees, old growth forest, stunning mountains and valleys, rushing rivers and waterfalls …. unspoiled and beautiful.
#FindYourPark
#SeeAmericaFirst
Need Help Planning Your Visits?
If you would like to explore this or other National Park Units, but need a bit help in the planning, please give us a call at (480) 609-3978. We are happy to offer customized trip planning.