It seems that ever since the National Park Service celebrated their centennial in 2016, National Park visitation has increased and you hear more and more about National Parks in the news. We've recently read stories about folks who have set a goal of visiting all of the National Parks; and one about a person who visited all of the National Park Units in one year.
Goal to Visit all of the National Park Units
That got us to thinking about goals. We have a personal goal to visit all 419 National Park Units – not in a year but in our lifetime. Actually at that time, there were less than 400!
When we embarked on this journey we didn't really think about what it was going to take or whether it was really obtainable. So far, we have visited 367 of the 419. It looks like we might really make it and the journey has been amazing, but we have to admit that we didn't really think it through completely before we set this crazy goal!
Visiting all of the National Park Units
On the surface, it sounds pretty good… let's just plan to include National Park Units in our travel itineraries. But over time, this goal has actually come to dictate our travel – certainly not a bad thing because it has taken us to so many amazing places that we would have never gone. American Samoa comes to mind and that was one of our favorite all time vacations!
If you think this goal is a good one, there are a few things we have learned that you may want to consider before you embark on the journey:
Scheduling: Unless you are retired, there are only so many vacation days and some of the units are pretty remote. We've talked about a few of these – Alibates Flint Quarries in Texas, Fort Union in North Dakota, Pipe Spring in Arizona…
Time: Some of the national park units are going to take some time just to get to. For example, Guam is going to be a 17 hour trip for us, each way. And many places in Alaska, like Aniakchak, are not only a long trip but difficult to get to logistically because they are so inaccessible and remote. You may have to build in a buffer of time, just in case of weather. We experienced this with Aniakchak, Dry Tortugas, Isle Royale… and the government shutdown!
Cost: An annual National Park pass is not that much and many of the units don't charge. But when you look at visiting National Park Units outside the lower 48 states – Hawaii, Alaska, Virgin Islands, American Samoa,Guam – just getting there is pretty pricey.
Lost Opportunity Cost: Another thing you may not think of when you make a goal like this is the "lost opportunity cost". Do you take that Caribbean cruise or European vacation, or go to your family reunion or a friend's destination wedding? Or do you schedule your vacation to visit a set of National Park Units.
The whole concept sounds fun and exciting and interesting, but in the end it really is a pretty lofty goal. In fact, the National Park Travelers club estimate that only 40-50 people have visited all 419 of the National Park Units.
Setting Your Own Rules for Visiting all of the National Park Units
You make your own rules. What is your goal and what determines a visit? There are many ways to experience a national park unit. You need to decide if spending an hour in the visitor center is enough, or do you need to do more?
Also, how do you record your accomplishment? Most National Park Units have a brochure. Many participate in the stamp program, often offering more than one stamp. Some have badges or t-shirts that you can purchase.
You can even put pins on a map like we have!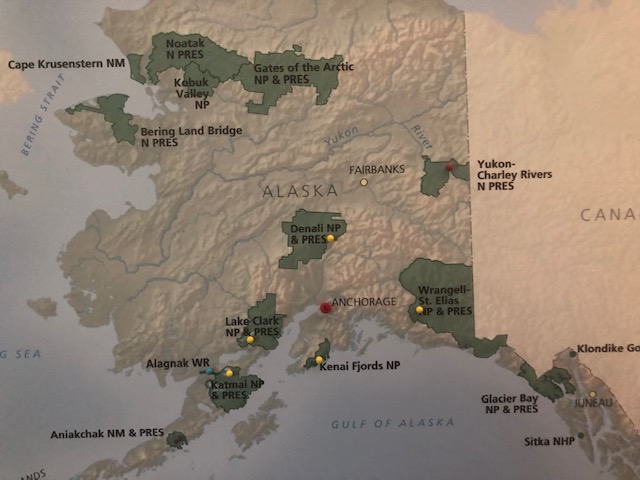 More and more apps are available now where you can post your photos and record your experiences; and there are lots of social media sites where you can share experiences and ideas.
At the end of the day, it is really all about what you personally are trying to achieve.
Achieving your Goals
Number 1. Set an achievable goal. Maybe don't try to visit all 419 out of the gate. Maybe start small. Visit all of the National Park Units in your state (there is at least one in every state). Or plan to visit units in all the neighboring states or in a region of the country. We've talked to people who are only visiting units in the lower 48; or only visiting National Parks. Its really up to you.
Number 2. Combine visits with doing things you love. When you are visiting family or attending events, include a few side trips to National Park Units. We started visiting National Park Units when we were driving cross-country to visit family, always planning visits along the way. Later we combined our passion for running with visiting National Park Units; we ran a 1/2 marathon in every state – some in National Park Units (like Scotts Bluff).
Whatever goal you set, you won't be disappointed. There is so much to see and learn, and all of the units are so diverse and interesting. We predict that you'll get hooked!!!
#FindYourPark
#SeeAmericaFirst
Need Help Planning Achieving Your Goal?
If you would like help with the logistics of planning visits to all of the National Park Units, please give us a call at (480) 609-3978. We are happy to offer customized trip planning.
Skip back to main navigation