Celebrate President's Day at a National Park Unit
Originally established in 1885 in recognition of President George Washington, the President's Day holiday is now viewed as a day to recognize all U.S. presidents, past and present.  Celebrate President's Day at one of the National Park Units dedicated to U.S. Presidents. There are thirty one individual units to choose from – birth sites, homes that presidents lived in or were inaugurated in, monuments, memorials and parks – located in 17 states.
31 National Park Units
Along with these, there are many more sites all over the country dedicated to our presidents. There is an itinerary on the National Park website that takes you through our shared history, produced by the National Park Service's Heritage Education Services in partnership with the National Park Service Office of Tourism, the White House Historical Association and the National Conference of State Historic Preservation Officers.
There are a number of Presidential Libraries from Herbert Hoover and FDR through to George W. Bush and Barack Obama.  We highly recommend that you visit these if you can. They have fascinating collections that offer a time-capsule of world history.
Mount Rushmore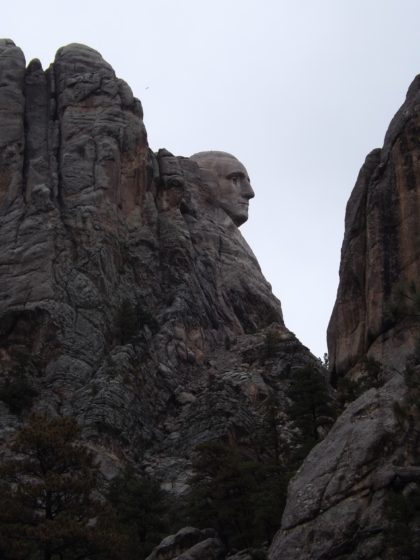 The most well-known and iconic national park unit focused on our presidents is Mount Rushmore – a giant monolith carved with the majestic faces of George Washington, Thomas Jefferson, Theodore Roosevelt and Abraham Lincoln.
Every visit should include a stop at the Visitor Center where you can see a film showing how Borglum carved these huge images between 1927 through 1941. You can also walk along the .6 mile long "Presidential Trail". It is uphill – 422 stairs – but it gets you a closer, better view of the sculpture. You might even see some wildlife along the way!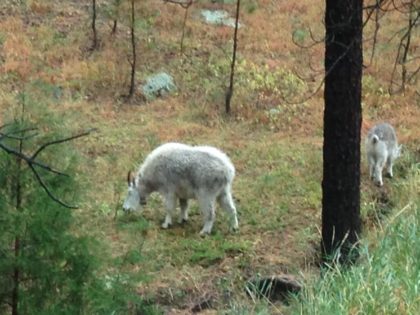 Note: There is no entry fee to Mount Rushmore, however you have to pay to park there. It is not free, even with a National Park Pass.
Driving Tour
If you can, we would highly recommend that you approach Mount Rushmore from the south, along Iron Mountain Road. (Or, drive out and back.) It won't be a fast trip – the road was deliberately designed to limit the speed of drivers to 35 mph so that they would enjoy the beauty of the Black Hills – but it is well worth the detour.
The road was designed to maximize the views… twisting and curving through the mountains; the view at each turn more spectacular than the last and each bend taking you closer to the mountain. The most amazing part of this trip are the "pigtail" bridges and one lane tunnels that were built to showcase Mount Rushmore. As you pass through each tunnel, you will see a view of Mount Rushmore just as if it was a photo in a picture frame.
Warning: This road is curvy and narrow with low clearance tunnels, so if you are a timid driver or if you have an RV, you may choose not to do this drive. Also be careful as you drive through the tunnels - often cars will stop on the other side to take photographs! A hazard you need to watch out for.
Custer State Park
Iron Mountain Road connects Mount Rushmore with Custer State Park, one of the loveliest places in the Black Hills. The 71,000 acre park offers camping, hiking, biking, swimming, fishing and relaxing. The campground is nice, but you will need a reservation. The good news – unlike other state parks in South Dakota, Custer accepts reservations up to a year in advance.
Other Things to See and Do
Crazy Horse
Nothing to do with US president's, but also worth a visit while you are in the Mount Rushmore area is Crazy Horse Memorial. It is going to be the world's largest mountain carving, a memorial to Lakota indian leader Crazy Horse. This carving is a work in progress and really interesting to see, as is the museum.
Michelson Trail
Passing right by Crazy Horse is the Michelson Trail – a 109 mile long trail that links Edgemont in the south to Deadwood in the north. An old railway line, this trail was the first of the state's "rail to trails" project. If you like to bicycle or run, you won't want to miss this trail!
Other National Park Units
You can spend weeks in and around the area of Mount Rushmore. Along with the mountains and trails, there are several other national park units in the area including Badlands National Park, Wind Cave National Park, Jewel Cave National Monument and Minuteman Missile National Historic Site.
Thank You to our Presidents
These and other national park units all over the country were made possible though the foresight of our past presidents. It was President Ulysses S. Grant who created the first National Park on March 1, 1872 when he signed the Act of Dedication law that created Yellowstone National Park. Forty four years later, on August 25, 1916, President Woodrow Wilson signed the act creating the National Park Service.
We thank them!
Note that today additions to the national park system are made through acts of Congress, and National Parks can only be created through such acts. The Antiquities Act of 1906 only allows the president to proclaim National Monuments on lands already under federal jurisdiction.