So, you think it is hot where you are? How about Death Valley, California? Death Valley National Park is the hottest, driest, lowest national park unit in the national park system. Tomorrow the temperature is predicted to be 121 high and the low temperature to be in the low 90's. It doesn't cool off much at night, but it is a "dry heat" (think of a hot dry sauna instead of a hot wet sauna!)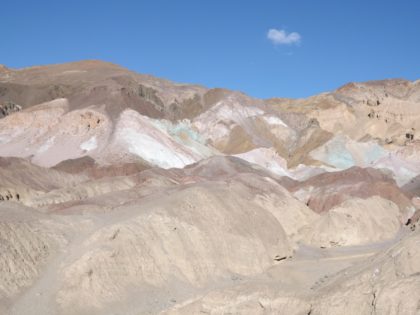 When we visited last time, we were surprised to hear that the park has over 100,000 visitors per month in the summer. Of course it is best to visit Death Valley during the cooler months, but if summer is the only time you can go, you can still see the park. Just expect that you will do most of your sightseeing from inside an air conditioned car. If you do get out on a short hike or bike ride, be sure to take lots of water. It's hot, but as long as you are careful, you'll be safe.
Hot or cold, you will want to get out and see the park. There are tons of things you will want to see, so try to be there a few days.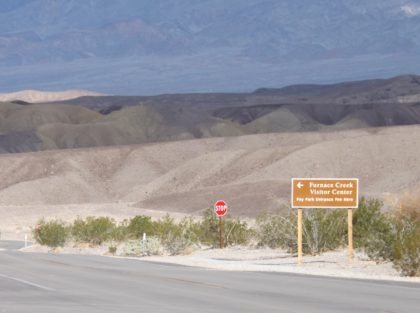 Most people don't realize the diversity of Death Valley – from the valley floor at Badwater Basin where the elevation is 282 feet below sea level up to Wildrose Peak at 9,000 feet and Telegraph Peak at 11,000 feet. We love it that you can stand at the lowest point in the US and see off into the distance just over 100 miles away some of the tallest peaks, including Mount Whitney which at over 14,000 feet is the highest point in the lower 48 states.
Where to Stay in Death Valley National Park
You can stay in luxury or camp. There are several options, but you will want to book them early. The most luxurious is the Oasis, perched on the hill overlooking the valley. This historic inn has been pampering guests since 1927. The pool is a lovely respite from the heat!
Furnace Creek Ranch is more like a motel, but the restaurant serves pretty good food and nice cold beer. The bar is fun gathering place where you can share your stories from the day's adventures. They also have a spring-fed swimming pool for cooling off.
Another option is the lodge at Stovepipe Wells Village. We haven't stayed there, but it offers both hotel rooms and a full-hookup RV park.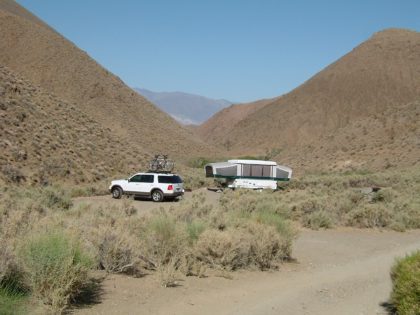 We like camping at Furnace Creek. It's right beside the lodge and golf course, with lots of walking paths. If you are a runner, it is a great place to run! Be careful. Only some of the sites have electricity. That's fine in the winter, but not so good in summer.
We prefer the campground at Wildrose. There are no services, but it is at 4,100 feet so it is much cooler, plus camping is free.  It is "first come first serve" so you may have to get there early.
Things to Do in Death Valley National Park
There is lots to do in Death Valley National Park – scenic drives, hiking, biking, golfing and a number of historic sites. Plus some of the best stargazing in the US.
Scenic Drives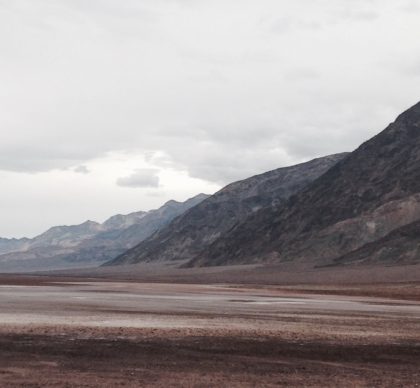 You won't want to miss driving out to Badwater Basin. It's like driving on the moon, across massive salt flats that seem to go on forever. There is a place where you can park and walk out on the flats. There is no trail. All the footsteps simply blow away. Desolate, but beautiful.
On the way there, you will want to take the detour to go around Artist's Drive, a 9 mile one way loop road. The colors on the rocks are incredible. You'll find yourself stopping at every turn to take another photo.
We cycled here from Furnace Creek. (about 25 miles round trip) .The landscape was amazing and it was so incredibly quiet. Although Death Valley does have a surprising number of animals, you don't hear anything when you are out on your bike or walking. This is one of our favorite bike rides. You climb about 1000 feet and the views are incredible.
We also loved the drive up to Scotty's Castle, but unfortunately due to flooding, it is closed until 2020. You should ask the Ranger about it's history. Scotty was a real character, right out of an old western. The Visitor Center is at Furnace Creek. They'll tell you all the old stories.
Golfing Below Sea Level
Also at Furnace Creek is the Furnace Creek Ranch Golf Course, a full 18 hole course 214 feet below sea level. This is certainly something you can't do anywhere else in the US. It is amazing how lush the course is; situated on a natural spring. The local deer and rabbits love it. You'll see a zillion.
Hiking
As you drive through the park, there are several places where you can get out and walk. Our favorite was the Gold Canyon Interpretive Trail. We hiked this one at night during a full moon. Incredible!!!
There are also several more challenging hikes. We liked the hike up Wildrose Peak. You pass by old charcoal kilns, relics of the mining days, and then you hike through a a sparse forrest. The views from the top were amazing. You could see the whole valley. Well worth the 2200 foot climb over 4.1 miles that it takes to get there. (8.2 miles round trip)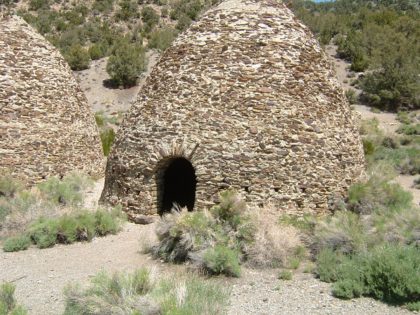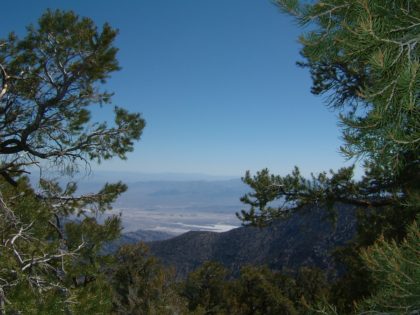 An interesting, but easy hike is the Harmony Borax Works interpretive trail where you will learn about the history of borax mining in this region. We also liked the Salt Creek interpretive trail where you may see pupfish between February and April.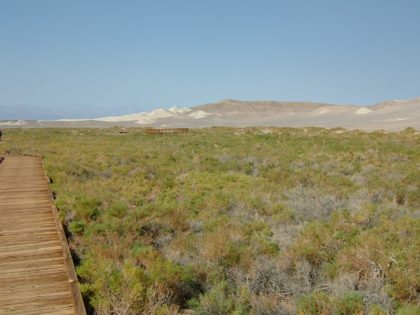 There are many other trails and fun places to explore. Your best bet, as with all National Parks, is to start at the Visitor Center and get their recommendations.
Don't let the name scare you off!  No matter what time of year you visit Death Valley National Park, it has a lot to offer…