Casa Grande Ruins National Monument
Recently we revisited Casa Grande Ruins National Monument, Arizona. Located not far from Phoenix, near present day communities of Casa Grande, Coolidge and Florence, this ruin reminds us that people have lived in the Sonoran Desert for hundreds of years.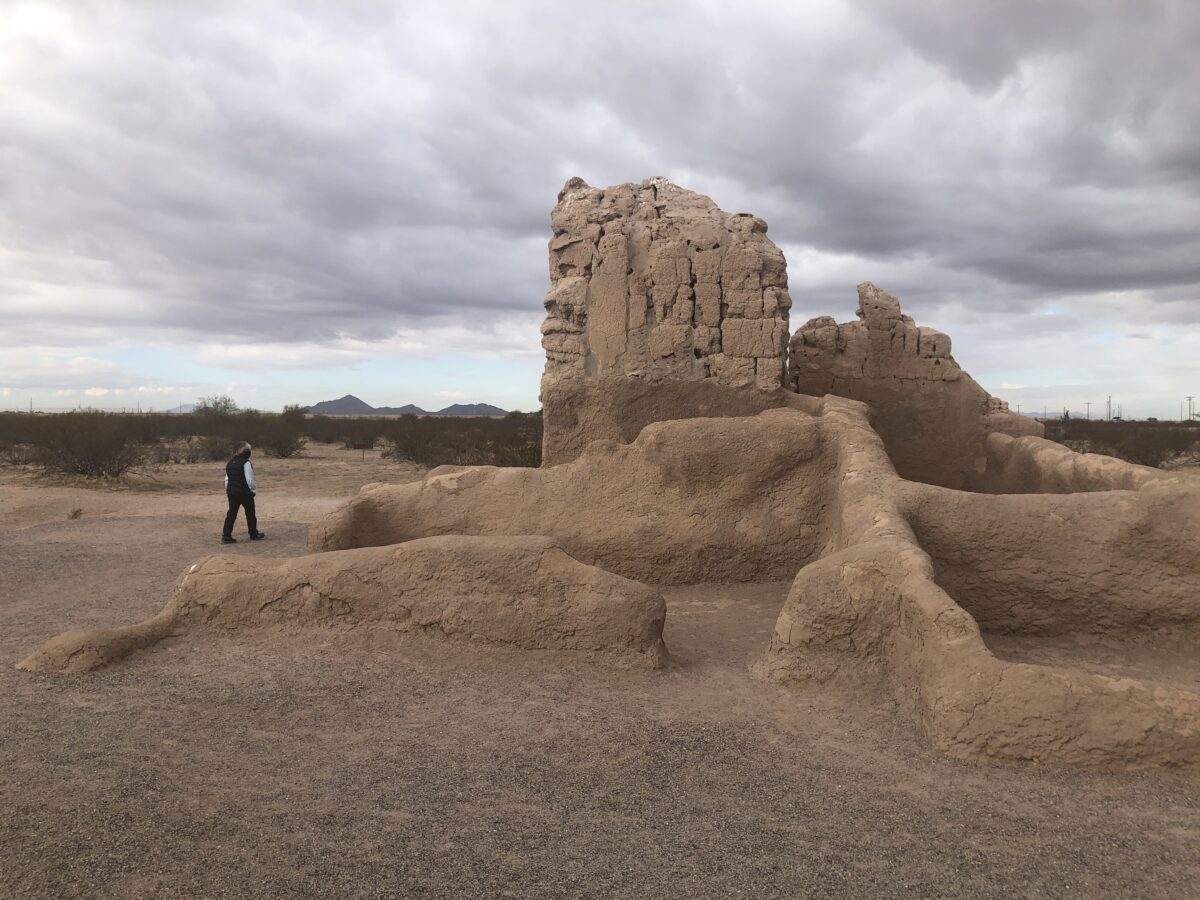 It is amazing to think that communities survived here before air conditioning, and thrived in a hot, dry desert environment where there was very little water. But in fact, Casa Grande ruins is just one of a network of settlements that depended on the Salt River and Gila River for survival. They tapped water from these rivers using a pretty sophisticated canal system; much like we still see today in Arizona. It is a great reminder that water is truly the life-blood of the desert.
About Casa Grande Ruins National Monument
Casa Grande Ruins National Monument is Arizona's oldest national park unit and also the country's first archaeological reserve. Established in 1889 as Casa Grande Ruins Reservation; it was re-designated in 1918 as a National Monument. Without this protection, the impressive structure we see today would have likely crumbled into ruin.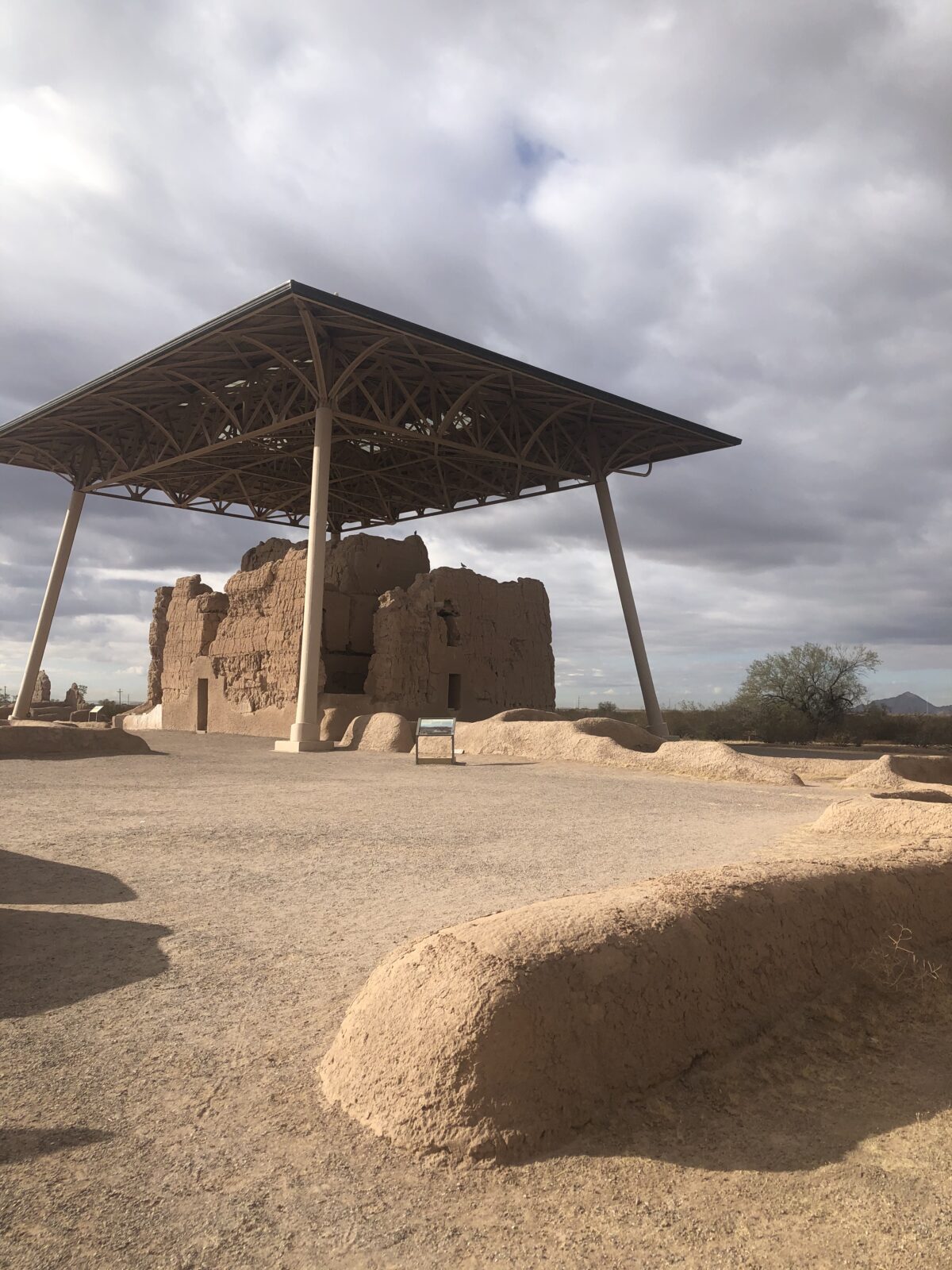 Instead, it still looks much like the 1934 photo you can see on the national park website. The canopy built over the main structure in 1934 continues to protect it. (Fun fact… the architect who built the canopy was Frederick Law Olmsted Jr. There is a national park unit in the Boston area that honors his father. Read about our visit here.)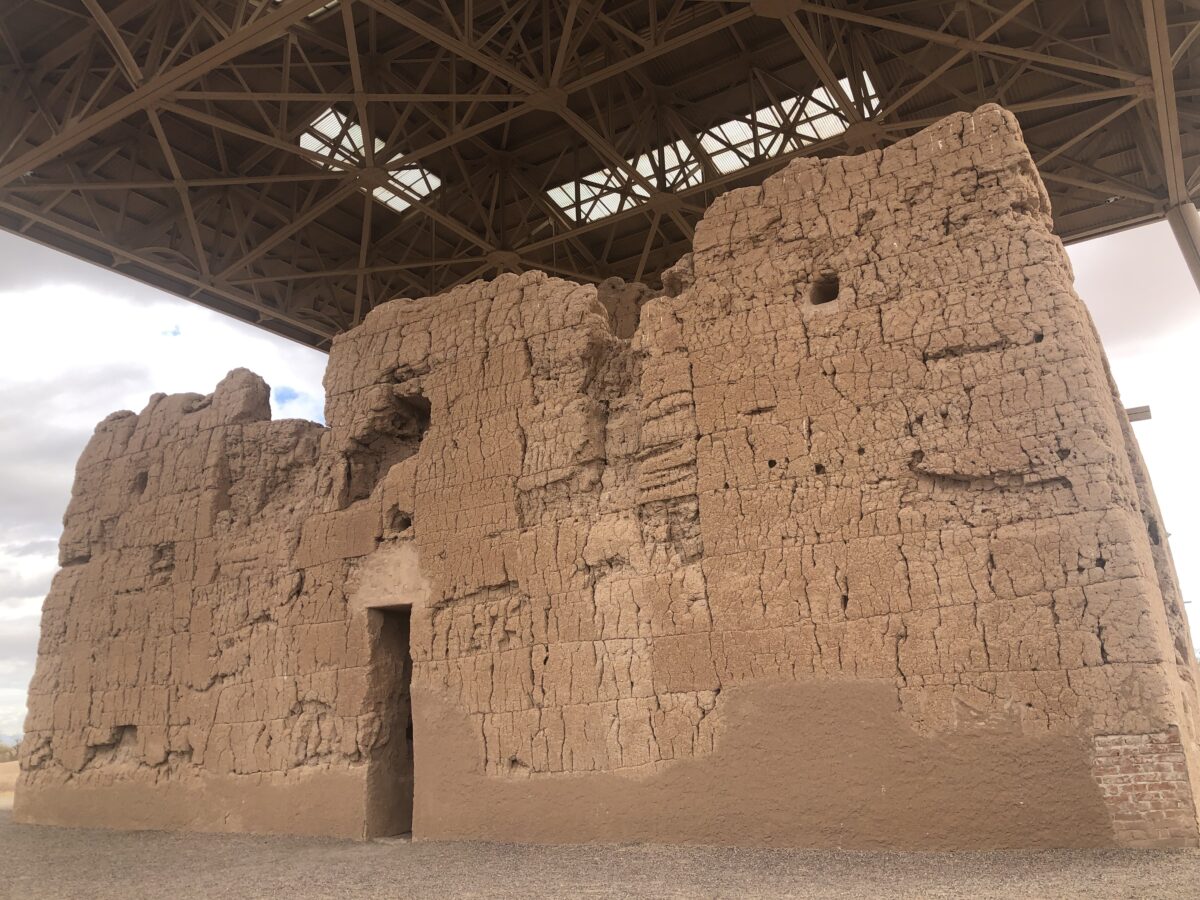 What is Casa Grande?
In Spanish, casa grande means "great house", and it certainly is that. The house is four stories high with walls as thick as 4 feet at their base. It was built using materials they had at hand – sand, clay and limestone – but the structural beams were made of juniper, fir and pine trees that would have been brought in from miles away. It is a pretty impressive structure.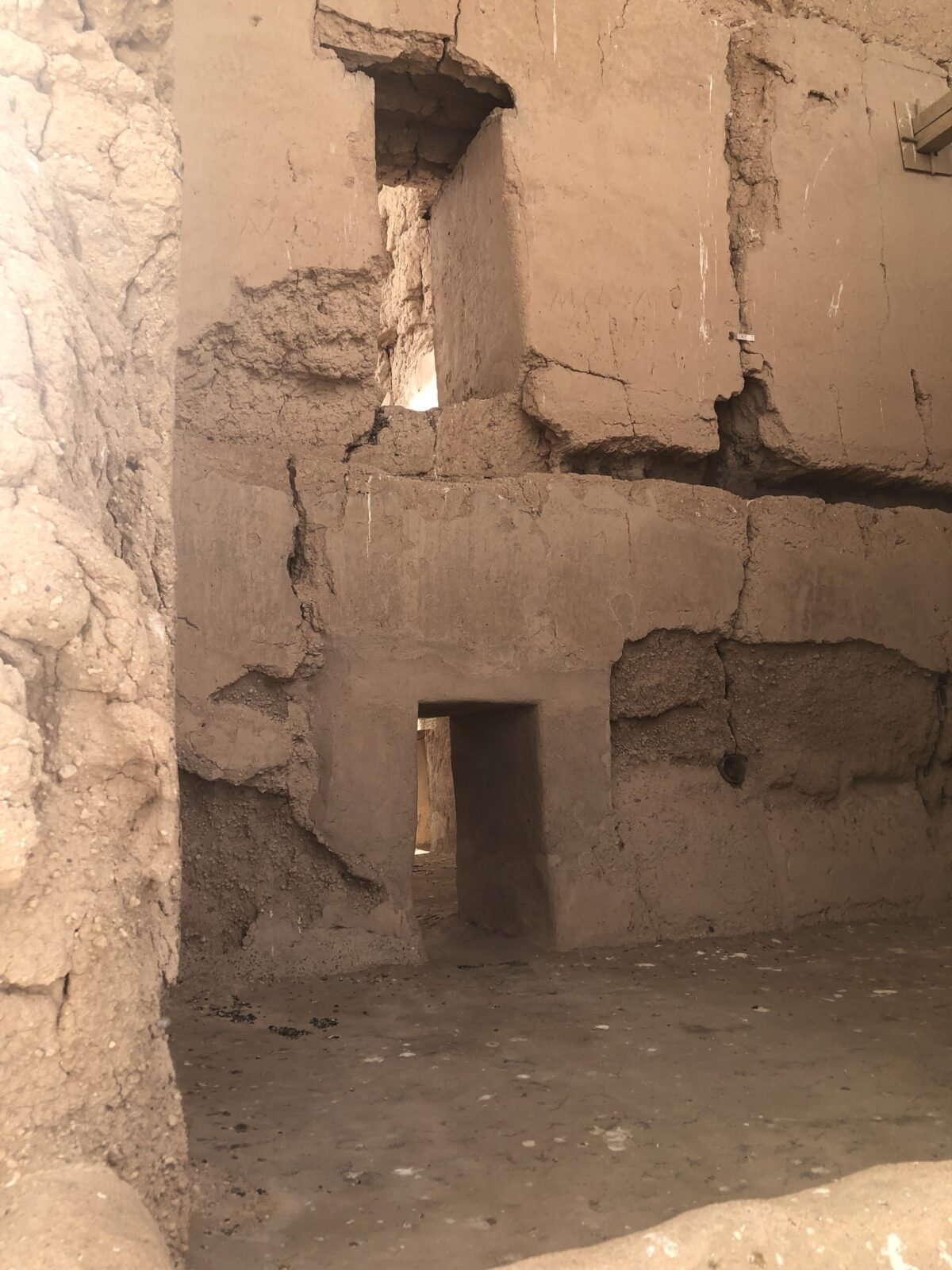 The main house is only part of a much larger community. They believe that at one point it spanned the area of two football fields! Today you can visit the house and surrounding compound, including ancient ball fields. Informational signs talk about the culture, community and farming.
The canals they built irrigated fields of corn, beans, squash, tobacco and cotton. They supplemented this by gathering fruit from cactus and harvesting other desert plants like mesquite. Looking out over the desert today it is hard to imagine how they could have lived there.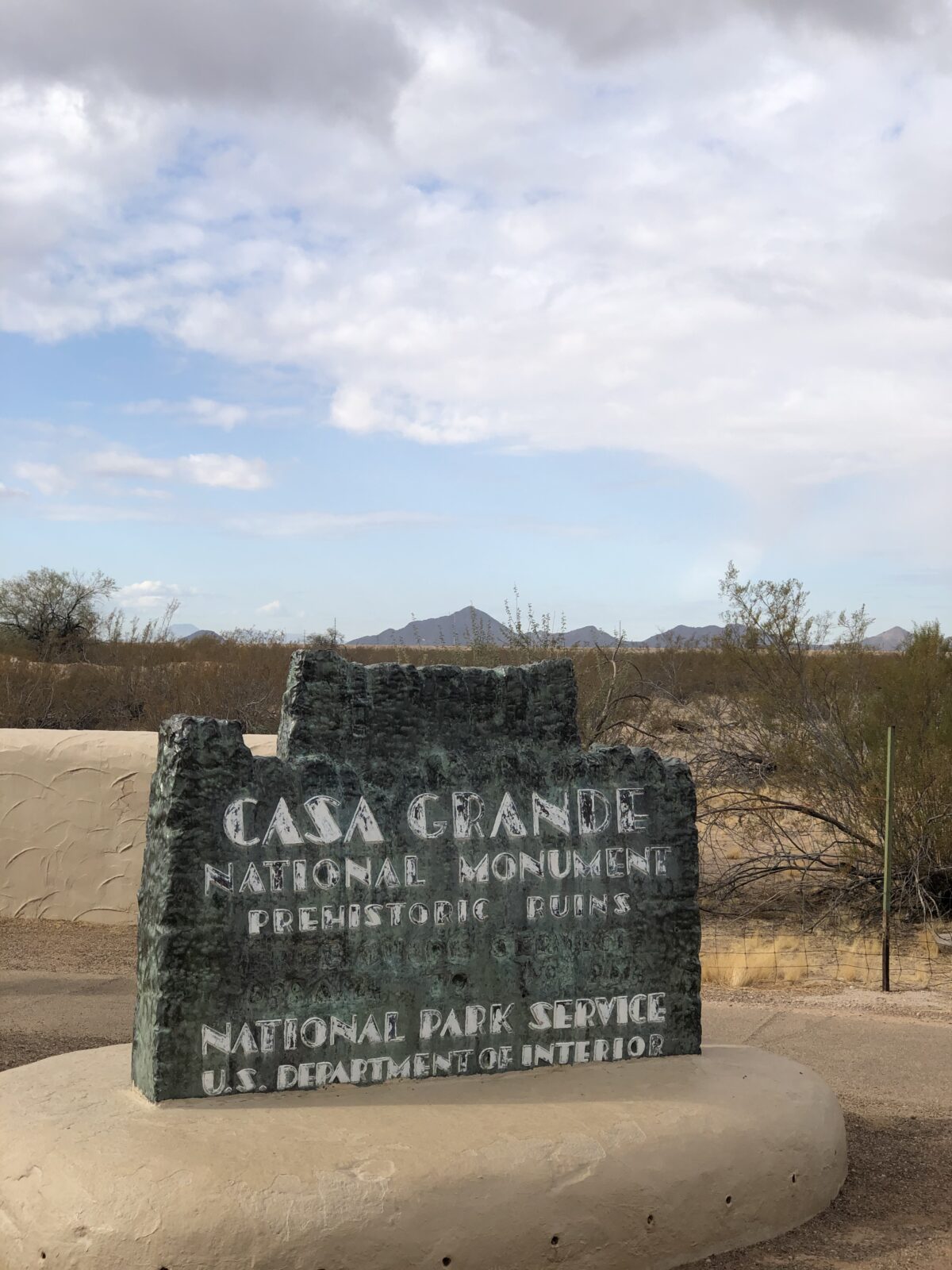 Juan Batista de Anza
One of the first people to see the ruins and document them was Juan Batista de Anza. In 1775 he led a group of families from Mexico all the way to San Francisco where they established a settlement. It was an 1800 mile journey with 240 men, women, children and 1000+ livestock! It was the first overland expedition of settlers.
As they traveled north from Nogales through Arizona, they passed by what is now Tumacacori National Historical Park as well as Casa Grande Ruins; then turned west and followed the Gila River through the harsh desert.  
The US portion of the Anza Trail, from Nogales to San Francisco, is commemorated as part of the National Trail System. We had never heard of this trail before, but it turns out that you can follow the 1200+ mile Juan Bautista de Anza National Historic Trail its entire distance as it goes from Nogales and winds it way up to San Francisco. But unlike other trails, like the PCT or AZT, this is not a hiking trail. There are some parts you can walk or hike, but most follow present-day auto routes with lots of stops along the way at historic sites, missions and other national park units.
Visiting Casa Grande Ruins National Monument
If you are visiting the Phoenix or Tucson area, it is worth stopping by to visit Casa Grande Ruins. Plan to spend an hour or so there, and then combine your visit with stops at other sites along the way.
There were a couple pretty interesting things about how the ruins have been preserved and restored. Some of the ruins were excavated, and then covered up again to preserve them! We'd seen this other places (most notably in China at the site of the Terra Cotta Warriors). In another area, a wall had been rebuilt from bricks. This would never be done today. The National Park Service now focuses on restoring buildings using the same materials and style as the original one. Their techniques have certainly changed and improved over time.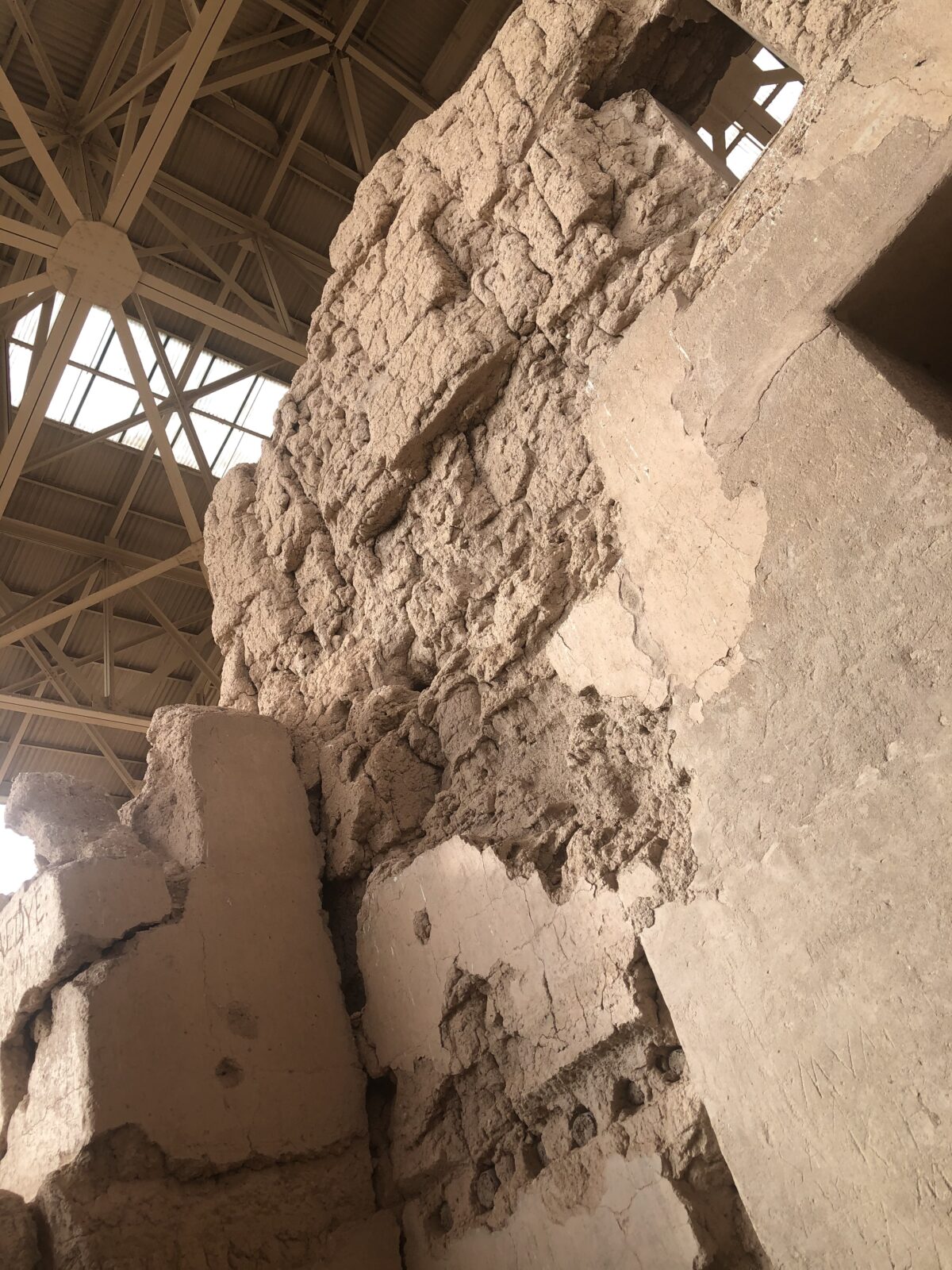 Admission to Casa Grande Ruins National Monument is free, but don't forget that admission to all national park units is free on certain days of the year like this Monday – Martin Luther King Day.. 
Need Help Planning Your Visits?
If you would like to explore this or other National Park Units, but need a bit help in the planning, please give us a call at (480) 609-3978. We are happy to offer customized trip planning.
#FindYourPark
#SeeAmericaFirst