Celebrating Memorial Day 2020
The great thing about our journey to see National Park Units is that during our trips across this great country, we have stumbled across all sorts of other interesting places.
A few years ago, we stayed the night in Columbus, Nebraska – the home of Andrew Jackson Higgins and the site of the Andrew Jackson Higgins National Memorial. This is not one of the 419 national park units we aim to visit, but we are glad we stopped there!
Who was Andrew Jackson Higgins?
Probably like most people, we had never heard of him. But General Dwight D. Eisenhower called Higgins "the man who won the war for us" (World War II).
Higgins designed and built the landing boats used on D-Day to bring soldiers, vehicles and supplies to the beach. Referred to as the "Higgins Boats" or LCVPs – Landing Craft, Vehicle, Personnel – these boats were used for amphibious landings. They enabled the beach landings on D-Day; in fact, without them Eisenhower said the strategy that day would have had to be entirely different.
Born in Columbus, Nebraska, Higgins moved to New Orleans where he was in the timber business and then became a boat builder. It is said that his shallow draft boats were originally built for moving through the swampy marshes; perhaps used by rum-runners during prohibition. Fortunately he hooked up with the Navy to build boats for their use.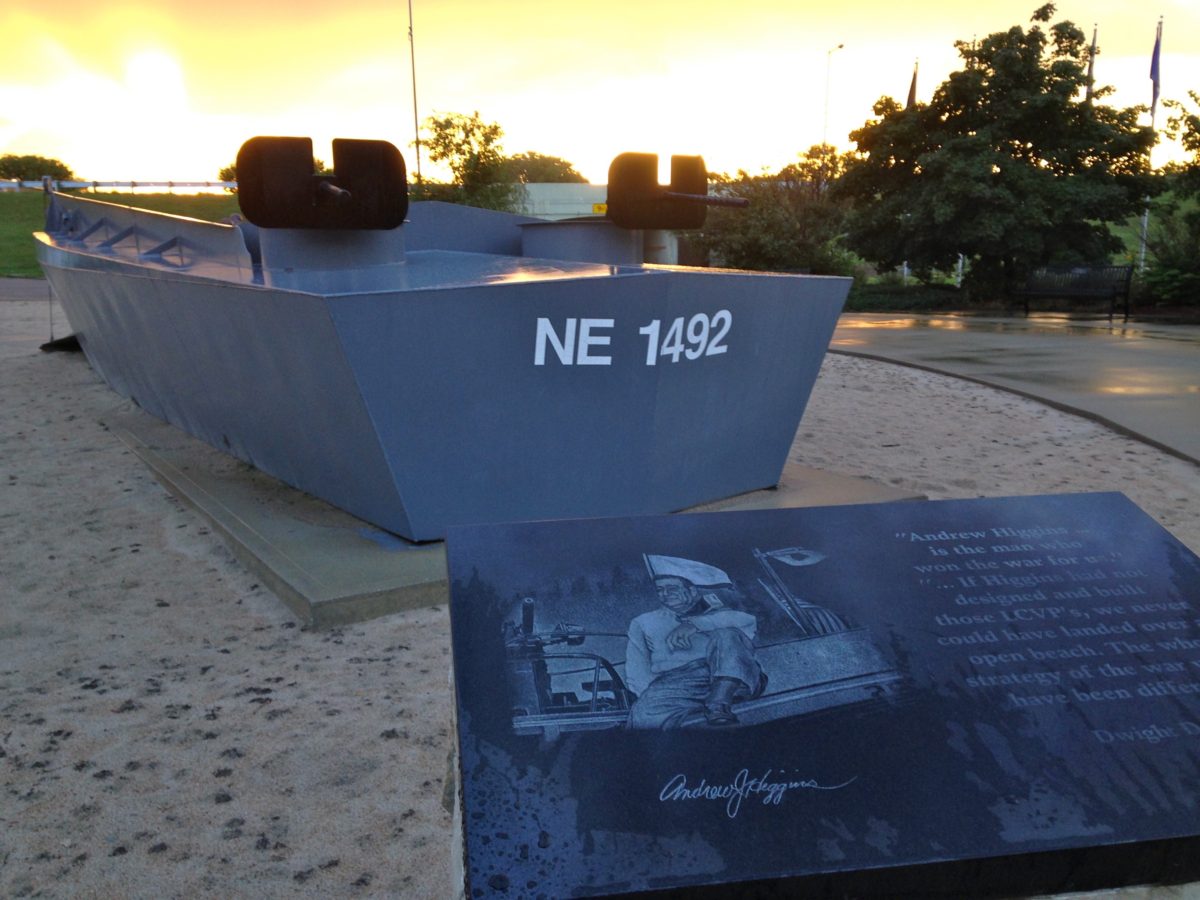 Why Columbus, Nebraska?
You may ask – why is the Andrew Jackson Higgins National Memorial in Columbus rather than New Orleans? We learned that this memorial was actually a project initiated by a social studies teacher in Columbus. He heard there was a D-Day museum being built in New Orleans to honor Higgins and his boat builders. He set a a challenge to his students to do something to honor Higgins in his home town. This turned into a 3 year service learning project, where students worked in partnership with a local company to design and build the memorial park.
What is the Andrew Jackson Higgins National Memorial?
The centerpiece of this waterfront park is a steel replica of a Higgins Boat, with life sized bronze soldiers depicted as exiting the boat and running up on the beach, guns drawn. You can go into the landing craft and get a sense of what it must have been like landing on Utah Beach that day.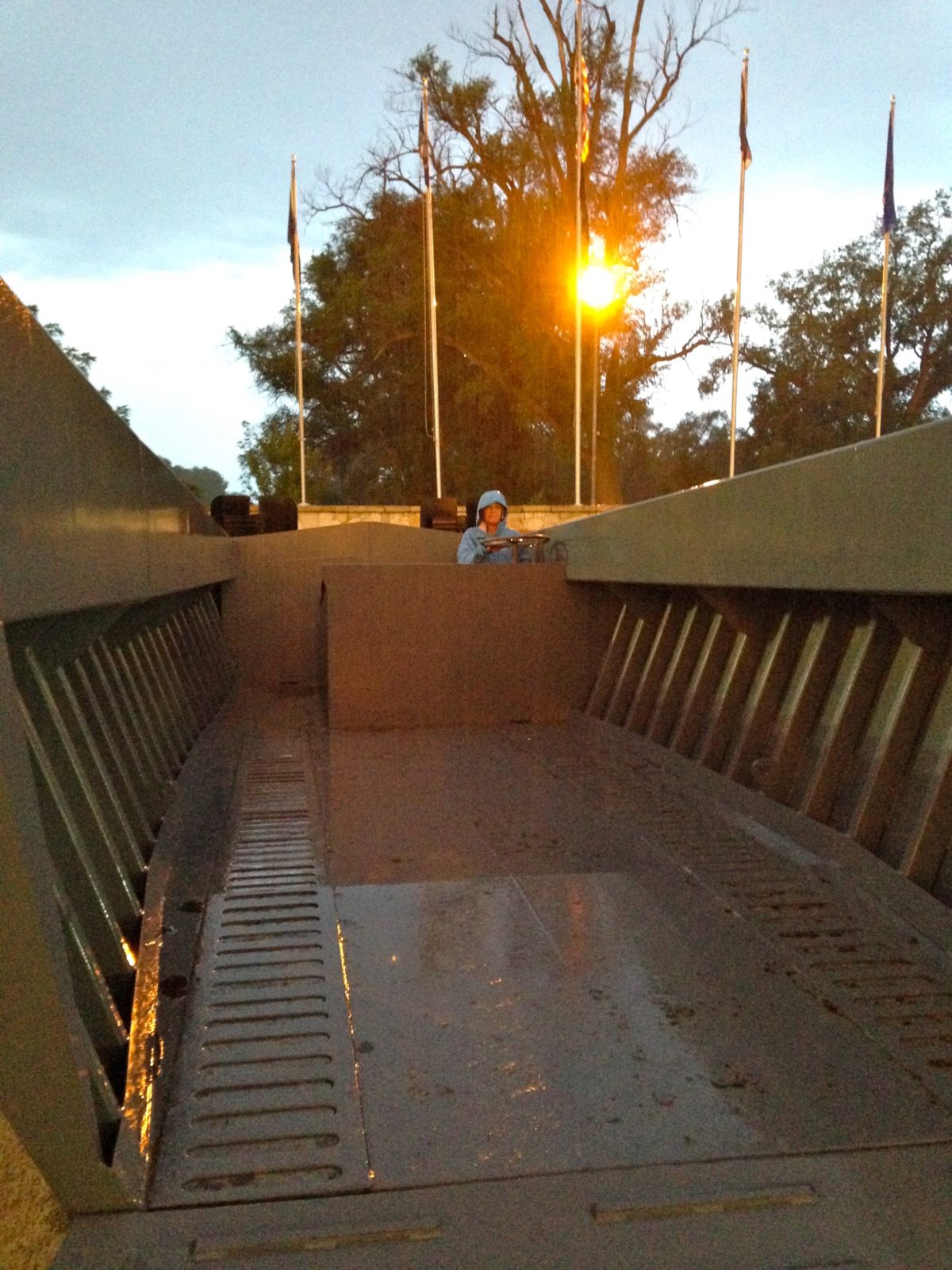 Walk around the park; it is lovely with landscaping done by Eagle Scouts. You can also visit the newest part of the memorial which contains a beam from the World Trade Center and honors those in the continued fight agains terrorism.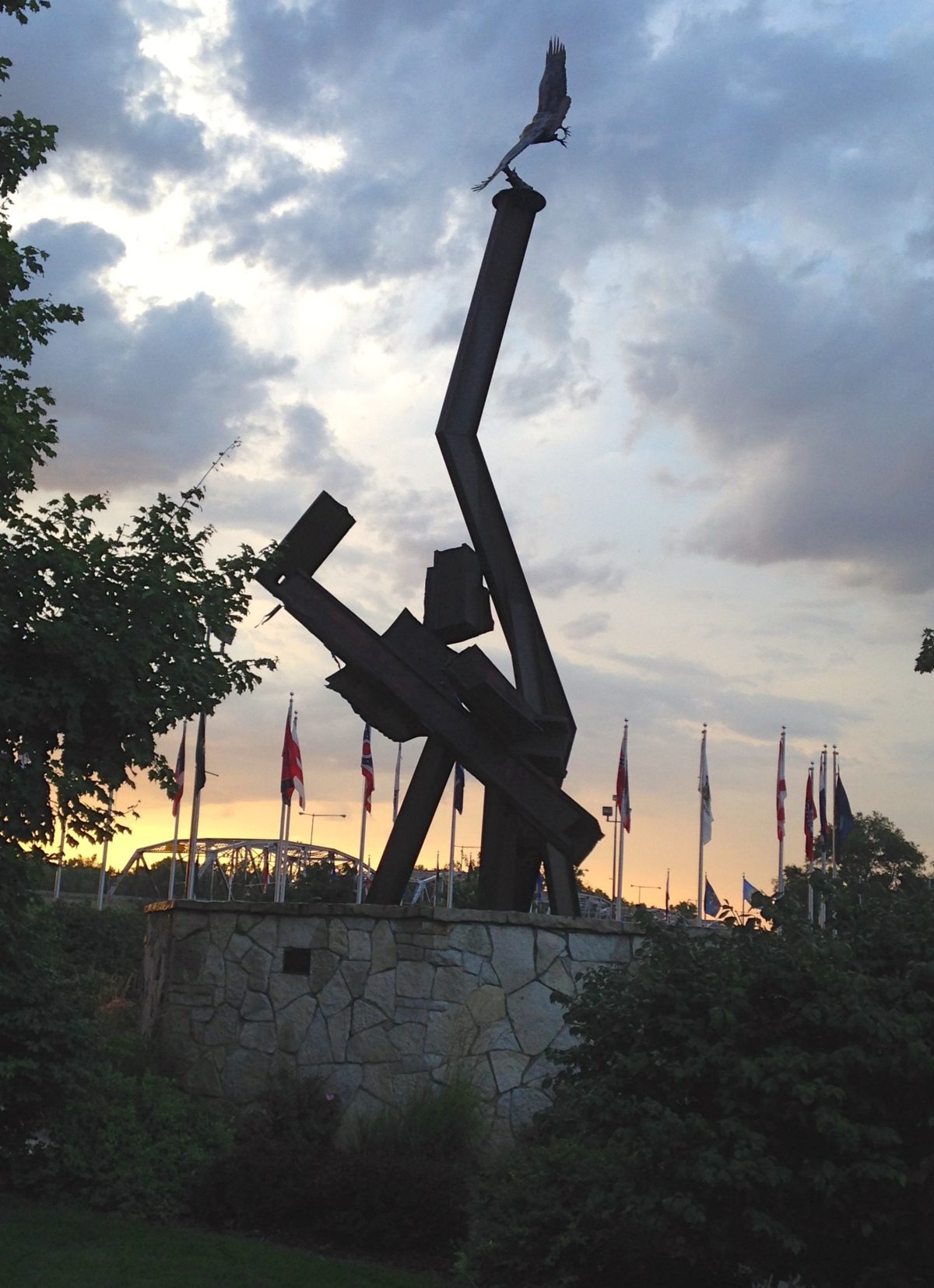 It's not a big park, but it is interesting and a pretty walk along the banks of the Platte River, off Highway 30. That's a really pretty drive and a great alternative to traveling the Interstate 80 between Omaha and Council Bluffs. Another bonus, you can stop at the De Soto National Wildlife Refuge on the border on Iowa and Nebraska.
Celebrating Memorial Day
Andrew Jackson Higgins National Memorial is just one of many memorials honoring the brave men and women who sacrificed to protect our freedom. Where ever you are this Memorial Day, take time to reflect and than them.
Skip back to main navigation