Yes, really. Not only is Alabama a beautiful state with very friendly people, if you are a National Park junkie you will appreciate the diversity of national park units in this state.
National Park Units in Alabama
There are seven national park units in Alabama to visit:
Wide Diversity of National Park Units
These parks are incredibly diverse…. from the oldest inhabited cave in the United States to an ancient river gorge, African-American and Native American history, and the story of an agricultural transition from cotton to peanuts.
Ancient History
Russell Cave National Monument is just one of the many caves that had been used by humans for shelter, but Russell Cave specifically preserves the history of almost 9,000 years of human use. First excavated in 1953, the cave provides some of the longest and most complete archaeological records of human inhabitation.
As we walked the short path to the cave entrance, we found it hard to imagine that Native Americans have used this cave for 9,000 years. You can't really even think about what life may have been like that long ago.
Native American History
Horseshoe Bend National Military Park preserves a different aspect of Native American history. Multiple tribes lived in what is now Alabama; one of them was the Creek nation. They had built up an economy that was based on trading with the white man, but a rift grew between the Creeks who supported the Americans and the "Red Sticks" who believed they needed to fight to preserve their land and way of life.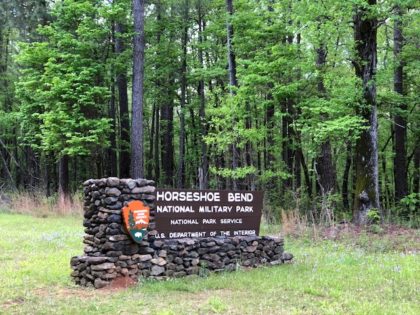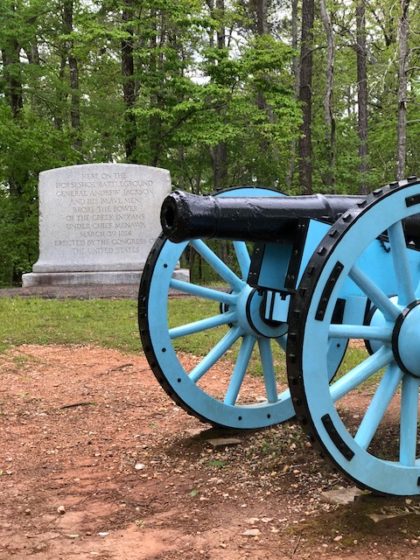 Horseshoe Bend is the location of the battle between the Red Sticks and the Americans, led by future president General Andrew Jackson. After the Americans won, the result was that the Creeks granted the US over 20 million acres of their tribal land.
As we reflected on this, we saw that it was just one more aspect of the story of US expansion and the precursor to the Indian Removal Act, signed by president Andrew Jackson several years later, that led to the forced removal of indians from their ancestral lands.
Hint: when you visit the park, consider walking or running along the loop road. It's only three miles starting and ending at the visitor center, or just one mile if you park where the loop begins. There are many overlooks and informational signs along the way, with great views of the river. (Keep an eye open for turtles!)
Natural History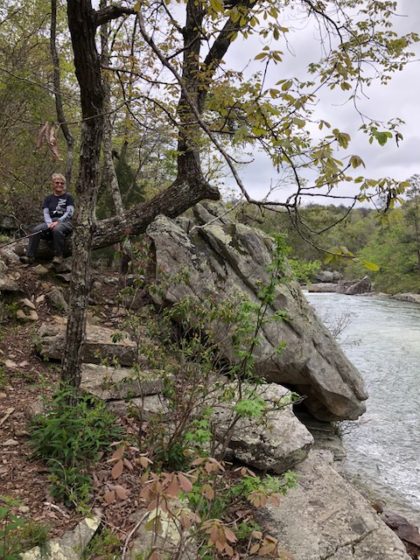 If you enjoy nature, you will love Little River Canyon National Preserve. This national park unit protects over 15,000 acres of land that include one of the oldest and deepest gorge systems in the eastern US, formed 541 million years ago.
There are many ways to enjoy this park… a scenic drive with amazing overlooks; waterfalls; hiking trails; kayaking and rafting; picnicking, and cycling. We started at the Visitor Center and got some great hints from the volunteers there. They recommended, and we really enjoyed, taking the three mile roundtrip hike from the Visitor Center to Little River Falls, and then continuing on to Little (Martha's) Falls. It was a great introduction to the park and it brought us right down to the river.
There is no camping in the park, but you can camp at De Soto State Park – technically within the National Preserve boundaries, but managed by Alabama State Parks. If you like to hike, there are over 20 miles of trails in this park.
Human Rights History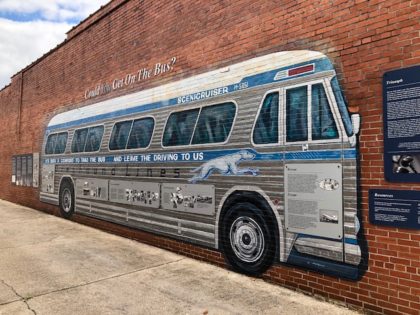 Another aspect of Alabama national park units are the units that talk about the history of human rights. Birmingham Civil Rights National Monument and Freedom Riders in Anniston form an integral part of the Alabama Civil Rights Trail, and are two of the newest National Park Units (established January 2017). We did not experience this part of our history (we were too young) so we found the exhibits at both of these parks very interesting and educational.
We also visited Tuskegee Airmen National Historic Site – where brave men broke the racial barrier in the armed services and fought for our country.  The video was very well done and made us appreciate the sacrifices these men and women made during the war and in their struggle for racial equality.
Agricultural History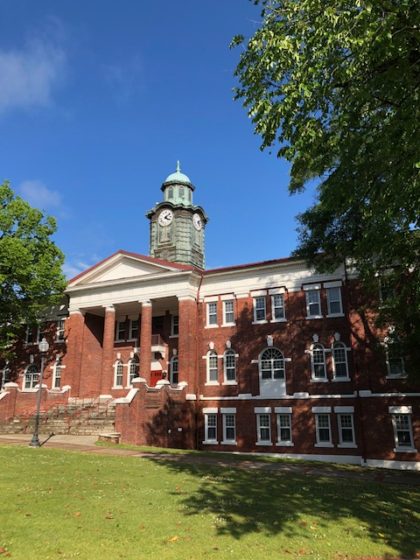 The last site we visited in Alabama was the Tuskegee Institute. Established in 1881 as the "Normal School for Colored Teachers" the first teacher was Booker T. Washington.  Part of the education here included learning practical skills. It was the students who built the buildings, tended the farm and sewed their own clothes making the school as self-sufficient as possible.
There is a walking tour around the Tuskegee University campus where you can see all of the old historic buildings still in use today. There is also a tour of Booker T. Washington's home (check the tour schedule before you go) and a museum dedicated to George Washington Carver – a botanist and professor of agriculture.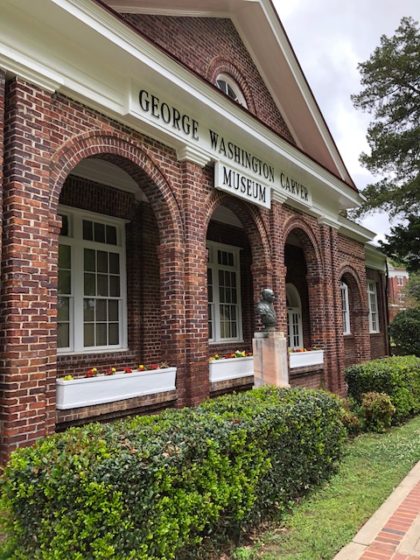 It tells an amazing story of how a young boy, born as a slave with an insatiable thirst for knowledge grew to be an important influence in his community. His agricultural discoveries (including 300+ ways to use a peanut) and his "Movable School" helped southern farmers – teaching them the importance of things like crop-rotation and introducing new crops like peanuts, cow peas and sweet potatoes. This humble man made hundreds of discoveries, but never patented or benefited from any of them. In fact, they say he often forgot to cash his paychecks …
Alabama, Yes Really.
Alabama is really a state worth visiting and each of the national park units preserve a different but very important aspect of our history.
Skip back to main navigation